Radium Age 100 (99)
By: Joshua Glenn
April 15, 2016
One in a series of 100 posts about the best science fiction novels published from 1904–33. HILOBROW's Josh Glenn has named that era science fiction's Radium Age; more info here. The complete Radium Age 100 list can be found here.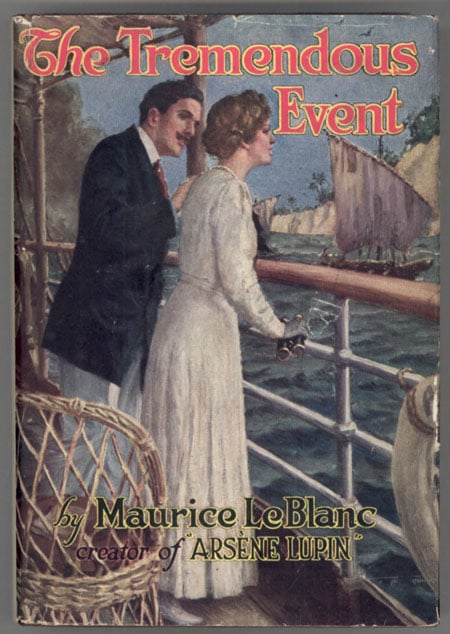 Maurice LeBlanc's Le Formidable Evènement (1920; 1922 in English, as The Tremendous Event).
In the near future, an earthquake creates a new landmass linking England and France. Chaos ensues — rivers are blocked, coastal cities damaged, ships shipwrecked. Although bands of vicious criminals roam the newly exposed land, looting the shipwrecks, an English aristocrat and his daughter, Isabel, must risk these dangers in order to retrieve their family treasure, which was on one of the stranded ships. Isabel is captured, and faces a fate worse than death. English and French military forces, meanwhile, are converging — both intent on claiming the new territory. Simon Dubosc, a handsome Frenchman in love with Isabel, joins forces with a band of American Indians (!) who happened to be visiting, and rides across the desert-like terrain to Isabel's rescue.
Fun fact: Maurice Leblanc is best known for his stories about Arsène Lupin, gentleman burglar and detective.
***
MORE RADIUM AGE SCI FI ON HILOBROW: HiLoBooks homepage! | What is Radium Age science fiction? |Radium Age 100: 100 Best Science Fiction Novels from 1904–33 | Radium Age Supermen | Radium Age Robots | Radium Age Apocalypses | Radium Age Telepaths | Radium Age Eco-Catastrophes | Radium Age Cover Art (1) | SF's Best Year Ever: 1912 | Radium Age Science Fiction Poetry | Enter Highbrowism | Bathybius! Primordial ooze in Radium Age sf | War and Peace Games (H.G. Wells's training manuals for supermen) | Radium Age: Context series | J.D. Beresford | Algernon Blackwood | Edgar Rice Burroughs | Karel Čapek | Buster Crabbe | August Derleth | Arthur Conan Doyle | Hugo Gernsback | Charlotte Perkins Gilman | Cicely Hamilton | Hermann Hesse | William Hope Hodgson | Aldous Huxley | Inez Haynes Irwin | Alfred Jarry | Jack Kirby (Radium Age sf's influence on) | Murray Leinster | Gustave Le Rouge | Gaston Leroux | David Lindsay | Jack London | H.P. Lovecraft | A. Merritt | Maureen O'Sullivan | Sax Rohmer | Paul Scheerbart | Upton Sinclair | Clark Ashton Smith | E.E. "Doc" Smith | Olaf Stapledon | John Taine | H.G. Wells | Jack Williamson | Stanisław Ignacy Witkiewicz | S. Fowler Wright | Philip Gordon Wylie | Yevgeny Zamyatin