Radium Age 100 (98)
By: Joshua Glenn
April 3, 2016
One in a series of 100 posts about the best science fiction novels published from 1904–33. HILOBROW's Josh Glenn has named that era science fiction's Radium Age; more info here. The complete Radium Age 100 list can be found here.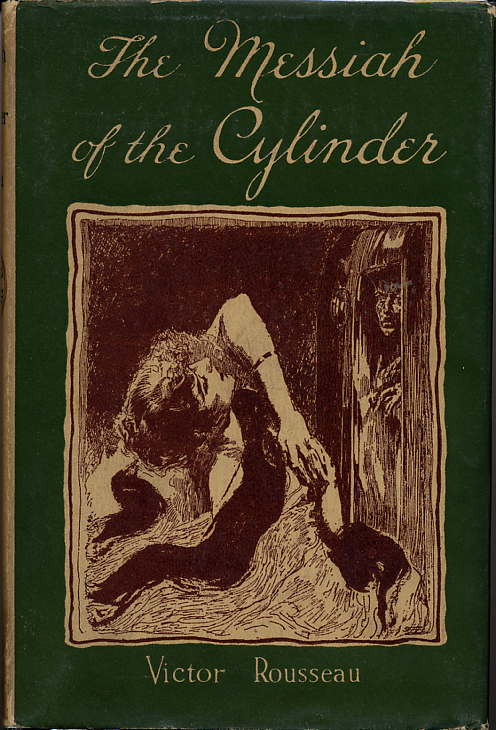 Victor Rousseau's The Messiah of the Cylinder (1917).
After sleeping for a century, Rousseau's protagonist, Arnold Pennell, awakens — like the protagonist of H.G. Wells's The Sleeper Wakes (1910) — in a socialist, "scientific world freed of faith and humanitarianism." He is horrified not only by the dazzling, skyscraper-dominated London of the future, but by Britain's tyrannical utopian order, which is maintained though constant sloganeering and other forms of thought control. Having become an iconic figure to the people of the future, who have been waiting for a Messiah to restore to them their ancient liberties, Pennell leads a revolution — the goal of which is to help Russia restore a moralistic aristocracy in Britain.
Fun fact: Serialized, from June–September 1917, in Everybody's Magazine, The Messiah of the Cylinder is considered one of the first American dystopian stories. It is also one of the first sf stories to use the term "ray gun."
***
MORE RADIUM AGE SCI FI ON HILOBROW: HiLoBooks homepage! | What is Radium Age science fiction? |Radium Age 100: 100 Best Science Fiction Novels from 1904–33 | Radium Age Supermen | Radium Age Robots | Radium Age Apocalypses | Radium Age Telepaths | Radium Age Eco-Catastrophes | Radium Age Cover Art (1) | SF's Best Year Ever: 1912 | Radium Age Science Fiction Poetry | Enter Highbrowism | Bathybius! Primordial ooze in Radium Age sf | War and Peace Games (H.G. Wells's training manuals for supermen) | Radium Age: Context series | J.D. Beresford | Algernon Blackwood | Edgar Rice Burroughs | Karel Čapek | Buster Crabbe | August Derleth | Arthur Conan Doyle | Hugo Gernsback | Charlotte Perkins Gilman | Cicely Hamilton | Hermann Hesse | William Hope Hodgson | Aldous Huxley | Inez Haynes Irwin | Alfred Jarry | Jack Kirby (Radium Age sf's influence on) | Murray Leinster | Gustave Le Rouge | Gaston Leroux | David Lindsay | Jack London | H.P. Lovecraft | A. Merritt | Maureen O'Sullivan | Sax Rohmer | Paul Scheerbart | Upton Sinclair | Clark Ashton Smith | E.E. "Doc" Smith | Olaf Stapledon | John Taine | H.G. Wells | Jack Williamson | Stanisław Ignacy Witkiewicz | S. Fowler Wright | Philip Gordon Wylie | Yevgeny Zamyatin