Radium Age 100 (97)
By: Joshua Glenn
March 29, 2016
One in a series of 100 posts about the best science fiction novels published from 1904–33. HILOBROW's Josh Glenn has named that era science fiction's Radium Age; more info here. The complete Radium Age 100 list can be found here.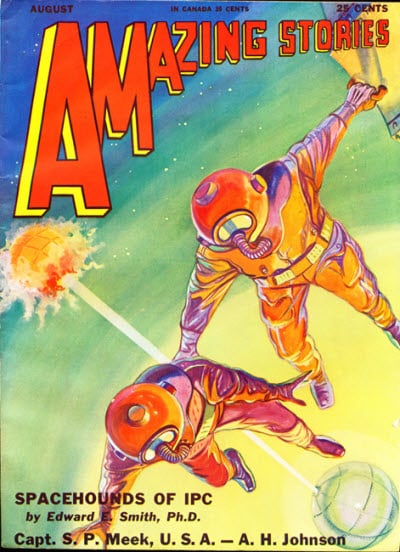 E.E. "Doc" Smith's Spacehounds of IPC (serialized 1931; as a book, 1947).
This stand-alone novel — unconnected to the author's more famous Skylark and Lensman series — is a Robinsonade set mostly on Ganymede, one of Jupiter's moons. Dr. Percival Stevens, a brilliant scientist, is traveling to Mars aboard the Inter-Planetary Corporation's liner IPV Arcturus, when it is attacked — by pirates? — and cut into pieces. Commandeering one of the liner sections, Stevens and Nadia, a beautiful passenger, crash-land on Ganymede and begin building an ultra-radio — in order to call for help. Fleeing Ganymede's native inhabitants, the castaways head back into space, only to be attacked again. They are rescued by explorers from Titan, one of Saturn's moons. And a lot of other stuff happens — it's a space opera, after all.
Fun facts: Published in the August through September 1931 issues of Amazing; the first story to ever use the sci-fi term "tractor beam." This was Smith's own favorite novel, which he described as "really scientific fiction; not, like the Skylarks, pseudo-science."
***
MORE RADIUM AGE SCI FI ON HILOBROW: HiLoBooks homepage! | What is Radium Age science fiction? |Radium Age 100: 100 Best Science Fiction Novels from 1904–33 | Radium Age Supermen | Radium Age Robots | Radium Age Apocalypses | Radium Age Telepaths | Radium Age Eco-Catastrophes | Radium Age Cover Art (1) | SF's Best Year Ever: 1912 | Radium Age Science Fiction Poetry | Enter Highbrowism | Bathybius! Primordial ooze in Radium Age sf | War and Peace Games (H.G. Wells's training manuals for supermen) | Radium Age: Context series | J.D. Beresford | Algernon Blackwood | Edgar Rice Burroughs | Karel Čapek | Buster Crabbe | August Derleth | Arthur Conan Doyle | Hugo Gernsback | Charlotte Perkins Gilman | Cicely Hamilton | Hermann Hesse | William Hope Hodgson | Aldous Huxley | Inez Haynes Irwin | Alfred Jarry | Jack Kirby (Radium Age sf's influence on) | Murray Leinster | Gustave Le Rouge | Gaston Leroux | David Lindsay | Jack London | H.P. Lovecraft | A. Merritt | Maureen O'Sullivan | Sax Rohmer | Paul Scheerbart | Upton Sinclair | Clark Ashton Smith | E.E. "Doc" Smith | Olaf Stapledon | John Taine | H.G. Wells | Jack Williamson | Stanisław Ignacy Witkiewicz | S. Fowler Wright | Philip Gordon Wylie | Yevgeny Zamyatin