Radium Age 100 (96)
By: Joshua Glenn
March 26, 2016
One in a series of 100 posts about the best science fiction novels published from 1904–33. HILOBROW's Josh Glenn has named that era science fiction's Radium Age; more info here. The complete Radium Age 100 list can be found here.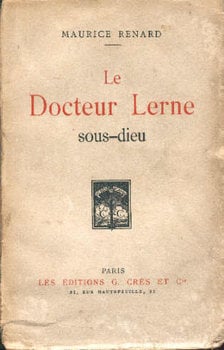 Maurice Renard's Docteur Lerne, sous-dieu (Doctor Lerne, Undergod, 1908).
Returning to the castle where he grew up, after many years away, Nicolas Vermont is surprised to discover that his uncle Frédéric, a retired surgeon, is changed and hostile. Frédéric is engaged in mysterious scientific research, and forbids Nicolas access to his laboratory greenhouses; he also insists that Nicolas not court his protégée, Emma. Nicolas defies both injunctions. When Frédéric realizes that Nicolas has discovered the nature of his research — uncanny plant/animal hybrids! — he temporarily exchanges Nicolas's brain with that of a bull. (Renard plays with mythology, in this story: the lab is a labyrinth; Nicolas's bull-brained body is a Minotaur.) Frédéric then develops a means of projecting his own consciousness into a machine — Nicolas's high-tech automobile. A Symbolist-esque homage to H.G. Wells's The Island of Doctor Moreau.
Fun fact: This was Renard's first novel. The poet Apollinaire was a fan: "A little marvel of fantasy: charming, cultivated, and effortlessly learned."
***
MORE RADIUM AGE SCI FI ON HILOBROW: HiLoBooks homepage! | What is Radium Age science fiction? |Radium Age 100: 100 Best Science Fiction Novels from 1904–33 | Radium Age Supermen | Radium Age Robots | Radium Age Apocalypses | Radium Age Telepaths | Radium Age Eco-Catastrophes | Radium Age Cover Art (1) | SF's Best Year Ever: 1912 | Radium Age Science Fiction Poetry | Enter Highbrowism | Bathybius! Primordial ooze in Radium Age sf | War and Peace Games (H.G. Wells's training manuals for supermen) | Radium Age: Context series | J.D. Beresford | Algernon Blackwood | Edgar Rice Burroughs | Karel Čapek | Buster Crabbe | August Derleth | Arthur Conan Doyle | Hugo Gernsback | Charlotte Perkins Gilman | Cicely Hamilton | Hermann Hesse | William Hope Hodgson | Aldous Huxley | Inez Haynes Irwin | Alfred Jarry | Jack Kirby (Radium Age sf's influence on) | Murray Leinster | Gustave Le Rouge | Gaston Leroux | David Lindsay | Jack London | H.P. Lovecraft | A. Merritt | Maureen O'Sullivan | Sax Rohmer | Paul Scheerbart | Upton Sinclair | Clark Ashton Smith | E.E. "Doc" Smith | Olaf Stapledon | John Taine | H.G. Wells | Jack Williamson | Stanisław Ignacy Witkiewicz | S. Fowler Wright | Philip Gordon Wylie | Yevgeny Zamyatin