Radium Age 100 (94)
By: Joshua Glenn
March 22, 2016
One in a series of 100 posts about the best science fiction novels published from 1904–33. HILOBROW's Josh Glenn has named that era science fiction's Radium Age; more info here. The complete Radium Age 100 list can be found here.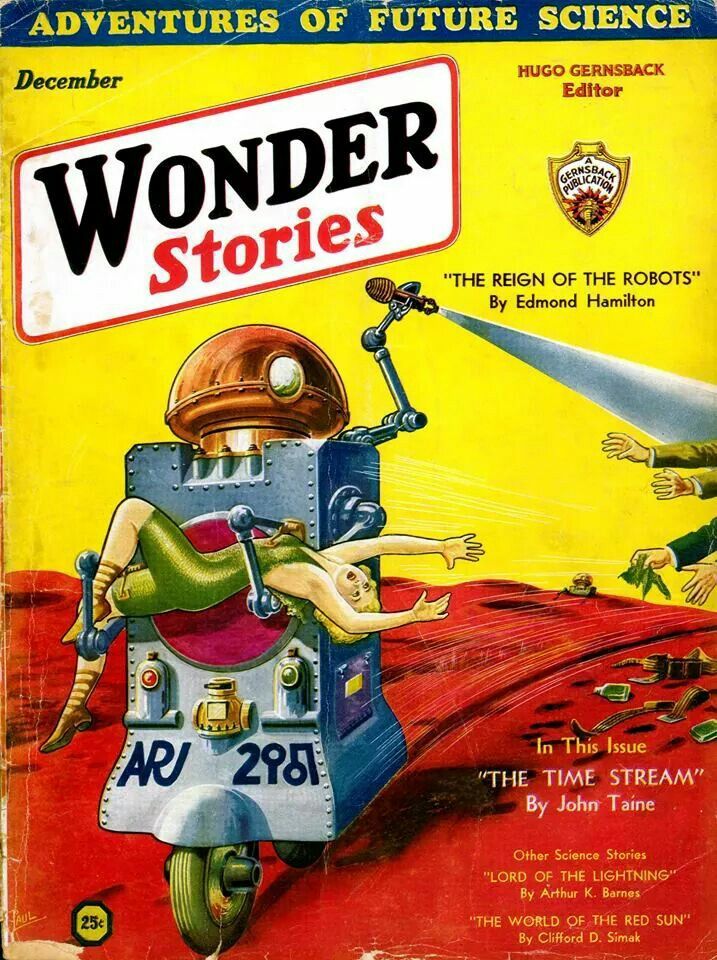 John Taine's The Time Stream (serialized 1931–1932).
Although genetic analysis indicates that Cheryl, citizen of a far-future utopia (on a world, Eos, which might or might not be Earth), ought not to marry the man she loves — because their children will not be perfect specimens — she demands the right to do whatever she pleases. After all, what harm could following your passion do? One of her friends, having discovered that an even mightier civilization once flourished on their planet, speculates that it was uncontrolled passion which doomed it. Cheryl and four friends set out to discover the truth. Meanwhile, on our Earth, in the 20th century, a woman named Cheryl and four friends enter the "time stream" — time, they have discovered, is like flowing water; it has eddy currents that can be used to move both forward and back — and discover Eos. Or something like that. It's a very complicated narrative!
Fun fact: Serialized in Wonder Stories, this elaborate time-travel yarn has been called "one of the outstanding products of the early sf magazines," and Taine's finest — if flawed — work.
***
MORE RADIUM AGE SCI FI ON HILOBROW: HiLoBooks homepage! | What is Radium Age science fiction? |Radium Age 100: 100 Best Science Fiction Novels from 1904–33 | Radium Age Supermen | Radium Age Robots | Radium Age Apocalypses | Radium Age Telepaths | Radium Age Eco-Catastrophes | Radium Age Cover Art (1) | SF's Best Year Ever: 1912 | Radium Age Science Fiction Poetry | Enter Highbrowism | Bathybius! Primordial ooze in Radium Age sf | War and Peace Games (H.G. Wells's training manuals for supermen) | Radium Age: Context series | J.D. Beresford | Algernon Blackwood | Edgar Rice Burroughs | Karel Čapek | Buster Crabbe | August Derleth | Arthur Conan Doyle | Hugo Gernsback | Charlotte Perkins Gilman | Cicely Hamilton | Hermann Hesse | William Hope Hodgson | Aldous Huxley | Inez Haynes Irwin | Alfred Jarry | Jack Kirby (Radium Age sf's influence on) | Murray Leinster | Gustave Le Rouge | Gaston Leroux | David Lindsay | Jack London | H.P. Lovecraft | A. Merritt | Maureen O'Sullivan | Sax Rohmer | Paul Scheerbart | Upton Sinclair | Clark Ashton Smith | E.E. "Doc" Smith | Olaf Stapledon | John Taine | H.G. Wells | Jack Williamson | Stanisław Ignacy Witkiewicz | S. Fowler Wright | Philip Gordon Wylie | Yevgeny Zamyatin