Radium Age 100 (92)
By: Joshua Glenn
March 17, 2016
One in a series of 100 posts about the best science fiction novels published from 1904–33. HILOBROW's Josh Glenn has named that era science fiction's Radium Age; more info here. The complete Radium Age 100 list can be found here.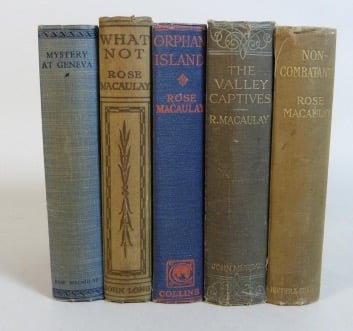 Rose Macaulay's What Not: A Prophetic Comedy (1919).
At some point after the Great War [that is to say, after the First World War, which ended a few months after Macaulay wrote this book], in a Britain where people travel by underground train and "street aero," a government ministry — the Ministry of Brains — decides to increase national brain-power, and stave off the coming idiocracy, through a program of compulsory selective breeding. The propaganda efforts in support of this endeavor are amazing, and wide-reaching… not just official posters, but newspaper editorials, business advertisements, contests, and more. However, when it's discovered that the head of the Ministry has secretly married, even though — because there is "deficiency" in his family — he is not allowed to do so, the Ministry is burned down. The book ends on an ambiguous note: Is the victory of "human perverseness, human stupidity, human self-will" over autocratic bureaucracy a triumph? Or not?
Fun fact: When British censors discovered that What Not ridiculed wartime bureaucracy, its planned 1918 publication was stopped. Macaulay is best known, today, for her award-winning final novel, The Towers of Trebizond (1956).
***
MORE RADIUM AGE SCI FI ON HILOBROW: HiLoBooks homepage! | What is Radium Age science fiction? |Radium Age 100: 100 Best Science Fiction Novels from 1904–33 | Radium Age Supermen | Radium Age Robots | Radium Age Apocalypses | Radium Age Telepaths | Radium Age Eco-Catastrophes | Radium Age Cover Art (1) | SF's Best Year Ever: 1912 | Radium Age Science Fiction Poetry | Enter Highbrowism | Bathybius! Primordial ooze in Radium Age sf | War and Peace Games (H.G. Wells's training manuals for supermen) | Radium Age: Context series | J.D. Beresford | Algernon Blackwood | Edgar Rice Burroughs | Karel Čapek | Buster Crabbe | August Derleth | Arthur Conan Doyle | Hugo Gernsback | Charlotte Perkins Gilman | Cicely Hamilton | Hermann Hesse | William Hope Hodgson | Aldous Huxley | Inez Haynes Irwin | Alfred Jarry | Jack Kirby (Radium Age sf's influence on) | Murray Leinster | Gustave Le Rouge | Gaston Leroux | David Lindsay | Jack London | H.P. Lovecraft | A. Merritt | Maureen O'Sullivan | Sax Rohmer | Paul Scheerbart | Upton Sinclair | Clark Ashton Smith | E.E. "Doc" Smith | Olaf Stapledon | John Taine | H.G. Wells | Jack Williamson | Stanisław Ignacy Witkiewicz | S. Fowler Wright | Philip Gordon Wylie | Yevgeny Zamyatin