Radium Age 100 (91)
By: Joshua Glenn
March 13, 2016
One in a series of 100 posts about the best science fiction novels published from 1904–33. HILOBROW's Josh Glenn has named that era science fiction's Radium Age; more info here. The complete Radium Age 100 list can be found here.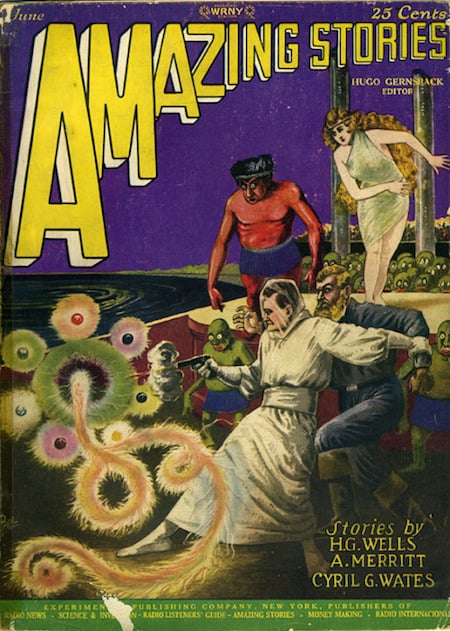 Clare Winger Harris's "The Fate of the Poseidonia" (serialized 1927).
One evening at Austin College, a scholarly named George encounters a skullcap-wearing newcomer, Martell, at an astronomical lecture. The lecture concerns the theory that Mars is a dying planet, because its water supply has dried up; afterwards, Martell demands to know what the lecturer believes the Martians — if there are any Martians — ought to do. Whatever it takes to survive, the lecturer responds. Because Margaret, the woman he loves, has begun spending time with Martell, George sneaks into Martell's apartment, where he discovers an apparatus that allows you to see anyone, anywhere, any time. Not long after this, a passenger ship — the Poseidonia — vanishes, along with a massive quantity of seawater. George uses Martell's apparatus and contacts Margaret… on Mars. She has been kidnapped by Martell, who — it turns out — was a Martian invader!
Fun fact: Harris was the first female author to publish in science fiction pulps under her own name, rather than a male pseudonym. In an editors' note accompanying the story, we read: "As a rule, women do not make good scientifiction writers, because their education and general tendencies on scientific matters are usually limited. But the exception… in this case [is] extraordinarily impressive."
***
MORE RADIUM AGE SCI FI ON HILOBROW: HiLoBooks homepage! | What is Radium Age science fiction? |Radium Age 100: 100 Best Science Fiction Novels from 1904–33 | Radium Age Supermen | Radium Age Robots | Radium Age Apocalypses | Radium Age Telepaths | Radium Age Eco-Catastrophes | Radium Age Cover Art (1) | SF's Best Year Ever: 1912 | Radium Age Science Fiction Poetry | Enter Highbrowism | Bathybius! Primordial ooze in Radium Age sf | War and Peace Games (H.G. Wells's training manuals for supermen) | Radium Age: Context series | J.D. Beresford | Algernon Blackwood | Edgar Rice Burroughs | Karel Čapek | Buster Crabbe | August Derleth | Arthur Conan Doyle | Hugo Gernsback | Charlotte Perkins Gilman | Cicely Hamilton | Hermann Hesse | William Hope Hodgson | Aldous Huxley | Inez Haynes Irwin | Alfred Jarry | Jack Kirby (Radium Age sf's influence on) | Murray Leinster | Gustave Le Rouge | Gaston Leroux | David Lindsay | Jack London | H.P. Lovecraft | A. Merritt | Maureen O'Sullivan | Sax Rohmer | Paul Scheerbart | Upton Sinclair | Clark Ashton Smith | E.E. "Doc" Smith | Olaf Stapledon | John Taine | H.G. Wells | Jack Williamson | Stanisław Ignacy Witkiewicz | S. Fowler Wright | Philip Gordon Wylie | Yevgeny Zamyatin