Radium Age 100 (90)
By: Joshua Glenn
March 11, 2016
One in a series of 100 posts about the best science fiction novels published from 1904–33. HILOBROW's Josh Glenn has named that era science fiction's Radium Age; more info here. The complete Radium Age 100 list can be found here.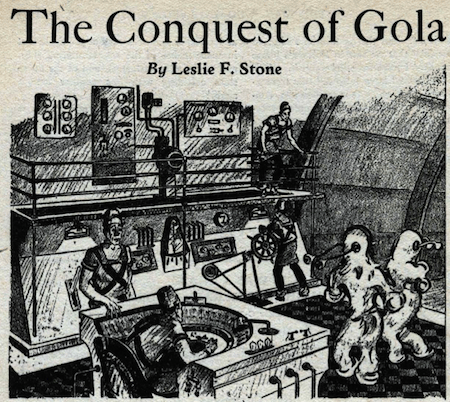 Leslie F. Stone's "The Conquest of Gola" (1931).
When men from Earth invade Gola (Venus), the planet's superioristic, Amazonian females — who keep their own passive males as mere houseboys and playthings — fight them off with contemptuous ease, deploying advanced military tech (including laser weapons) and psychological tactics. Narrated by a Golan, the story takes men — and humans, generally speaking — down a peg or two, by viewing them (us) from the perspective of a higher life-form, a non-humanoid alien with attitude. Why are human bodies so inefficient — their organs restricted by function and location? Why do the females of Earth send their hapless males to explore, negotiate, and invade?
Fun facts: Stone was one of a very few female authors in sci-fi publisher Hugo Gernsback's inner circle. The story was serialized in the April 1931 issue of Wonder Stories; reprinted in Groff Conklin's The Best of Science Fiction in 1946.
***
MORE RADIUM AGE SCI FI ON HILOBROW: HiLoBooks homepage! | What is Radium Age science fiction? |Radium Age 100: 100 Best Science Fiction Novels from 1904–33 | Radium Age Supermen | Radium Age Robots | Radium Age Apocalypses | Radium Age Telepaths | Radium Age Eco-Catastrophes | Radium Age Cover Art (1) | SF's Best Year Ever: 1912 | Radium Age Science Fiction Poetry | Enter Highbrowism | Bathybius! Primordial ooze in Radium Age sf | War and Peace Games (H.G. Wells's training manuals for supermen) | Radium Age: Context series | J.D. Beresford | Algernon Blackwood | Edgar Rice Burroughs | Karel Čapek | Buster Crabbe | August Derleth | Arthur Conan Doyle | Hugo Gernsback | Charlotte Perkins Gilman | Cicely Hamilton | Hermann Hesse | William Hope Hodgson | Aldous Huxley | Inez Haynes Irwin | Alfred Jarry | Jack Kirby (Radium Age sf's influence on) | Murray Leinster | Gustave Le Rouge | Gaston Leroux | David Lindsay | Jack London | H.P. Lovecraft | A. Merritt | Maureen O'Sullivan | Sax Rohmer | Paul Scheerbart | Upton Sinclair | Clark Ashton Smith | E.E. "Doc" Smith | Olaf Stapledon | John Taine | H.G. Wells | Jack Williamson | Stanisław Ignacy Witkiewicz | S. Fowler Wright | Philip Gordon Wylie | Yevgeny Zamyatin