Radium Age 100 (89)
By: Joshua Glenn
March 4, 2016
One in a series of 100 posts about the best science fiction novels published from 1904–33. HILOBROW's Josh Glenn has named that era science fiction's Radium Age; more info here. The complete Radium Age 100 list can be found here.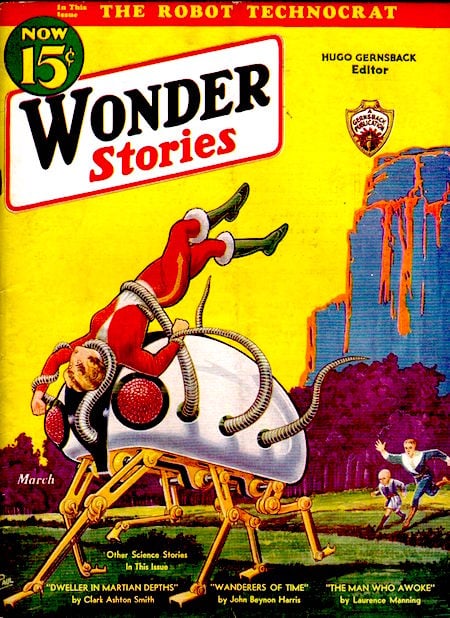 Laurence Manning's The Man Who Awoke (serialized 1933; as a book, 1975).
Having developed a lead-lined chamber which prevents aging, a means of putting himself into a coma at will, and a wake-up ray, scientist Norman Winters puts himself into suspended animation — intending to emerge in a utopian future, three thousand years hence. Instead, he wakes up five thousand years later, in a WALL-E-esque dystopia; the world has been reduced to a garbage heap after the "Age of Waste." Winters proceeds to travel ahead in time several more times, and encounters: strong AI (a super-computer, The Brain, supervises and manages all humankind), Matrix-like virtual reality (the sleeping outnumber the awake), desktop molecular manufacturing (a world of plenty, in which each individual is his or her own city-state), immortality (humankind scatters to the far reaches of the cosmos, out of boredom). Olaf Stapledon's far-out future vision plus Hugo Gernsback's ability to predict future tech equals… a proto-Iain M. Banks, perhaps.
Fun fact: Initially serialised in five parts during 1933 in the pulp magazine Wonder Stories.
***
MORE RADIUM AGE SCI FI ON HILOBROW: HiLoBooks homepage! | What is Radium Age science fiction? |Radium Age 100: 100 Best Science Fiction Novels from 1904–33 | Radium Age Supermen | Radium Age Robots | Radium Age Apocalypses | Radium Age Telepaths | Radium Age Eco-Catastrophes | Radium Age Cover Art (1) | SF's Best Year Ever: 1912 | Radium Age Science Fiction Poetry | Enter Highbrowism | Bathybius! Primordial ooze in Radium Age sf | War and Peace Games (H.G. Wells's training manuals for supermen) | Radium Age: Context series | J.D. Beresford | Algernon Blackwood | Edgar Rice Burroughs | Karel Čapek | Buster Crabbe | August Derleth | Arthur Conan Doyle | Hugo Gernsback | Charlotte Perkins Gilman | Cicely Hamilton | Hermann Hesse | William Hope Hodgson | Aldous Huxley | Inez Haynes Irwin | Alfred Jarry | Jack Kirby (Radium Age sf's influence on) | Murray Leinster | Gustave Le Rouge | Gaston Leroux | David Lindsay | Jack London | H.P. Lovecraft | A. Merritt | Maureen O'Sullivan | Sax Rohmer | Paul Scheerbart | Upton Sinclair | Clark Ashton Smith | E.E. "Doc" Smith | Olaf Stapledon | John Taine | H.G. Wells | Jack Williamson | Stanisław Ignacy Witkiewicz | S. Fowler Wright | Philip Gordon Wylie | Yevgeny Zamyatin