Radium Age 100 (88)
By: Joshua Glenn
March 3, 2016
One in a series of 100 posts about the best science fiction novels published from 1904–33. HILOBROW's Josh Glenn has named that era science fiction's Radium Age; more info here. The complete Radium Age 100 list can be found here.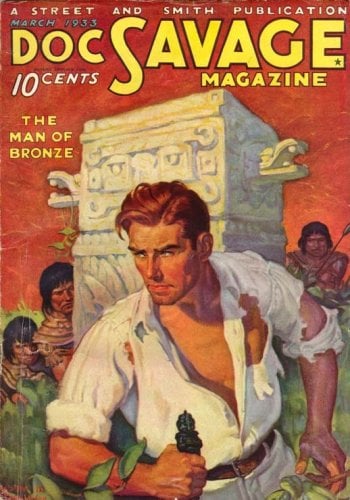 Lester Dent's Doc Savage (1933-on).
In a perfect example of the first-time-as-comedy-second-time-as-tragedy trope, the "Doc Savage" character — Clark Savage Jr., a nearly superhuman surgeon, scientist, adventurer, inventor, explorer, and researcher — is an earnest version of Henry Stone, protagonist of Philip Wylie's sardonic superman novel The Savage Gentleman (1932). An expert at disguise, not to mention hand-to-hand combat, Savage's only goal in life is to right wrongs and punish evildoers. He is accompanied, in many of his adventures, by the brilliant chemist "Monk" Mayfair, dapper attorney (and Brigadier General) "Ham" Brooks, construction engineer and strongman "Renny" Renwick, electrical engineer "Long Tom" Roberts, and be-monocled archaeologist Johnny Littlejohn. Their HQ is on the 86th floor of a New York skyscraper (implicitly the Empire State Building); and Savage also has a Fortress of Solitude in the Arctic. Here we see Golden Age themes and memes emerging from the Radium Age.
Fun fact: The Doc Savage character was created by publisher Henry W. Ralston and editor John L. Nanovic at Street & Smith Publications. Issue Number 1 of Doc Savage magazine appeared in February 1933; it quickly became one of the top-selling pulps. Of the 181 Doc Savage novels published by Street and Smith, 179 were credited to Kenneth Robeson; all but twenty of these novels were written by Lester Dent. Doc Savage became known to more contemporary readers when Bantam Books began reprinting the novels in 1964.
***
MORE RADIUM AGE SCI FI ON HILOBROW: HiLoBooks homepage! | What is Radium Age science fiction? |Radium Age 100: 100 Best Science Fiction Novels from 1904–33 | Radium Age Supermen | Radium Age Robots | Radium Age Apocalypses | Radium Age Telepaths | Radium Age Eco-Catastrophes | Radium Age Cover Art (1) | SF's Best Year Ever: 1912 | Radium Age Science Fiction Poetry | Enter Highbrowism | Bathybius! Primordial ooze in Radium Age sf | War and Peace Games (H.G. Wells's training manuals for supermen) | Radium Age: Context series | J.D. Beresford | Algernon Blackwood | Edgar Rice Burroughs | Karel Čapek | Buster Crabbe | August Derleth | Arthur Conan Doyle | Hugo Gernsback | Charlotte Perkins Gilman | Cicely Hamilton | Hermann Hesse | William Hope Hodgson | Aldous Huxley | Inez Haynes Irwin | Alfred Jarry | Jack Kirby (Radium Age sf's influence on) | Murray Leinster | Gustave Le Rouge | Gaston Leroux | David Lindsay | Jack London | H.P. Lovecraft | A. Merritt | Maureen O'Sullivan | Sax Rohmer | Paul Scheerbart | Upton Sinclair | Clark Ashton Smith | E.E. "Doc" Smith | Olaf Stapledon | John Taine | H.G. Wells | Jack Williamson | Stanisław Ignacy Witkiewicz | S. Fowler Wright | Philip Gordon Wylie | Yevgeny Zamyatin