Radium Age 100 (87)
By: Joshua Glenn
March 1, 2016
One in a series of 100 posts about the best science fiction novels published from 1904–33. HILOBROW's Josh Glenn has named that era science fiction's Radium Age; more info here. The complete Radium Age 100 list can be found here.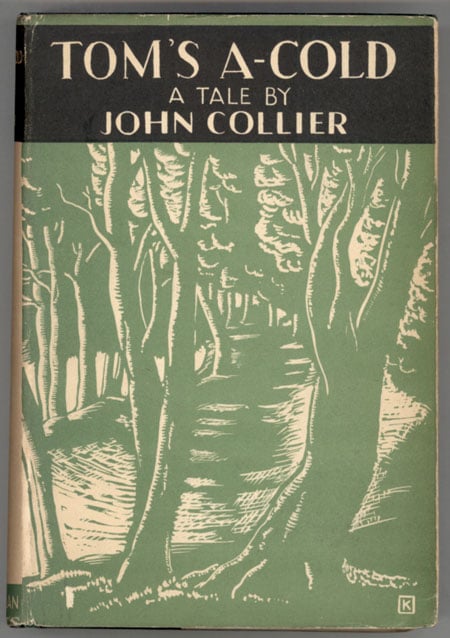 John Collier's Tom's A-Cold (1933; US title: Full Circle).
Though best remembered for his mordant, fantastical short stories, many of which appeared in The New Yorker — a few years ago, NYRB Classics reissued the excellent 1951 collection Fancies and Goodnights — John Collier also wrote two Radium Age science fiction novels. Tom's A-Cold is set in 1995, at which point England — along with the rest of the world, presumably — has reverted to a medieval-style social order and way of life. This is, in some sense, a "cozy catastrophe" — Collier describes the reborn natural world movingly. (What happened to civilization? Greed, laziness, and bureaucracy.) Harry, who has grown up in a valley in Hampshire, under the egotistic rule of the Chief, is being groomed by his grandfather — one of the few elders who remembers modern civilization — to take over the tribe, and make progress once again. Over the course of a summer and fall, during and after a raid on a nearby village, to capture women, Harry does become Chief — but at the cost of everything he cares about.
Fun fact: Collier was a fixture on the English literary scene during the 1920s and '30s, counting among his friends the Sitwells, E. M. Forster, and Wyndham Lewis; in Hollywood, years later, he helped develop TV shows like Alfred Hitchcock Presents and The Twilight Zone.
***
MORE RADIUM AGE SCI FI ON HILOBROW: HiLoBooks homepage! | What is Radium Age science fiction? |Radium Age 100: 100 Best Science Fiction Novels from 1904–33 | Radium Age Supermen | Radium Age Robots | Radium Age Apocalypses | Radium Age Telepaths | Radium Age Eco-Catastrophes | Radium Age Cover Art (1) | SF's Best Year Ever: 1912 | Radium Age Science Fiction Poetry | Enter Highbrowism | Bathybius! Primordial ooze in Radium Age sf | War and Peace Games (H.G. Wells's training manuals for supermen) | Radium Age: Context series | J.D. Beresford | Algernon Blackwood | Edgar Rice Burroughs | Karel Čapek | Buster Crabbe | August Derleth | Arthur Conan Doyle | Hugo Gernsback | Charlotte Perkins Gilman | Cicely Hamilton | Hermann Hesse | William Hope Hodgson | Aldous Huxley | Inez Haynes Irwin | Alfred Jarry | Jack Kirby (Radium Age sf's influence on) | Murray Leinster | Gustave Le Rouge | Gaston Leroux | David Lindsay | Jack London | H.P. Lovecraft | A. Merritt | Maureen O'Sullivan | Sax Rohmer | Paul Scheerbart | Upton Sinclair | Clark Ashton Smith | E.E. "Doc" Smith | Olaf Stapledon | John Taine | H.G. Wells | Jack Williamson | Stanisław Ignacy Witkiewicz | S. Fowler Wright | Philip Gordon Wylie | Yevgeny Zamyatin