Radium Age 100 (86)
By: Joshua Glenn
February 28, 2016
One in a series of 100 posts about the best science fiction novels published from 1904–33. HILOBROW's Josh Glenn has named that era science fiction's Radium Age; more info here. The complete Radium Age 100 list can be found here.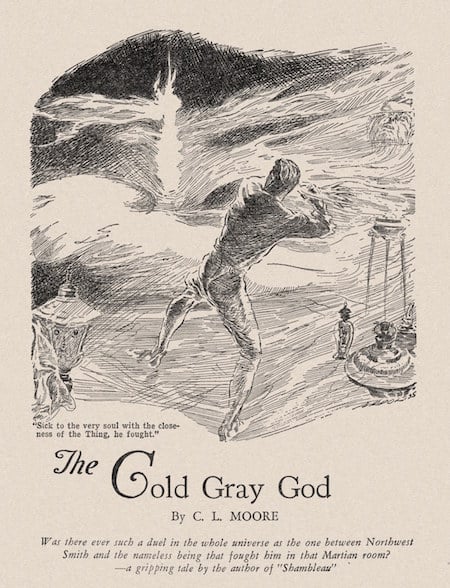 C.L. Moore's Northwest Smith (1933-on; collected in book form, 1953).
In the far future, humankind has colonized the solar system. The ruthless, cynical spaceship pilot and smuggler Northwest Smith roams from planet to planet, looking to make a quick buck. In "Shambleau" (November 1933), for example, Smith rescues a strange, beautiful girl from a Martian mob; and in "Black Thirst" (April 1934), he ventures into a forbidden Venusian fortress. And in "Dust of Gods" (August 1934), Smith and his Venusian comrade, Yarol, take a job searching for the physical remnants of a dead god. In many of these yarns, all of which appeared in Weird Tales — during that magazine's H.P. Lovecraft/Robert E. Howard/Clark Ashton Smith era — Smith undergoes outré psychological/spiritual trials, which take place in extra-dimensional or dream-like contexts.
Fun fact: Catherine Lucille Moore was among the first women to write pulp science fiction and fantasy. She and her first husband, Henry Kuttner, were prolific co-authors.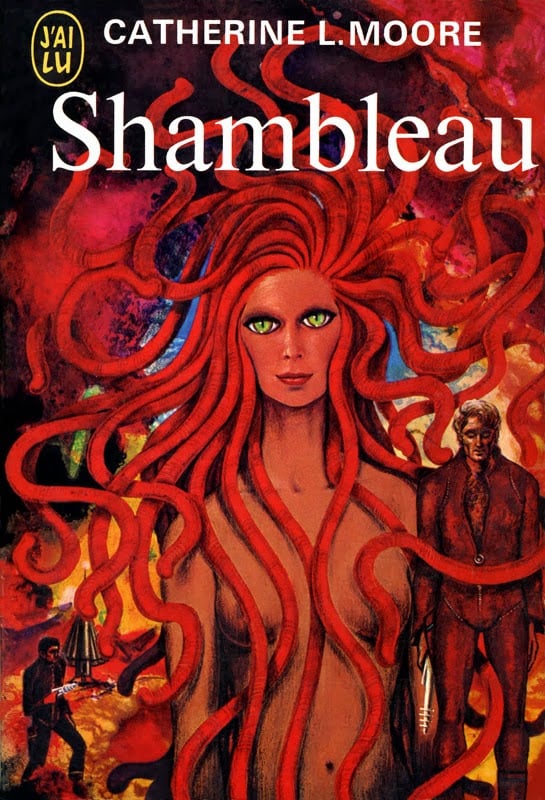 ***
MORE RADIUM AGE SCI FI ON HILOBROW: HiLoBooks homepage! | What is Radium Age science fiction? |Radium Age 100: 100 Best Science Fiction Novels from 1904–33 | Radium Age Supermen | Radium Age Robots | Radium Age Apocalypses | Radium Age Telepaths | Radium Age Eco-Catastrophes | Radium Age Cover Art (1) | SF's Best Year Ever: 1912 | Radium Age Science Fiction Poetry | Enter Highbrowism | Bathybius! Primordial ooze in Radium Age sf | War and Peace Games (H.G. Wells's training manuals for supermen) | Radium Age: Context series | J.D. Beresford | Algernon Blackwood | Edgar Rice Burroughs | Karel Čapek | Buster Crabbe | August Derleth | Arthur Conan Doyle | Hugo Gernsback | Charlotte Perkins Gilman | Cicely Hamilton | Hermann Hesse | William Hope Hodgson | Aldous Huxley | Inez Haynes Irwin | Alfred Jarry | Jack Kirby (Radium Age sf's influence on) | Murray Leinster | Gustave Le Rouge | Gaston Leroux | David Lindsay | Jack London | H.P. Lovecraft | A. Merritt | Maureen O'Sullivan | Sax Rohmer | Paul Scheerbart | Upton Sinclair | Clark Ashton Smith | E.E. "Doc" Smith | Olaf Stapledon | John Taine | H.G. Wells | Jack Williamson | Stanisław Ignacy Witkiewicz | S. Fowler Wright | Philip Gordon Wylie | Yevgeny Zamyatin