Radium Age 100 (84)
By: Joshua Glenn
February 22, 2016
One in a series of 100 posts about the best science fiction novels published from 1904–33. HILOBROW's Josh Glenn has named that era science fiction's Radium Age; more info here. The complete Radium Age 100 list can be found here.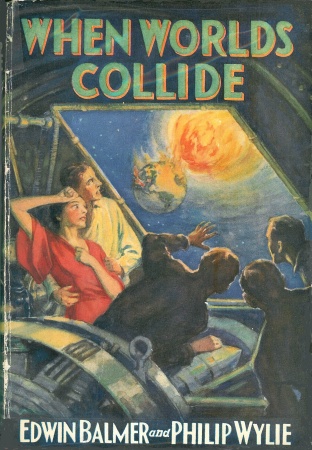 Edwin Balmer and Philip Gordon Wylie's When Worlds Collide (1932).
Two rogue planets are entering the sun's orbit! The League of the Last Days — an international band of 1,000 brilliant scientists, action heroes, and fertile women (I exaggerate, but not much) — hatch a desperate plan. Even as one of these planets (Bronson Alpha) collides with the Earth, a remnant of humankind might be able to survive on the other (Bronson Beta); so they set about designing, constructing, and outfitting rocket-arks. We are treated to two terrifying apocalyptic scenes: One, when the rogue planets first pass by the Earth, triggering stupendous cataclysms; and the other, when worlds collide: "The very Earth bulged… It became plastic. It was drawn out egg-shaped. The cracks girdled the globe. A great section of the Earth itself lifted up and peeled away…." But it's the post-apocalyptic scenes that are the most haunting: a deserted Chicago whose skyscrapers are knocked out of plumb; violent, half-naked mobs battling the National Guard in Pittsburgh; an army of hate-filled Midwesterners that nearly succeeds in wrecking the rocket-ship project. Sequel: After Worlds Collide (1934).
Fun facts: The book influenced the strip Flash Gordon, while Siegel & Shuster lifted key ideas from both When Worlds Collide and Wylie's earlier SF novel, Gladiator when they created Superman. George Pal's 1951 movie adaptation of Worlds is a sci-fi classic, which inspired the Rocky Horror lyrics "'But when worlds collide,'/Said George Pal to his bride,/'I'm gonna give you some terrible thrills.'"
***
MORE RADIUM AGE SCI FI ON HILOBROW: HiLoBooks homepage! | What is Radium Age science fiction? |Radium Age 100: 100 Best Science Fiction Novels from 1904–33 | Radium Age Supermen | Radium Age Robots | Radium Age Apocalypses | Radium Age Telepaths | Radium Age Eco-Catastrophes | Radium Age Cover Art (1) | SF's Best Year Ever: 1912 | Radium Age Science Fiction Poetry | Enter Highbrowism | Bathybius! Primordial ooze in Radium Age sf | War and Peace Games (H.G. Wells's training manuals for supermen) | Radium Age: Context series | J.D. Beresford | Algernon Blackwood | Edgar Rice Burroughs | Karel Čapek | Buster Crabbe | August Derleth | Arthur Conan Doyle | Hugo Gernsback | Charlotte Perkins Gilman | Cicely Hamilton | Hermann Hesse | William Hope Hodgson | Aldous Huxley | Inez Haynes Irwin | Alfred Jarry | Jack Kirby (Radium Age sf's influence on) | Murray Leinster | Gustave Le Rouge | Gaston Leroux | David Lindsay | Jack London | H.P. Lovecraft | A. Merritt | Maureen O'Sullivan | Sax Rohmer | Paul Scheerbart | Upton Sinclair | Clark Ashton Smith | E.E. "Doc" Smith | Olaf Stapledon | John Taine | H.G. Wells | Jack Williamson | Stanisław Ignacy Witkiewicz | S. Fowler Wright | Philip Gordon Wylie | Yevgeny Zamyatin