Radium Age 100 (82)
By: Joshua Glenn
February 19, 2016
One in a series of 100 posts about the best science fiction novels published from 1904–33. HILOBROW's Josh Glenn has named that era science fiction's Radium Age; more info here. The complete Radium Age 100 list can be found here.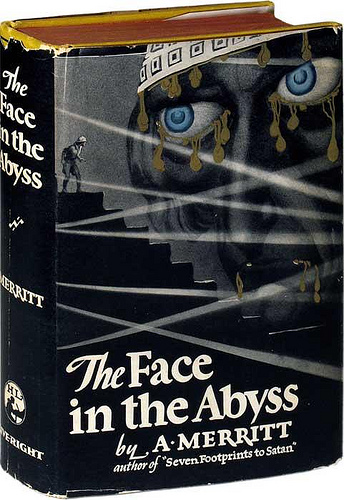 A. Merritt's The Face in the Abyss (1931).
This semi-occult SF novel, which combines "The Face in the Abyss" (serialized Sept. 1923) and its sequel, "The Snake Mother" (serialized Oct.-Dec. 1930), is set in the Peruvian Andes. Treasure-hunter Nicholas Graydon rescues Suarra, handmaiden to Adana, the Snake Mother of Yu-Atlanchi, from his own companions. Adana is the last of a race of superintelligent serpent people whose servants, the Old Race, are immortal. Although possessed of fragments of their former superior science, they are now obsessed with sex, hunting mutants with dinosaurs, and dream machines. Adana, who possesses spectacular paranormal abilities, is humankind's only defense against Nimir, a Sauron- or Voldemort-like mage who'd conquer the world if he could inhabit a physical body. He wants Graydon's, but his designs are thwarted by a band of Old Race outlaws and mutated spiders.
Fun fact: Merritt was once considered the greatest SF writer of modern times; he had a magazine — A. Merritt's Fantasy Magazine — named after him. E.F. Bleiler praises his "sweeping ideas, high emotion, and perpetual suggestions of deeper phenomena beneath the surface of events."
***
MORE RADIUM AGE SCI FI ON HILOBROW: HiLoBooks homepage! | What is Radium Age science fiction? |Radium Age 100: 100 Best Science Fiction Novels from 1904–33 | Radium Age Supermen | Radium Age Robots | Radium Age Apocalypses | Radium Age Telepaths | Radium Age Eco-Catastrophes | Radium Age Cover Art (1) | SF's Best Year Ever: 1912 | Radium Age Science Fiction Poetry | Enter Highbrowism | Bathybius! Primordial ooze in Radium Age sf | War and Peace Games (H.G. Wells's training manuals for supermen) | Radium Age: Context series | J.D. Beresford | Algernon Blackwood | Edgar Rice Burroughs | Karel Čapek | Buster Crabbe | August Derleth | Arthur Conan Doyle | Hugo Gernsback | Charlotte Perkins Gilman | Cicely Hamilton | Hermann Hesse | William Hope Hodgson | Aldous Huxley | Inez Haynes Irwin | Alfred Jarry | Jack Kirby (Radium Age sf's influence on) | Murray Leinster | Gustave Le Rouge | Gaston Leroux | David Lindsay | Jack London | H.P. Lovecraft | A. Merritt | Maureen O'Sullivan | Sax Rohmer | Paul Scheerbart | Upton Sinclair | Clark Ashton Smith | E.E. "Doc" Smith | Olaf Stapledon | John Taine | H.G. Wells | Jack Williamson | Stanisław Ignacy Witkiewicz | S. Fowler Wright | Philip Gordon Wylie | Yevgeny Zamyatin