Radium Age 100 (81)
By: Joshua Glenn
February 18, 2016
One in a series of 100 posts about the best science fiction novels published from 1904–33. HILOBROW's Josh Glenn has named that era science fiction's Radium Age; more info here. The complete Radium Age 100 list can be found here.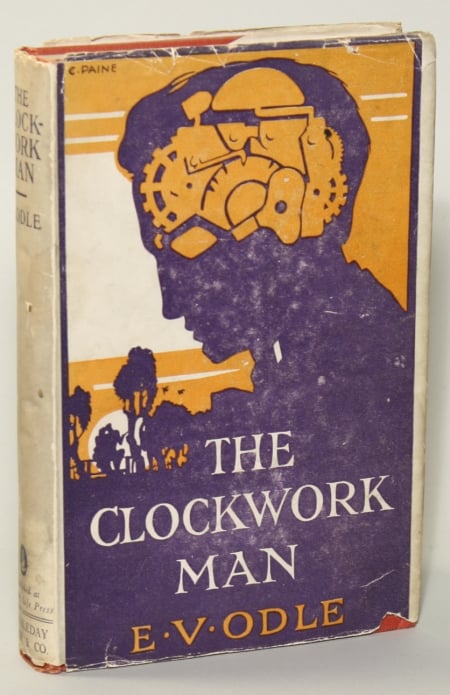 E.V. Odle's The Clockwork Man (1923).
Years from now, advanced beings known as the Makers will implant clockwork devices into our heads. At the cost of a certain amount of agency, these marvelous devices will permit us to move unhindered through time and space, and to live perfectly regulated lives. However, if one of these devices should ever go awry, a "clockwork man" from the future might turn up in the 1920s, perhaps at a cricket match in a small English village. Considered the original cyborg novel, and perhaps the original singularity novel too, The Clockwork Man might have been more successful if Karel Čapek's R.U.R. hadn't appeared in England at precisely the same time. "Odle's ominous, droll, and unforgettable The Clockwork Man is a missing link between Lewis Carroll and John Sladek or Philip K. Dick," says Jonathan Lethem. "Considered with them, it suggests an alternate lineage for SF, springing as much from G.K. Chesterton's sensibility as from H.G. Wells's."
Fun fact: Rumors that "E.V. Odle" was a pen name for Virginia Woolf are amusing, but unfounded. Edwin Vincent Odle (1890–1942) was a writer who lived in Bloomsbury, London during the 1910s. From 1925–35, he was editor of the British short-story magazine The Argosy. Reissued by HiLoBooks. with an Introduction by Annalee Newitz.
***
MORE RADIUM AGE SCI FI ON HILOBROW: HiLoBooks homepage! | What is Radium Age science fiction? |Radium Age 100: 100 Best Science Fiction Novels from 1904–33 | Radium Age Supermen | Radium Age Robots | Radium Age Apocalypses | Radium Age Telepaths | Radium Age Eco-Catastrophes | Radium Age Cover Art (1) | SF's Best Year Ever: 1912 | Radium Age Science Fiction Poetry | Enter Highbrowism | Bathybius! Primordial ooze in Radium Age sf | War and Peace Games (H.G. Wells's training manuals for supermen) | Radium Age: Context series | J.D. Beresford | Algernon Blackwood | Edgar Rice Burroughs | Karel Čapek | Buster Crabbe | August Derleth | Arthur Conan Doyle | Hugo Gernsback | Charlotte Perkins Gilman | Cicely Hamilton | Hermann Hesse | William Hope Hodgson | Aldous Huxley | Inez Haynes Irwin | Alfred Jarry | Jack Kirby (Radium Age sf's influence on) | Murray Leinster | Gustave Le Rouge | Gaston Leroux | David Lindsay | Jack London | H.P. Lovecraft | A. Merritt | Maureen O'Sullivan | Sax Rohmer | Paul Scheerbart | Upton Sinclair | Clark Ashton Smith | E.E. "Doc" Smith | Olaf Stapledon | John Taine | H.G. Wells | Jack Williamson | Stanisław Ignacy Witkiewicz | S. Fowler Wright | Philip Gordon Wylie | Yevgeny Zamyatin