Radium Age 100 (80)
By: Joshua Glenn
February 12, 2016
One in a series of 100 posts about the best science fiction novels published from 1904–33. HILOBROW's Josh Glenn has named that era science fiction's Radium Age; more info here. The complete Radium Age 100 list can be found here.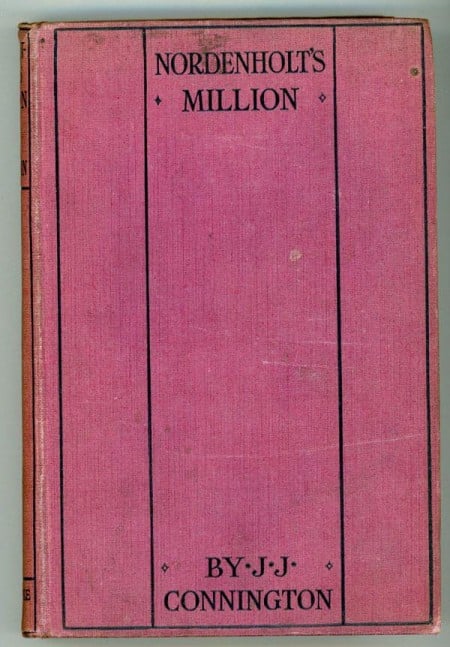 J.J. Connington's Nordenholt's Million (1923).
As denitrifying bacteria inimical to plant growth spread around the world, causing agricultural blight, Jack Flint is invited to become director of operations at a huge survivalist colony located in England's Clyde Valley. Flint discovers that his employer, the ruthless plutocrat Nordenholt, has blackmailed the country's politicians in order to establish his stronghold, of which he becomes dictator in all but name. What's more, Nordenholt's henchmen purposely wreck what remains of British civilization, leading to scenes of horrific mass violence and agony; and the colony's workers are treated like serfs. The plant-killing plague ends… but Nordenholt's collectivized serfs refuse to work, blow up the factories on which their fragile community depends, and join weird religious cults! The author, it seems, was as worried about the Soviet Revolution as he was about right-wing politicians and rapacious businessmen eager to use any disaster as an excuse to dispense with democracy, liberty, and justice.
Fun fact: Connington was the pseudonym of Alfred Walter Stewart, the British chemist who coined the term isobar as complementary to isotope.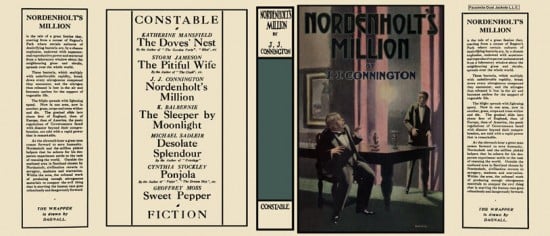 ***
MORE RADIUM AGE SCI FI ON HILOBROW: HiLoBooks homepage! | What is Radium Age science fiction? |Radium Age 100: 100 Best Science Fiction Novels from 1904–33 | Radium Age Supermen | Radium Age Robots | Radium Age Apocalypses | Radium Age Telepaths | Radium Age Eco-Catastrophes | Radium Age Cover Art (1) | SF's Best Year Ever: 1912 | Radium Age Science Fiction Poetry | Enter Highbrowism | Bathybius! Primordial ooze in Radium Age sf | War and Peace Games (H.G. Wells's training manuals for supermen) | Radium Age: Context series | J.D. Beresford | Algernon Blackwood | Edgar Rice Burroughs | Karel Čapek | Buster Crabbe | August Derleth | Arthur Conan Doyle | Hugo Gernsback | Charlotte Perkins Gilman | Cicely Hamilton | Hermann Hesse | William Hope Hodgson | Aldous Huxley | Inez Haynes Irwin | Alfred Jarry | Jack Kirby (Radium Age sf's influence on) | Murray Leinster | Gustave Le Rouge | Gaston Leroux | David Lindsay | Jack London | H.P. Lovecraft | A. Merritt | Maureen O'Sullivan | Sax Rohmer | Paul Scheerbart | Upton Sinclair | Clark Ashton Smith | E.E. "Doc" Smith | Olaf Stapledon | John Taine | H.G. Wells | Jack Williamson | Stanisław Ignacy Witkiewicz | S. Fowler Wright | Philip Gordon Wylie | Yevgeny Zamyatin