Radium Age 100 (78)
By: Joshua Glenn
February 5, 2016
One in a series of 100 posts about the best science fiction novels published from 1904–33. HILOBROW's Josh Glenn has named that era science fiction's Radium Age; more info here. The complete Radium Age 100 list can be found here.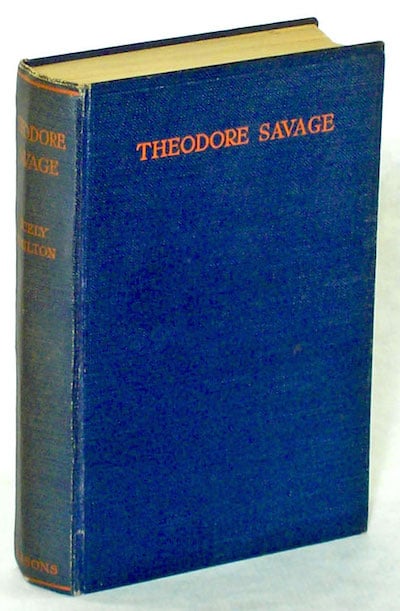 Cicely Hamilton's Theodore Savage (1922).
When war breaks out in Europe, British civilization collapses overnight. The ironically named protagonist must learn to survive by his wits in a new Britain. When we first meet Theodore Savage, he is a complacent civil servant, primarily concerned with romancing his girlfriend. During the brief war, in which both sides use population displacement as a terrible strategic weapon, Savage must battle his fellow countrymen. He shacks up with an ignorant young woman in a forest hut — a kind of ironic Garden of Eden, where no one is happy. Eventually, he sets off in search of other survivors… only to discover a primitive society where science and technology have come to be regarded with superstitious awe and terror.
Fun fact: Cicely Hamilton was an Anglo-Irish novelist, dramatist, and campaigner for women's rights who served during WWI with an ambulance unit and at a military hospital in France. Her 1909 treatise Marriage as a Trade is a witty criticism of that institution. Reissued by HiLoBooks, with an Introduction by Gary Panter.
***
MORE RADIUM AGE SCI FI ON HILOBROW: HiLoBooks homepage! | What is Radium Age science fiction? |Radium Age 100: 100 Best Science Fiction Novels from 1904–33 | Radium Age Supermen | Radium Age Robots | Radium Age Apocalypses | Radium Age Telepaths | Radium Age Eco-Catastrophes | Radium Age Cover Art (1) | SF's Best Year Ever: 1912 | Radium Age Science Fiction Poetry | Enter Highbrowism | Bathybius! Primordial ooze in Radium Age sf | War and Peace Games (H.G. Wells's training manuals for supermen) | Radium Age: Context series | J.D. Beresford | Algernon Blackwood | Edgar Rice Burroughs | Karel Čapek | Buster Crabbe | August Derleth | Arthur Conan Doyle | Hugo Gernsback | Charlotte Perkins Gilman | Cicely Hamilton | Hermann Hesse | William Hope Hodgson | Aldous Huxley | Inez Haynes Irwin | Alfred Jarry | Jack Kirby (Radium Age sf's influence on) | Murray Leinster | Gustave Le Rouge | Gaston Leroux | David Lindsay | Jack London | H.P. Lovecraft | A. Merritt | Maureen O'Sullivan | Sax Rohmer | Paul Scheerbart | Upton Sinclair | Clark Ashton Smith | E.E. "Doc" Smith | Olaf Stapledon | John Taine | H.G. Wells | Jack Williamson | Stanisław Ignacy Witkiewicz | S. Fowler Wright | Philip Gordon Wylie | Yevgeny Zamyatin