Radium Age 100 (75)
By: Joshua Glenn
January 25, 2016
One in a series of 100 posts about the best science fiction novels published from 1904–33. HILOBROW's Josh Glenn has named that era science fiction's Radium Age; more info here. The complete Radium Age 100 list can be found here.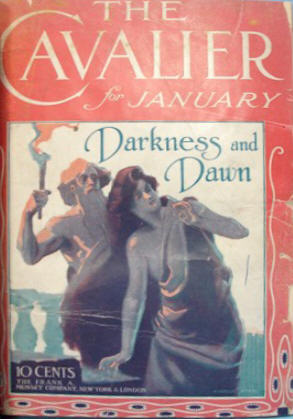 George Allan England's The Vacant World (serialized 1912).
The first part of the author's Darkness and Dawn trilogy. When engineer Allan Stern and his beautiful secretary, Beatrice, wake up on the upper floor of a ruined Manhattan skyscraper, over a thousand years in the future, they are understandably confused. What happened? It's a Rip Van Winkle story in which an asteroid has destroyed most life on Earth; New York lies in ruins; fleas the size of rats suck on rats the size of cats, etc. Wild animals and savage, mutated humans roam the streets — alas, I'm sorry to report that they are African-Americans. Allan uses his skills to make explosives, build bridges, fly bi-planes, and so forth; Beatrice joins him in discussions of how to rebuild civilization along utopian lines: Imagine no possessions/I wonder if you can/No need for greed or hunger/A brotherhood of man. This is pulp fiction, with a socialist edge. It's not well-written, but it's of historical interest, because — along with Jack London's The Scarlet Plague — it's an early post-apocalyptic yarn.
Fun fact: England was an American writer, and explorer who, later in life, unsuccessfully ran for Governor of Maine as a socialist. The other books in the Darkness and Dawn trilogy are Beyond the Great Oblivion (1913) and Afterglow (1914).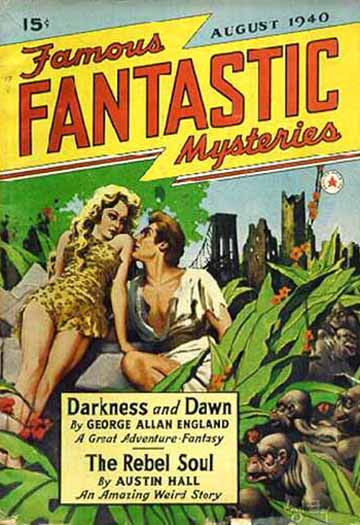 ***
MORE RADIUM AGE SCI FI ON HILOBROW: HiLoBooks homepage! | What is Radium Age science fiction? |Radium Age 100: 100 Best Science Fiction Novels from 1904–33 | Radium Age Supermen | Radium Age Robots | Radium Age Apocalypses | Radium Age Telepaths | Radium Age Eco-Catastrophes | Radium Age Cover Art (1) | SF's Best Year Ever: 1912 | Radium Age Science Fiction Poetry | Enter Highbrowism | Bathybius! Primordial ooze in Radium Age sf | War and Peace Games (H.G. Wells's training manuals for supermen) | Radium Age: Context series | J.D. Beresford | Algernon Blackwood | Edgar Rice Burroughs | Karel Čapek | Buster Crabbe | August Derleth | Arthur Conan Doyle | Hugo Gernsback | Charlotte Perkins Gilman | Cicely Hamilton | Hermann Hesse | William Hope Hodgson | Aldous Huxley | Inez Haynes Irwin | Alfred Jarry | Jack Kirby (Radium Age sf's influence on) | Murray Leinster | Gustave Le Rouge | Gaston Leroux | David Lindsay | Jack London | H.P. Lovecraft | A. Merritt | Maureen O'Sullivan | Sax Rohmer | Paul Scheerbart | Upton Sinclair | Clark Ashton Smith | E.E. "Doc" Smith | Olaf Stapledon | John Taine | H.G. Wells | Jack Williamson | Stanisław Ignacy Witkiewicz | S. Fowler Wright | Philip Gordon Wylie | Yevgeny Zamyatin