Radium Age 100 (74)
By: Joshua Glenn
January 23, 2016
One in a series of 100 posts about the best science fiction novels published from 1904–33. HILOBROW's Josh Glenn has named that era science fiction's Radium Age; more info here. The complete Radium Age 100 list can be found here.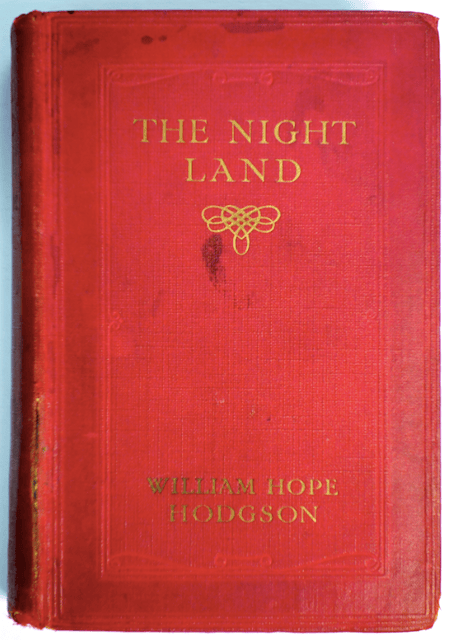 William Hope Hodgson's The Night Land (1912).
In the far future, what remains of the human population dwells deep below the Earth's frozen surface in a pyramidal fortress-city that for centuries has been surrounded by giants, "ab-humans," enormous slugs and spiders, and malevolent Watching Things from an alien dimension. The unnamed narrator, along with apparently every other surviving human, lives trapped in the Last Redoubt, a eight-mile-high metal pyramid-city constructed by their ancestors using now-forgotten technologies. The pyramid is protected from the Slayers, who surround and observe it constantly, by mysterious Powers of Goodness, and also by a massive force-field powered by the "Earth Current" — a Tesla-esque force drawn from the planet itself. When the narrator receives a telepathic distress signal from a young woman whom (in a previous incarnation) he'd once loved, he sallies forth on an ill-advised rescue mission — into the uncharted and unfathomable Night Land.
Fun fact: "One of the most potent pieces of macabre imagination ever written." — H.P. Lovecraft, "Supernatural Horror in Literature" (1927). Reissued by HiLoBooks.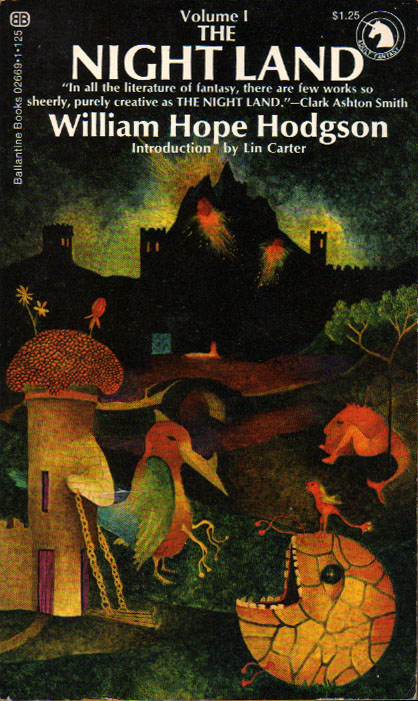 ***
MORE RADIUM AGE SCI FI ON HILOBROW: HiLoBooks homepage! | What is Radium Age science fiction? |Radium Age 100: 100 Best Science Fiction Novels from 1904–33 | Radium Age Supermen | Radium Age Robots | Radium Age Apocalypses | Radium Age Telepaths | Radium Age Eco-Catastrophes | Radium Age Cover Art (1) | SF's Best Year Ever: 1912 | Radium Age Science Fiction Poetry | Enter Highbrowism | Bathybius! Primordial ooze in Radium Age sf | War and Peace Games (H.G. Wells's training manuals for supermen) | Radium Age: Context series | J.D. Beresford | Algernon Blackwood | Edgar Rice Burroughs | Karel Čapek | Buster Crabbe | August Derleth | Arthur Conan Doyle | Hugo Gernsback | Charlotte Perkins Gilman | Cicely Hamilton | Hermann Hesse | William Hope Hodgson | Aldous Huxley | Inez Haynes Irwin | Alfred Jarry | Jack Kirby (Radium Age sf's influence on) | Murray Leinster | Gustave Le Rouge | Gaston Leroux | David Lindsay | Jack London | H.P. Lovecraft | A. Merritt | Maureen O'Sullivan | Sax Rohmer | Paul Scheerbart | Upton Sinclair | Clark Ashton Smith | E.E. "Doc" Smith | Olaf Stapledon | John Taine | H.G. Wells | Jack Williamson | Stanisław Ignacy Witkiewicz | S. Fowler Wright | Philip Gordon Wylie | Yevgeny Zamyatin