Radium Age 100 (70)
By: Joshua Glenn
January 12, 2016
One in a series of 100 posts about the best science fiction novels published from 1904–33. HILOBROW's Josh Glenn has named that era science fiction's Radium Age; more info here. The complete Radium Age 100 list can be found here.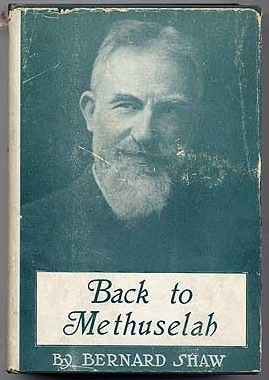 George Bernard Shaw's Back to Methuselah: A Metabiological Pentateuch (1921).
Shortly after WWI, the secret of Creative Evolution — in Shaw's formulation, the process by which an organism can will its own entelechy, or self-potentiation — is discovered. By the year 3100 the long-lived elite have developed perfect physiques and advanced mentalities. Zozim and Zoo are Boomer-like superhumans (he's nearly 100, she's 50, but they act like young adults) who assist a sham oracle in overawing the short-livers seeking its advice. It's all part of a plot to colonize and supersede ordinary humans! But like the proto-Yippies they are, Z and Z are upfront about the put-on. Zoo: "[Zozim] has to dress-up in a Druid's robe, and put on a wig and a long false beard, to impress you silly people…. I have no patience with such mummery; but you expect it from us; so I suppose it must be kept up." It's Wild in the Streets meets Highlander.
Fun fact: Fun fact: RFK was quoting this Radium Age sci-fi play when he said, "'You see things; and you say, "Why?" But I dream things that never were; and I say, "Why not?".'"
***
MORE RADIUM AGE SCI FI ON HILOBROW: HiLoBooks homepage! | What is Radium Age science fiction? |Radium Age 100: 100 Best Science Fiction Novels from 1904–33 | Radium Age Supermen | Radium Age Robots | Radium Age Apocalypses | Radium Age Telepaths | Radium Age Eco-Catastrophes | Radium Age Cover Art (1) | SF's Best Year Ever: 1912 | Radium Age Science Fiction Poetry | Enter Highbrowism | Bathybius! Primordial ooze in Radium Age sf | War and Peace Games (H.G. Wells's training manuals for supermen) | Radium Age: Context series | J.D. Beresford | Algernon Blackwood | Edgar Rice Burroughs | Karel Čapek | Buster Crabbe | August Derleth | Arthur Conan Doyle | Hugo Gernsback | Charlotte Perkins Gilman | Cicely Hamilton | Hermann Hesse | William Hope Hodgson | Aldous Huxley | Inez Haynes Irwin | Alfred Jarry | Jack Kirby (Radium Age sf's influence on) | Murray Leinster | Gustave Le Rouge | Gaston Leroux | David Lindsay | Jack London | H.P. Lovecraft | A. Merritt | Maureen O'Sullivan | Sax Rohmer | Paul Scheerbart | Upton Sinclair | Clark Ashton Smith | E.E. "Doc" Smith | Olaf Stapledon | John Taine | H.G. Wells | Jack Williamson | Stanisław Ignacy Witkiewicz | S. Fowler Wright | Philip Gordon Wylie | Yevgeny Zamyatin