Radium Age 100 (69)
By: Joshua Glenn
January 9, 2016
One in a series of 100 posts about the best science fiction novels published from 1904–33. HILOBROW's Josh Glenn has named that era science fiction's Radium Age; more info here. The complete Radium Age 100 list can be found here.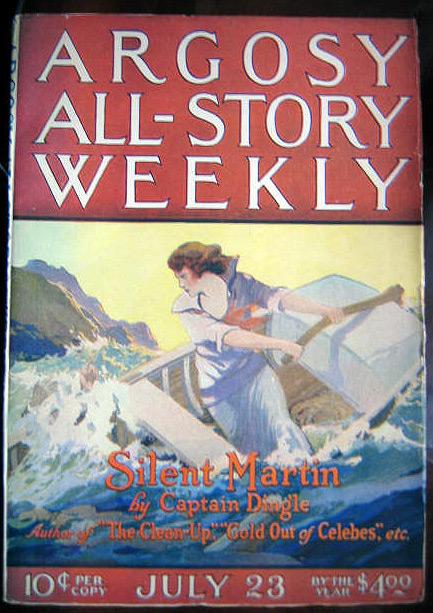 Homer Eon Flint's The Devolutionist (1921).
Having learned how to visit other worlds telepathically, Dr. Kinney and his companions enter the minds and share the sensations of the inhabitants of Hafen [Heaven], a planet inhabited by capitalists, and Holl [Hell], its twin planet, which is inhabited by workers. Not content merely to study the goings-on, Kinney & co. help the workers' revolutionary party stop the Hafenites from invading a third planet Alma, which is inhabited by "'cooperative democrats'; that is, they do not compete with each other for a living, but work together in all things, in complete equality." Unfortunately, a Hafenite WMD separates the twin planets. This is the third occult-science-fiction Dr. Kinney story; the others are "The Lord of Death" (June 1919), "The Queen of Life" (August 1919), and "The Emancipatrix" (September 1921).
Fun facts: Originally serialized in Argosy All-Story Weekly (July 1921); also serialized here at HILOBROW by HiLoBooks. Everett Bleiler's Science Fiction: The Early Years calls Flint "in many ways the outstanding writer of s-f in the Munsey pulp magazines." Flint died in a crash near Oakland, Calif., after supposedly stealing a taxi at gunpoint in order to use it in a bank hold-up. In 1965, Ace published The Devolutionist and The Emancipatrix together; could The Devolutionist and The Emancipatrix possibly be the best sci-fi title ever?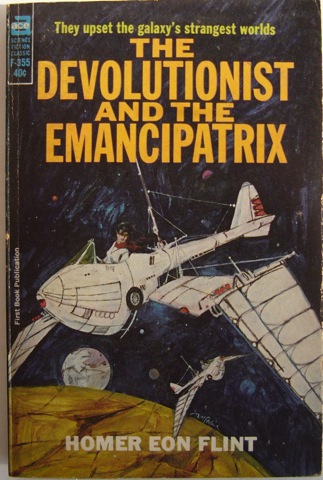 ***
MORE RADIUM AGE SCI FI ON HILOBROW: HiLoBooks homepage! | What is Radium Age science fiction? |Radium Age 100: 100 Best Science Fiction Novels from 1904–33 | Radium Age Supermen | Radium Age Robots | Radium Age Apocalypses | Radium Age Telepaths | Radium Age Eco-Catastrophes | Radium Age Cover Art (1) | SF's Best Year Ever: 1912 | Radium Age Science Fiction Poetry | Enter Highbrowism | Bathybius! Primordial ooze in Radium Age sf | War and Peace Games (H.G. Wells's training manuals for supermen) | Radium Age: Context series | J.D. Beresford | Algernon Blackwood | Edgar Rice Burroughs | Karel Čapek | Buster Crabbe | August Derleth | Arthur Conan Doyle | Hugo Gernsback | Charlotte Perkins Gilman | Cicely Hamilton | Hermann Hesse | William Hope Hodgson | Aldous Huxley | Inez Haynes Irwin | Alfred Jarry | Jack Kirby (Radium Age sf's influence on) | Murray Leinster | Gustave Le Rouge | Gaston Leroux | David Lindsay | Jack London | H.P. Lovecraft | A. Merritt | Maureen O'Sullivan | Sax Rohmer | Paul Scheerbart | Upton Sinclair | Clark Ashton Smith | E.E. "Doc" Smith | Olaf Stapledon | John Taine | H.G. Wells | Jack Williamson | Stanisław Ignacy Witkiewicz | S. Fowler Wright | Philip Gordon Wylie | Yevgeny Zamyatin