Radium Age 100 (68)
By: Joshua Glenn
January 6, 2016
One in a series of 100 posts about the best science fiction novels published from 1904–33. HILOBROW's Josh Glenn has named that era science fiction's Radium Age; more info here. The complete Radium Age 100 list can be found here.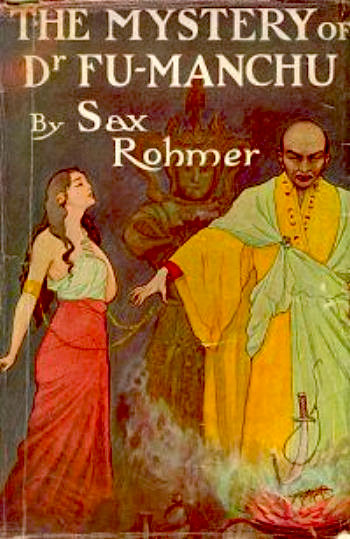 Sax Rohmer's The Mystery of Dr. Fu-Manchu (1913).
In this first Fu Manchu novel, assembled from stories published in magazines the preceding year [which explains why the date of the novel is sometimes given as 1912–13], colonial police commissioner Nayland Smith is in hot pursuit of Fu Manchu, an agent of a Chinese secret society, the Si-Fan. A brilliant scientist and criminal mastermind, Fu Manchu has relocated from China and Burma to East London's Limehouse district, from where — Smith believes — he is orchestrating a wave of assassinations targeting Western imperialists. Though Smith is a jingoist and racist, today's reader can infer a certain grudging admiration on the author's part for the Si-Fan's opposition to foreign imperialism; however, because their effort is funded through the drug trade and human trafficking, Smith must track down and destroy the cunning Fu Manchu. Who, in this novel, appears to be kidnapping Europe's best engineers and smuggling them back to China for some nefarious purpose!
Fun fact: Rohmer's Fu Manchu character would inspire racist depictions of Asian sci-fi/fantasy villains from Ming the Merciless to Dr. No. The character was also featured in movies, TV, radio, comic strips, and comic books through the middle of the century; these latter entertainments — which depicted Rohmer's villain with a long, drooping mustache (not mentioned in the books), has led to that style of facial hair becoming popularly known, to this day, as a "Fu Manchu."
***
MORE RADIUM AGE SCI FI ON HILOBROW: HiLoBooks homepage! | What is Radium Age science fiction? |Radium Age 100: 100 Best Science Fiction Novels from 1904–33 | Radium Age Supermen | Radium Age Robots | Radium Age Apocalypses | Radium Age Telepaths | Radium Age Eco-Catastrophes | Radium Age Cover Art (1) | SF's Best Year Ever: 1912 | Radium Age Science Fiction Poetry | Enter Highbrowism | Bathybius! Primordial ooze in Radium Age sf | War and Peace Games (H.G. Wells's training manuals for supermen) | Radium Age: Context series | J.D. Beresford | Algernon Blackwood | Edgar Rice Burroughs | Karel Čapek | Buster Crabbe | August Derleth | Arthur Conan Doyle | Hugo Gernsback | Charlotte Perkins Gilman | Cicely Hamilton | Hermann Hesse | William Hope Hodgson | Aldous Huxley | Inez Haynes Irwin | Alfred Jarry | Jack Kirby (Radium Age sf's influence on) | Murray Leinster | Gustave Le Rouge | Gaston Leroux | David Lindsay | Jack London | H.P. Lovecraft | A. Merritt | Maureen O'Sullivan | Sax Rohmer | Paul Scheerbart | Upton Sinclair | Clark Ashton Smith | E.E. "Doc" Smith | Olaf Stapledon | John Taine | H.G. Wells | Jack Williamson | Stanisław Ignacy Witkiewicz | S. Fowler Wright | Philip Gordon Wylie | Yevgeny Zamyatin