Radium Age 100 (66)
By: Joshua Glenn
December 30, 2015
One in a series of 100 posts about the best science fiction novels published from 1904–33. HILOBROW's Josh Glenn has named that era science fiction's Radium Age; more info here. The complete Radium Age 100 list can be found here.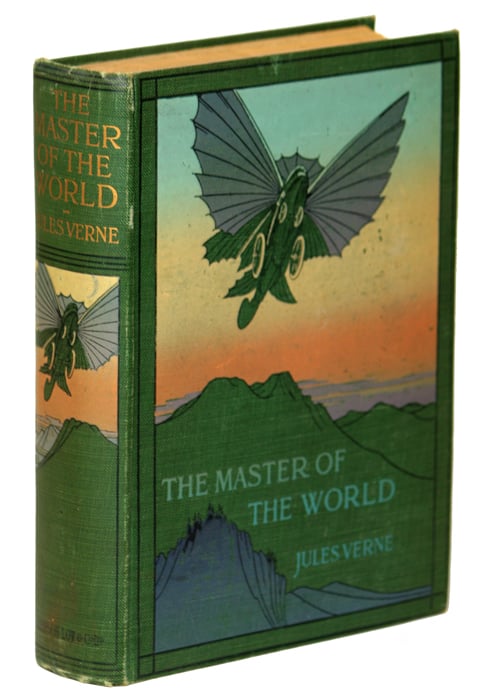 Jules Verne's The Master of the World (1904).
In this sequel to Verne's 1886 adventure Robur the Conqueror, FBI(-ish) Chief Inspector Strock arrives in North Carolina to investigate what appears to be an imminent volcanic eruption. Meanwhile, a supercar is spotting traveling at 120 miles per hour; and a speedboat/submarine is glimpsed in the waters off New England. Aha! The brilliant inventor Robur is back, and this time he has invented a ten-meter long vehicle, The Terror, capable of operating as a speedboat, submarine, automobile, or aircraft. Determined to have it for military purposes, the federal police first attempt to buy the machine, then attack Robur. With a captive Strock aboard, Robur escapes over Niagara Falls, then challenges God by heading into a Caribbean thunderstorm… at which point his amazing craft is shattered by lightning.
Fun fact: Is this one of Verne's best novels? No! But I include it here to demonstrate the context from which Radium Age science fiction emerged. Here we see one of the genre's pioneers, at the end of his career (and life), questioning man's ability to use science and technology to benefit humankind.
***
MORE RADIUM AGE SCI FI ON HILOBROW: HiLoBooks homepage! | What is Radium Age science fiction? |Radium Age 100: 100 Best Science Fiction Novels from 1904–33 | Radium Age Supermen | Radium Age Robots | Radium Age Apocalypses | Radium Age Telepaths | Radium Age Eco-Catastrophes | Radium Age Cover Art (1) | SF's Best Year Ever: 1912 | Radium Age Science Fiction Poetry | Enter Highbrowism | Bathybius! Primordial ooze in Radium Age sf | War and Peace Games (H.G. Wells's training manuals for supermen) | Radium Age: Context series | J.D. Beresford | Algernon Blackwood | Edgar Rice Burroughs | Karel Čapek | Buster Crabbe | August Derleth | Arthur Conan Doyle | Hugo Gernsback | Charlotte Perkins Gilman | Cicely Hamilton | Hermann Hesse | William Hope Hodgson | Aldous Huxley | Inez Haynes Irwin | Alfred Jarry | Jack Kirby (Radium Age sf's influence on) | Murray Leinster | Gustave Le Rouge | Gaston Leroux | David Lindsay | Jack London | H.P. Lovecraft | A. Merritt | Maureen O'Sullivan | Sax Rohmer | Paul Scheerbart | Upton Sinclair | Clark Ashton Smith | E.E. "Doc" Smith | Olaf Stapledon | John Taine | H.G. Wells | Jack Williamson | Stanisław Ignacy Witkiewicz | S. Fowler Wright | Philip Gordon Wylie | Yevgeny Zamyatin