Radium Age 100 (55)
By: Joshua Glenn
November 27, 2015
One in a series of 100 posts about the best science fiction novels published from 1904–33. HILOBROW's Josh Glenn has named that era science fiction's Radium Age; more info here. The complete Radium Age 100 list can be found here.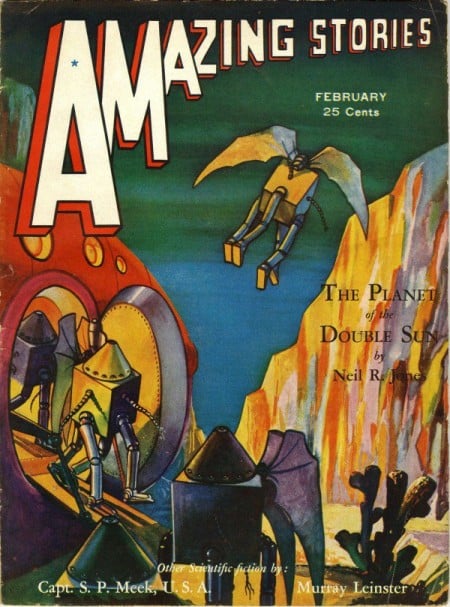 Neil R. Jones's Professor Jameson stories (1931-68).
In 1958, Professor Jameson arranges for his body to be cryopreserved — in a rocket orbiting the Earth — after he's dead. Forty million years later, a crew hailing from the planet Zor, whose inhabitants had "built their own mechanical bodies, and by operation upon one another had removed their brains to the metal heads from which they directed the functions and movements of their inorganic anatomies," discover the satellite. The Zoromes transfer Jameson's brain into a machine body, then take him to visit the lifeless Earth, an experience that nearly drives him mad, until he realizes that "He could be immortal if he wished! It would be an immortality of never-ending adventures in the vast, endless Universe among the galaxy of stars and planets." Indeed, Jones would publish 21 more Professor Jameson stories. Are they well-written? Not particularly. However, Jones's stories were popular at the time, and their cyborg conceit is a terrific one.
Fun fact: The first story in the series is "The Jameson Satellite" (Amazing Stories, July 1931). Isaac Asimov claimed the Zoromes, who although technically cyborgs are robot-like in their thorough-going objectivity, gave him his "feeling for benevolent robots who could serve man with decency." Jones is also credited with inspiring the modern idea of cryonics.
***
MORE RADIUM AGE SCI FI ON HILOBROW: HiLoBooks homepage! | What is Radium Age science fiction? |Radium Age 100: 100 Best Science Fiction Novels from 1904–33 | Radium Age Supermen | Radium Age Robots | Radium Age Apocalypses | Radium Age Telepaths | Radium Age Eco-Catastrophes | Radium Age Cover Art (1) | SF's Best Year Ever: 1912 | Radium Age Science Fiction Poetry | Enter Highbrowism | Bathybius! Primordial ooze in Radium Age sf | War and Peace Games (H.G. Wells's training manuals for supermen) | Radium Age: Context series | J.D. Beresford | Algernon Blackwood | Edgar Rice Burroughs | Karel Čapek | Buster Crabbe | August Derleth | Arthur Conan Doyle | Hugo Gernsback | Charlotte Perkins Gilman | Cicely Hamilton | Hermann Hesse | William Hope Hodgson | Aldous Huxley | Inez Haynes Irwin | Alfred Jarry | Jack Kirby (Radium Age sf's influence on) | Murray Leinster | Gustave Le Rouge | Gaston Leroux | David Lindsay | Jack London | H.P. Lovecraft | A. Merritt | Maureen O'Sullivan | Sax Rohmer | Paul Scheerbart | Upton Sinclair | Clark Ashton Smith | E.E. "Doc" Smith | Olaf Stapledon | John Taine | H.G. Wells | Jack Williamson | Stanisław Ignacy Witkiewicz | S. Fowler Wright | Philip Gordon Wylie | Yevgeny Zamyatin