Radium Age 100 (54)
By: Joshua Glenn
November 23, 2015
One in a series of 100 posts about the best science fiction novels published from 1904–33. HILOBROW's Josh Glenn has named that era science fiction's Radium Age; more info here. The complete Radium Age 100 list can be found here.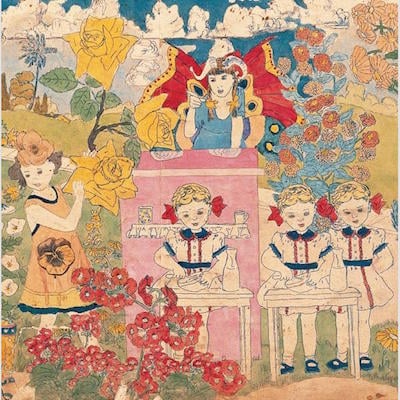 Henry Darger's In the Realms of the Unreal (1911–39).
Darger's 15,000-page novel is bound in fifteen immense volumes, three of which consist of several hundred watercolor paintings on paper derived from magazines and coloring books. Most of the book, titled The Story of the Vivian Girls, in What is Known as the Realms of the Unreal, of the Glandeco-Angelinian War Storm Caused by the Child Slave Rebellion, follows the graphically violent, epic adventures of seven princesses who assist a daring child-led rebellion against the evil regime of child slavery imposed by the Glandelinians. The setting is a war-torn planet around which the Earth orbits. The first nine volumes were most likely written between 1911 and 1928; the remaining volumes were completed by 1938 or 1939.
Fun fact: Henry Darger was a reclusive man who worked as a hospital custodian in Chicago; Darger's landlords came across his work shortly before his death, in 1973, and preserved it. Darger is today one of the most famous figures in the history of "outsider art."
***
MORE RADIUM AGE SCI FI ON HILOBROW: HiLoBooks homepage! | What is Radium Age science fiction? |Radium Age 100: 100 Best Science Fiction Novels from 1904–33 | Radium Age Supermen | Radium Age Robots | Radium Age Apocalypses | Radium Age Telepaths | Radium Age Eco-Catastrophes | Radium Age Cover Art (1) | SF's Best Year Ever: 1912 | Radium Age Science Fiction Poetry | Enter Highbrowism | Bathybius! Primordial ooze in Radium Age sf | War and Peace Games (H.G. Wells's training manuals for supermen) | Radium Age: Context series | J.D. Beresford | Algernon Blackwood | Edgar Rice Burroughs | Karel Čapek | Buster Crabbe | August Derleth | Arthur Conan Doyle | Hugo Gernsback | Charlotte Perkins Gilman | Cicely Hamilton | Hermann Hesse | William Hope Hodgson | Aldous Huxley | Inez Haynes Irwin | Alfred Jarry | Jack Kirby (Radium Age sf's influence on) | Murray Leinster | Gustave Le Rouge | Gaston Leroux | David Lindsay | Jack London | H.P. Lovecraft | A. Merritt | Maureen O'Sullivan | Sax Rohmer | Paul Scheerbart | Upton Sinclair | Clark Ashton Smith | E.E. "Doc" Smith | Olaf Stapledon | John Taine | H.G. Wells | Jack Williamson | Stanisław Ignacy Witkiewicz | S. Fowler Wright | Philip Gordon Wylie | Yevgeny Zamyatin