Radium Age 100 (53)
By: Joshua Glenn
November 21, 2015
One in a series of 100 posts about the best science fiction novels published from 1904–33. HILOBROW's Josh Glenn has named that era science fiction's Radium Age; more info here. The complete Radium Age 100 list can be found here.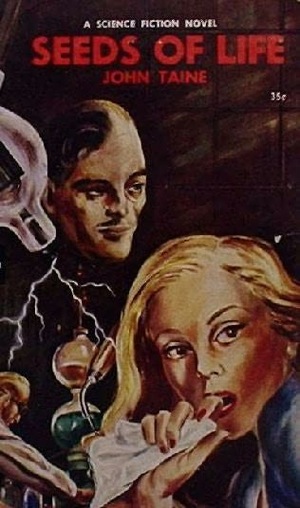 John Taine's Seeds of Life (1931).
Neils Bork, a pathetic lab technician, attempts suicide via X-rays and is transformed into a supermind in the body of a swarthy Adonis; he renames himself De Soto. ("De Soto was but a partial, accidental anticipation of the more sophisticated and yet more natural race into which time and the secular flux of chance are slowly transforming our kind.") He invents wireless energy transfer devices, secretly planning to use them to bombard humankind with "dysgenic" rays that will devolve unborn children. Then De Soto's own evolution reverses itself: "I never used to think [i.e., while he was still a super-genius], but saw the inevitable consequences of any pattern of circumstances — no matter how complicated — immediately, like a photograph of the future." He repents of his superioristic ways, and is killed by his own reptilian offspring.
Fun fact: John Taine was the pseudonym of noted mathematician Eric Temple Bell. The novella, which may have influenced everything from Flowers for Algernon to Spider-Man, was serialized in Amazing Stories Quarterly.
***
MORE RADIUM AGE SCI FI ON HILOBROW: HiLoBooks homepage! | What is Radium Age science fiction? |Radium Age 100: 100 Best Science Fiction Novels from 1904–33 | Radium Age Supermen | Radium Age Robots | Radium Age Apocalypses | Radium Age Telepaths | Radium Age Eco-Catastrophes | Radium Age Cover Art (1) | SF's Best Year Ever: 1912 | Radium Age Science Fiction Poetry | Enter Highbrowism | Bathybius! Primordial ooze in Radium Age sf | War and Peace Games (H.G. Wells's training manuals for supermen) | Radium Age: Context series | J.D. Beresford | Algernon Blackwood | Edgar Rice Burroughs | Karel Čapek | Buster Crabbe | August Derleth | Arthur Conan Doyle | Hugo Gernsback | Charlotte Perkins Gilman | Cicely Hamilton | Hermann Hesse | William Hope Hodgson | Aldous Huxley | Inez Haynes Irwin | Alfred Jarry | Jack Kirby (Radium Age sf's influence on) | Murray Leinster | Gustave Le Rouge | Gaston Leroux | David Lindsay | Jack London | H.P. Lovecraft | A. Merritt | Maureen O'Sullivan | Sax Rohmer | Paul Scheerbart | Upton Sinclair | Clark Ashton Smith | E.E. "Doc" Smith | Olaf Stapledon | John Taine | H.G. Wells | Jack Williamson | Stanisław Ignacy Witkiewicz | S. Fowler Wright | Philip Gordon Wylie | Yevgeny Zamyatin