Radium Age 100 (52)
By: Joshua Glenn
November 18, 2015
One in a series of 100 posts about the best science fiction novels published from 1904–33. HILOBROW's Josh Glenn has named that era science fiction's Radium Age; more info here. The complete Radium Age 100 list can be found here.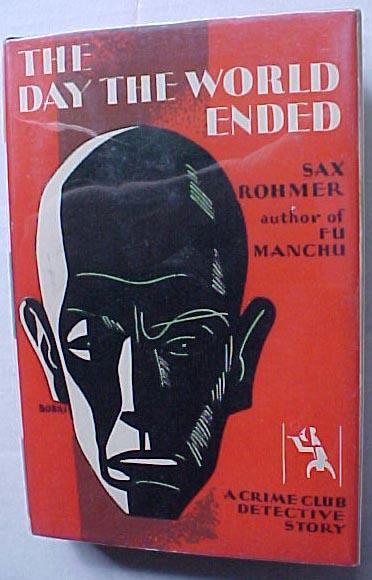 Sax Rohmer's The Day the World Ended (1930).
Three international crimefighters — Lonergan, an American secret service agent; Gaston Max, a dandified French police detective; and Brian Woodville, an English journalist — are investigating a series of strange events: radio silence in the USA, reports of man-bats in the Black Forest, the sudden death of everyone in a French village. It turns out that Anubis, a dwarfish evil genius, is plotting to establish a utopian society populated by surgically altered and highly conditioned humans. How? By destroying the rest of the Earth's population with a sonic weapon. The trio infiltrate Anubis's German castle, populated by 7-foot-tall guards and "soulless" houris — hello, Westworld and Stepford Wives — and call in an air strike.
Fun fact: Rohmer was best known for his (Orientalist) sci-fi/horror thrillers about Dr. Fu Manchu.
***
MORE RADIUM AGE SCI FI ON HILOBROW: HiLoBooks homepage! | What is Radium Age science fiction? |Radium Age 100: 100 Best Science Fiction Novels from 1904–33 | Radium Age Supermen | Radium Age Robots | Radium Age Apocalypses | Radium Age Telepaths | Radium Age Eco-Catastrophes | Radium Age Cover Art (1) | SF's Best Year Ever: 1912 | Radium Age Science Fiction Poetry | Enter Highbrowism | Bathybius! Primordial ooze in Radium Age sf | War and Peace Games (H.G. Wells's training manuals for supermen) | Radium Age: Context series | J.D. Beresford | Algernon Blackwood | Edgar Rice Burroughs | Karel Čapek | Buster Crabbe | August Derleth | Arthur Conan Doyle | Hugo Gernsback | Charlotte Perkins Gilman | Cicely Hamilton | Hermann Hesse | William Hope Hodgson | Aldous Huxley | Inez Haynes Irwin | Alfred Jarry | Jack Kirby (Radium Age sf's influence on) | Murray Leinster | Gustave Le Rouge | Gaston Leroux | David Lindsay | Jack London | H.P. Lovecraft | A. Merritt | Maureen O'Sullivan | Sax Rohmer | Paul Scheerbart | Upton Sinclair | Clark Ashton Smith | E.E. "Doc" Smith | Olaf Stapledon | John Taine | H.G. Wells | Jack Williamson | Stanisław Ignacy Witkiewicz | S. Fowler Wright | Philip Gordon Wylie | Yevgeny Zamyatin