Radium Age 100 (47)
By: Joshua Glenn
November 3, 2015
One in a series of 100 posts about the best science fiction novels published from 1904–33. HILOBROW's Josh Glenn has named that era science fiction's Radium Age; more info here. The complete Radium Age 100 list can be found here.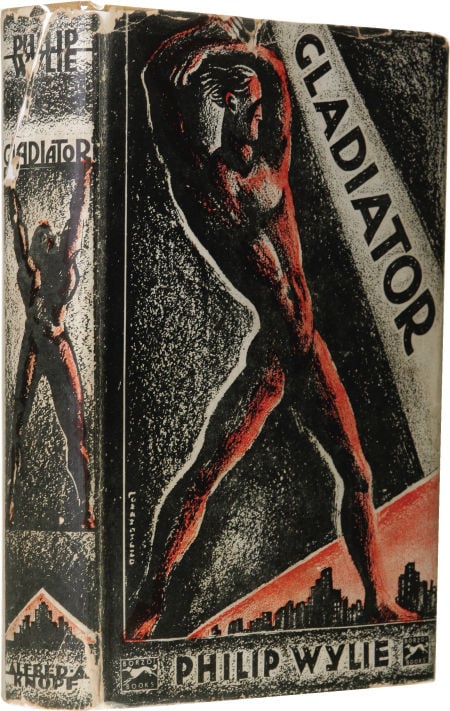 Philip Gordon Wylie's Gladiator (1930).
Thanks to an experiment by his scientist father (who studies grasshoppers and ants), Hugo Danner is nearly invulnerable, runs faster than a train, leaps higher than trees, and hurls boulders like baseballs. His father gives him Nietzschean advice, e.g.: "The stronger, the greater, you are, the harder life is for you." So… Hugo creates a fortress of solitude in Colorado, drops out of school, wanders the planet, then joins the French Foreign Legion at the outbreak of WWI ("He felt himself almost the Messiah of war…. He was like a being of steel"). Later, he adopts a secret identity, moves to Metropolis Manhattan, and vows to become "an invisible agent of right — right as best I can see it." Despairing, however, of flawed mortals and their politics — Hugo heads to the Yucatan to start a colony of superbeings, "the new Titans." But then he changes his mind and curses God… on a mountaintop, where he's struck by lightning and killed.
Fun fact: A major (unacknowledged) influence on Siegel and Shuster's 1938 Superman comic. Wylie is best known as coauthor of When Worlds Collide, and as a crank(y) essayist obsessed with Soviet nukes and "Mom-ism." Reissued by Bison Frontiers of Imagination.
***
MORE RADIUM AGE SCI FI ON HILOBROW: HiLoBooks homepage! | What is Radium Age science fiction? |Radium Age 100: 100 Best Science Fiction Novels from 1904–33 | Radium Age Supermen | Radium Age Robots | Radium Age Apocalypses | Radium Age Telepaths | Radium Age Eco-Catastrophes | Radium Age Cover Art (1) | SF's Best Year Ever: 1912 | Radium Age Science Fiction Poetry | Enter Highbrowism | Bathybius! Primordial ooze in Radium Age sf | War and Peace Games (H.G. Wells's training manuals for supermen) | Radium Age: Context series | J.D. Beresford | Algernon Blackwood | Edgar Rice Burroughs | Karel Čapek | Buster Crabbe | August Derleth | Arthur Conan Doyle | Hugo Gernsback | Charlotte Perkins Gilman | Cicely Hamilton | Hermann Hesse | William Hope Hodgson | Aldous Huxley | Inez Haynes Irwin | Alfred Jarry | Jack Kirby (Radium Age sf's influence on) | Murray Leinster | Gustave Le Rouge | Gaston Leroux | David Lindsay | Jack London | H.P. Lovecraft | A. Merritt | Maureen O'Sullivan | Sax Rohmer | Paul Scheerbart | Upton Sinclair | Clark Ashton Smith | E.E. "Doc" Smith | Olaf Stapledon | John Taine | H.G. Wells | Jack Williamson | Stanisław Ignacy Witkiewicz | S. Fowler Wright | Philip Gordon Wylie | Yevgeny Zamyatin