Radium Age 100 (45)
By: Joshua Glenn
October 28, 2015
One in a series of 100 posts about the best science fiction novels published from 1904–33. HILOBROW's Josh Glenn has named that era science fiction's Radium Age; more info here. The complete Radium Age 100 list can be found here.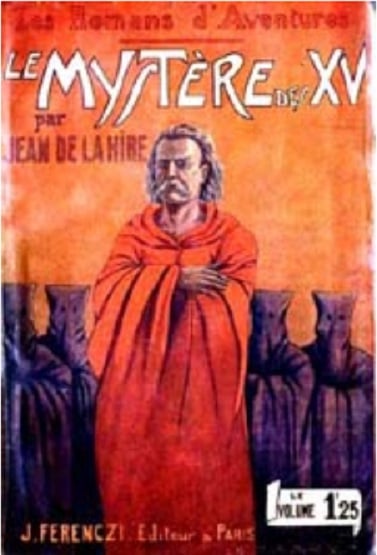 Jean de La Hire's The Nyctalope on Mars (1911).
Léo Saint-Clair, alias the Nyctalope, is an indomitable Doc Savage-style crimefighter gifted with night vision. As we learn somewhat late in the series, he's also equipped with an artificial heart, which he gained after being tortured and nearly assassinated, and which prevents him from aging. In this, the first of a series of exploits published through the mid-1940s, the Nyctalope battles Oxus, leader of the sinister Society of the Fifteen, who is plotting to conquer Earth from his secret base on Mars. Later, however, he allies himself with Oxus and the planet's benign inhabitants in order to defeat H.G. Wells' evil Martians. Then he gets married!
Fun fact: French title: Le Mystère des XV. In subsequent adventures, the Nyctalope will travel to the planet Rhea, where he'll end a war between the day- and night-siders; discover a lost civilization of Amazons in Tibet; and have himself cryopreserved so that, 170 years later, he can defeat an enemy who has also been frozen (hello, Demolition Man and Austin Powers).
***
MORE RADIUM AGE SCI FI ON HILOBROW: HiLoBooks homepage! | What is Radium Age science fiction? |Radium Age 100: 100 Best Science Fiction Novels from 1904–33 | Radium Age Supermen | Radium Age Robots | Radium Age Apocalypses | Radium Age Telepaths | Radium Age Eco-Catastrophes | Radium Age Cover Art (1) | SF's Best Year Ever: 1912 | Radium Age Science Fiction Poetry | Enter Highbrowism | Bathybius! Primordial ooze in Radium Age sf | War and Peace Games (H.G. Wells's training manuals for supermen) | Radium Age: Context series | J.D. Beresford | Algernon Blackwood | Edgar Rice Burroughs | Karel Čapek | Buster Crabbe | August Derleth | Arthur Conan Doyle | Hugo Gernsback | Charlotte Perkins Gilman | Cicely Hamilton | Hermann Hesse | William Hope Hodgson | Aldous Huxley | Inez Haynes Irwin | Alfred Jarry | Jack Kirby (Radium Age sf's influence on) | Murray Leinster | Gustave Le Rouge | Gaston Leroux | David Lindsay | Jack London | H.P. Lovecraft | A. Merritt | Maureen O'Sullivan | Sax Rohmer | Paul Scheerbart | Upton Sinclair | Clark Ashton Smith | E.E. "Doc" Smith | Olaf Stapledon | John Taine | H.G. Wells | Jack Williamson | Stanisław Ignacy Witkiewicz | S. Fowler Wright | Philip Gordon Wylie | Yevgeny Zamyatin