Radium Age 100 (41)
By: Joshua Glenn
October 16, 2015
One in a series of 100 posts about the best science fiction novels published from 1904–33. HILOBROW's Josh Glenn has named that era science fiction's Radium Age; more info here. The complete Radium Age 100 list can be found here.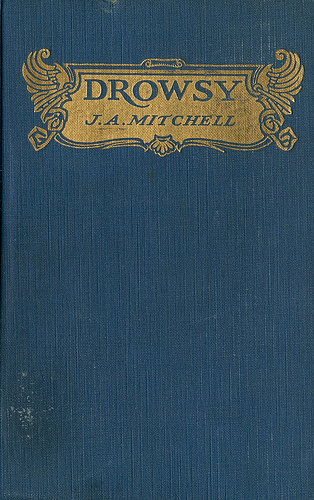 J.A. Mitchell's Drowsy (1917).
Cyrus Alton, a telepath nicknamed Drowsy because of his drooping eyelids, grows up to attend MIT and become a brilliant scientist. He invents a spaceship equipped with an antigravity mechanism, and flies to the moon, returning with a fantastic diamond… and then, impelled by a psychic bond with a childhood sweetheart, rescues her before she joins a convent. Of greater interest than these rather silly adventures, though, is Mitchell's account of Drowsy's childhood. Is he the first of a new species: homo superior? Like the title character of J.D. Beresford's Hampdenshire Wonder, young Drowsy's evolved worldview offends his narrow-minded elders. Especially when, for example, he cuts his favorite illustrations out of a Bible; or insists on the morality of untruths; or demands to know why "teacher doesn't tell us things worth knowing." Like Daniel Clowes's Enid Coleslaw, that is to say, Drowsy is a cranky middle-aged freethinker in a child's body.
Fun fact: The author, a Harvard dropout and idler, founded the original LIFE Magazine, later purchased by Henry Luce, in 1883.
***
MORE RADIUM AGE SCI FI ON HILOBROW: HiLoBooks homepage! | What is Radium Age science fiction? |Radium Age 100: 100 Best Science Fiction Novels from 1904–33 | Radium Age Supermen | Radium Age Robots | Radium Age Apocalypses | Radium Age Telepaths | Radium Age Eco-Catastrophes | Radium Age Cover Art (1) | SF's Best Year Ever: 1912 | Radium Age Science Fiction Poetry | Enter Highbrowism | Bathybius! Primordial ooze in Radium Age sf | War and Peace Games (H.G. Wells's training manuals for supermen) | Radium Age: Context series | J.D. Beresford | Algernon Blackwood | Edgar Rice Burroughs | Karel Čapek | Buster Crabbe | August Derleth | Arthur Conan Doyle | Hugo Gernsback | Charlotte Perkins Gilman | Cicely Hamilton | Hermann Hesse | William Hope Hodgson | Aldous Huxley | Inez Haynes Irwin | Alfred Jarry | Jack Kirby (Radium Age sf's influence on) | Murray Leinster | Gustave Le Rouge | Gaston Leroux | David Lindsay | Jack London | H.P. Lovecraft | A. Merritt | Maureen O'Sullivan | Sax Rohmer | Paul Scheerbart | Upton Sinclair | Clark Ashton Smith | E.E. "Doc" Smith | Olaf Stapledon | John Taine | H.G. Wells | Jack Williamson | Stanisław Ignacy Witkiewicz | S. Fowler Wright | Philip Gordon Wylie | Yevgeny Zamyatin