Radium Age 100 (40)
By: Joshua Glenn
October 13, 2015
One in a series of 100 posts about the best science fiction novels published from 1904–33. HILOBROW's Josh Glenn has named that era science fiction's Radium Age; more info here. The complete Radium Age 100 list can be found here.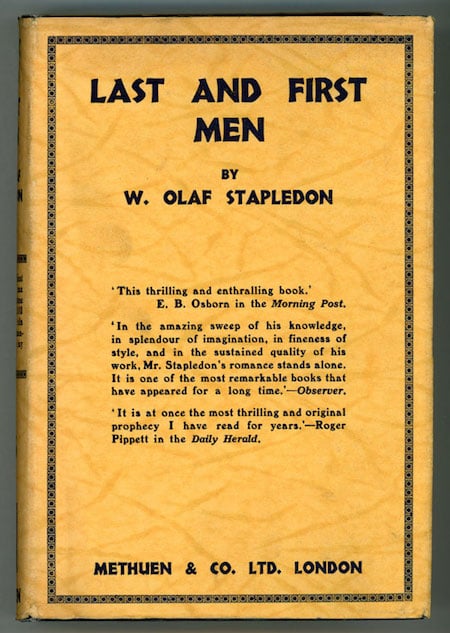 Olaf Stapledon's The Last and First Men (1930).
In his awe-inspiring, tragicomic first novel, Stapledon ventriloquizes the future history of humankind as related to him telepathically by one of the Last Men — alien descendants of ours who will inhabit Neptune, where they'll face extinction as the sun burns out, some two billion years hence. What does fate hold in store for us First Men? The post-WWI "passionate will for peace and a united world" won't last long, Stapledon's narrator informs us. Within a century aerial bombs and poison gas will have laid waste to Europe and Russia, leaving the Chinese and Americans to compete for global military-economic domination. Eventually, a World State will be founded, and peace and prosperity will reign… until Earth's natural energy sources get used up! At that point, civilization will collapse and the First Men will devolve into superstitious savages living in the shadow of their ancestors' skyscrapers — "though for the most part they were of course by now little more than pyramids of debris overgrown with grass and brushwood" — until, after nearly 100,000 years, they'll re-civilize themselves and discover atomic energy. After "a bout of insane monkeying with the machinery," all but 35 men and women, whose mutated descendants will be the Second Men, are annihilated. This sort of thing goes on, and on, for 18 generations of humankind!
Fun fact: Stapledon wasn't familiar with the science fiction genre when he wrote The Last and First Men, but he was hailed, at the time, as one if its foremost practitioners. His novels Last Men in London (1932) and Odd John (1935) are about teenage mutant "supernormals."
***
MORE RADIUM AGE SCI FI ON HILOBROW: HiLoBooks homepage! | What is Radium Age science fiction? |Radium Age 100: 100 Best Science Fiction Novels from 1904–33 | Radium Age Supermen | Radium Age Robots | Radium Age Apocalypses | Radium Age Telepaths | Radium Age Eco-Catastrophes | Radium Age Cover Art (1) | SF's Best Year Ever: 1912 | Radium Age Science Fiction Poetry | Enter Highbrowism | Bathybius! Primordial ooze in Radium Age sf | War and Peace Games (H.G. Wells's training manuals for supermen) | Radium Age: Context series | J.D. Beresford | Algernon Blackwood | Edgar Rice Burroughs | Karel Čapek | Buster Crabbe | August Derleth | Arthur Conan Doyle | Hugo Gernsback | Charlotte Perkins Gilman | Cicely Hamilton | Hermann Hesse | William Hope Hodgson | Aldous Huxley | Inez Haynes Irwin | Alfred Jarry | Jack Kirby (Radium Age sf's influence on) | Murray Leinster | Gustave Le Rouge | Gaston Leroux | David Lindsay | Jack London | H.P. Lovecraft | A. Merritt | Maureen O'Sullivan | Sax Rohmer | Paul Scheerbart | Upton Sinclair | Clark Ashton Smith | E.E. "Doc" Smith | Olaf Stapledon | John Taine | H.G. Wells | Jack Williamson | Stanisław Ignacy Witkiewicz | S. Fowler Wright | Philip Gordon Wylie | Yevgeny Zamyatin