Radium Age 100 (38)
By: Joshua Glenn
October 8, 2015
One in a series of 100 posts about the best science fiction novels published from 1904–33. HILOBROW's Josh Glenn has named that era science fiction's Radium Age; more info here. The complete Radium Age 100 list can be found here.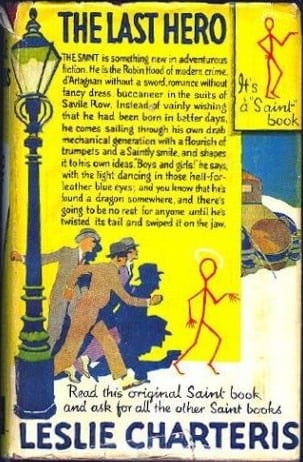 Leslie Charteris's The Last Hero (1929; as a book, 1930).
The Saint is an adventurer — a criminal who preys on criminals — and a romantic. "He… had heard the sound of the trumpet, and had moved ever afterwards in the echoes of the sound of the trumpet, in such a mighty clamour of romance that one of his friends had been moved to call him the last hero, in desperately earnest jest." Unlike other Saint stories, which are realistic crime adventures, here Simon Templar enters the realm of science fiction and spy fiction. The Saint stumbles upon a secret British military installation, where a deadly weapon — the electroncloud machine — is being tested. He also discovers that Rayt Marius, a sinister evil international arms dealer, will stop at nothing to steal the weapon — which he plans to sell to a Balkan country. Determined to prevent Marius and the British government alike from possessing such a weapon, the Saint sets out to kidnap the device's inventor.
Fun fact: Charteris introduced the character of Simon Templar in his 1928 novel, Meet the Tiger. The Last Hero is the third book in the series. The story, which was likely a key influence on Ian Fleming's James Bond series, was serialized in 1929.
***
MORE RADIUM AGE SCI FI ON HILOBROW: HiLoBooks homepage! | What is Radium Age science fiction? |Radium Age 100: 100 Best Science Fiction Novels from 1904–33 | Radium Age Supermen | Radium Age Robots | Radium Age Apocalypses | Radium Age Telepaths | Radium Age Eco-Catastrophes | Radium Age Cover Art (1) | SF's Best Year Ever: 1912 | Radium Age Science Fiction Poetry | Enter Highbrowism | Bathybius! Primordial ooze in Radium Age sf | War and Peace Games (H.G. Wells's training manuals for supermen) | Radium Age: Context series | J.D. Beresford | Algernon Blackwood | Edgar Rice Burroughs | Karel Čapek | Buster Crabbe | August Derleth | Arthur Conan Doyle | Hugo Gernsback | Charlotte Perkins Gilman | Cicely Hamilton | Hermann Hesse | William Hope Hodgson | Aldous Huxley | Inez Haynes Irwin | Alfred Jarry | Jack Kirby (Radium Age sf's influence on) | Murray Leinster | Gustave Le Rouge | Gaston Leroux | David Lindsay | Jack London | H.P. Lovecraft | A. Merritt | Maureen O'Sullivan | Sax Rohmer | Paul Scheerbart | Upton Sinclair | Clark Ashton Smith | E.E. "Doc" Smith | Olaf Stapledon | John Taine | H.G. Wells | Jack Williamson | Stanisław Ignacy Witkiewicz | S. Fowler Wright | Philip Gordon Wylie | Yevgeny Zamyatin