Radium Age 100 (35)
By: Joshua Glenn
September 28, 2015
One in a series of 100 posts about the best science fiction novels published from 1904–33. HILOBROW's Josh Glenn has named that era science fiction's Radium Age; more info here. The complete Radium Age 100 list can be found here.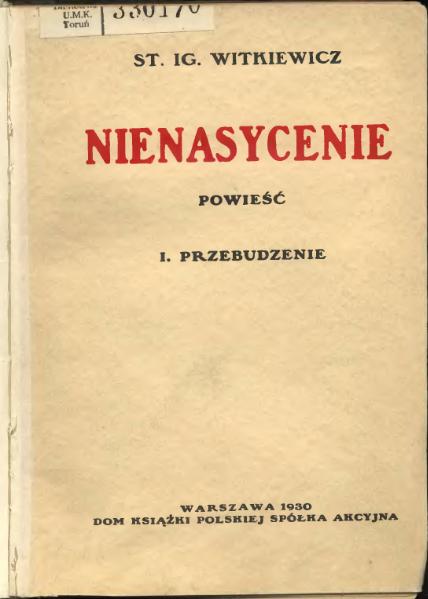 Stanisław Ignacy Witkiewicz's Insatiability (1930).
Circa the year 2000, a Chinese army overruns Poland. In order to ensure that the occupied populace conforms contentedly to his demands — which are, more or less, those of Soviet-style communism, the Chinese leader, Murti Bing, requires Poles to take a thought-control medication: DAVAMESK B 2. Polish artists, for example, find themselves compliant with the demands of an aesthetic program that readers of the time would have recognized as Socialist Realism. (All of which predicts, uncannily, the invasion of Poland, the postwar foreign domination, and the totalitarian mind control exerted, first by the Germans, and then by the Soviet Union on Polish life and art.) The novel is also a bildungsroman; its adolescent protagonist seeks experiences: philosophical, military, sexual. His madness and eventual zombie-fication parallel what is happening to his country. An avant-garde tour de force, replete with alienation techniques; not an easy read, but a very rewarding one.
Fun fact: The unnamed narrator of Insatiability is a fictionalized version of Witkiewicz himself, i.e., a thinking, feeling individual in an increasingly pacified, de-individualized society.
***
MORE RADIUM AGE SCI FI ON HILOBROW: HiLoBooks homepage! | What is Radium Age science fiction? |Radium Age 100: 100 Best Science Fiction Novels from 1904–33 | Radium Age Supermen | Radium Age Robots | Radium Age Apocalypses | Radium Age Telepaths | Radium Age Eco-Catastrophes | Radium Age Cover Art (1) | SF's Best Year Ever: 1912 | Radium Age Science Fiction Poetry | Enter Highbrowism | Bathybius! Primordial ooze in Radium Age sf | War and Peace Games (H.G. Wells's training manuals for supermen) | Radium Age: Context series | J.D. Beresford | Algernon Blackwood | Edgar Rice Burroughs | Karel Čapek | Buster Crabbe | August Derleth | Arthur Conan Doyle | Hugo Gernsback | Charlotte Perkins Gilman | Cicely Hamilton | Hermann Hesse | William Hope Hodgson | Aldous Huxley | Inez Haynes Irwin | Alfred Jarry | Jack Kirby (Radium Age sf's influence on) | Murray Leinster | Gustave Le Rouge | Gaston Leroux | David Lindsay | Jack London | H.P. Lovecraft | A. Merritt | Maureen O'Sullivan | Sax Rohmer | Paul Scheerbart | Upton Sinclair | Clark Ashton Smith | E.E. "Doc" Smith | Olaf Stapledon | John Taine | H.G. Wells | Jack Williamson | Stanisław Ignacy Witkiewicz | S. Fowler Wright | Philip Gordon Wylie | Yevgeny Zamyatin