Radium Age 100 (29)
By: Joshua Glenn
September 10, 2015
One in a series of 100 posts about the best science fiction novels published from 1904–33. HILOBROW's Josh Glenn has named that era science fiction's Radium Age; more info here. The complete Radium Age 100 list can be found here.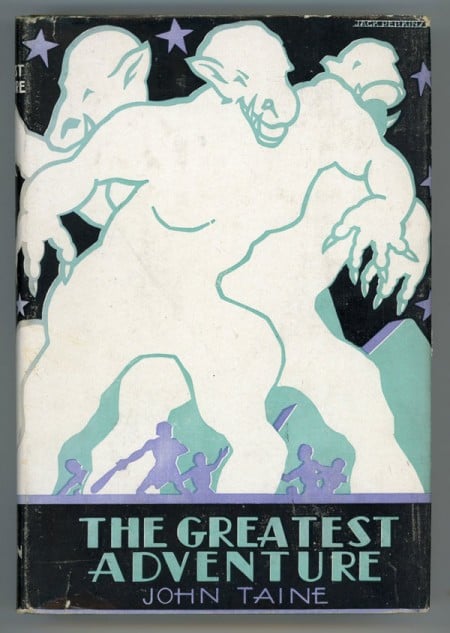 John Taine's The Greatest Adventure (1929).
An expedition sent to Antarctica discovers remnants of an ancient culture — an elder race, with advanced technology — that was lost when it was overwhelmed by the Ice Age. (Note that this novel predates Lovecraft's At the Mountains of Madness by a couple of years.) These ancients had discovered the secret of causing plants and animals to grow larger — but they were too incautious in their experiments. The mutations got out of control… so the civilization entombed itself in ice. Finally, the party must flee through caverns inhabited by the mutated life forms. Worse, when frozen spores are thawed out, the entire planet is threatened by parasitic, malign plant life. A tale of horror and madness — but it's not without humor, in the form of ship's first mate Ole Hansen.
Fun fact: Eric Temple Bell was a Scottish-born American mathematician who taught at the University of Washington and the California Institute of Technology; Bell polynomials and the Bell numbers of combinatorics are named after him. He wrote sci-fi as John Taine; his recurring theme was the rapid evolution of biological forms as a response to external (often experimental) stimuli.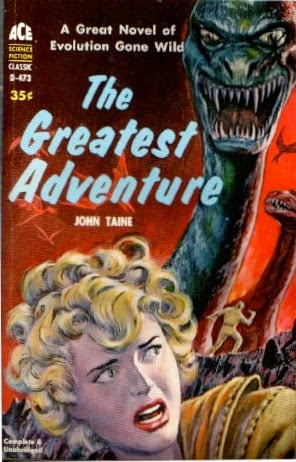 ***
MORE RADIUM AGE SCI FI ON HILOBROW: HiLoBooks homepage! | What is Radium Age science fiction? |Radium Age 100: 100 Best Science Fiction Novels from 1904–33 | Radium Age Supermen | Radium Age Robots | Radium Age Apocalypses | Radium Age Telepaths | Radium Age Eco-Catastrophes | Radium Age Cover Art (1) | SF's Best Year Ever: 1912 | Radium Age Science Fiction Poetry | Enter Highbrowism | Bathybius! Primordial ooze in Radium Age sf | War and Peace Games (H.G. Wells's training manuals for supermen) | Radium Age: Context series | J.D. Beresford | Algernon Blackwood | Edgar Rice Burroughs | Karel Čapek | Buster Crabbe | August Derleth | Arthur Conan Doyle | Hugo Gernsback | Charlotte Perkins Gilman | Cicely Hamilton | Hermann Hesse | William Hope Hodgson | Aldous Huxley | Inez Haynes Irwin | Alfred Jarry | Jack Kirby (Radium Age sf's influence on) | Murray Leinster | Gustave Le Rouge | Gaston Leroux | David Lindsay | Jack London | H.P. Lovecraft | A. Merritt | Maureen O'Sullivan | Sax Rohmer | Paul Scheerbart | Upton Sinclair | Clark Ashton Smith | E.E. "Doc" Smith | Olaf Stapledon | John Taine | H.G. Wells | Jack Williamson | Stanisław Ignacy Witkiewicz | S. Fowler Wright | Philip Gordon Wylie | Yevgeny Zamyatin