Radium Age 100 (27)
By: Joshua Glenn
September 3, 2015
One in a series of 100 posts about the best science fiction novels published from 1904–33. HILOBROW's Josh Glenn has named that era science fiction's Radium Age; more info here. The complete Radium Age 100 list can be found here.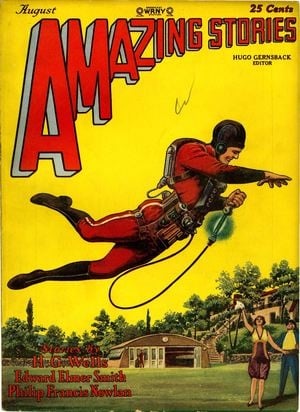 E.E. "Doc" Smith's The Skylark of Space (1928).
One of the first — and, according to some fans, the best — space operas ever written. When scientist Dick Seaton discovers a faster-than-light fuel that will power his interstellar spaceship, The Skylark (a forty-foot sphere), his fiancée and friends are kidnapped by Marc DuQuesne and the World Steel Corporation. Although quaint by modern standards, Smith's vision of the future — and future technology, enabling a cosmic voyage — is visionary and creative. More importantly, Smith knows how to write a yarn that, although bloodthirsty and not particularly sophisticated, is a fun, fast-paced combination of spy thriller and western. In the end, Seaton navigates the Skylark through dangers, explores strange new solar systems, rescues his loved ones, and outmaneuvers and outguns his rival, the oddly compelling DuQuesne.
Fun fact: The original story was written with Mrs. Lee Hawkins Garby some years before publication; because her contribution was not very extensive, Garby's name was dropped from the title-page of the 1946 book version. Reissued in 2001 by Bison Frontiers of Imagination. Smith would go on to write several more Skylark stories, as well as the enduringly popular Lensman space-opera series.
***
MORE RADIUM AGE SCI FI ON HILOBROW: HiLoBooks homepage! | What is Radium Age science fiction? |Radium Age 100: 100 Best Science Fiction Novels from 1904–33 | Radium Age Supermen | Radium Age Robots | Radium Age Apocalypses | Radium Age Telepaths | Radium Age Eco-Catastrophes | Radium Age Cover Art (1) | SF's Best Year Ever: 1912 | Radium Age Science Fiction Poetry | Enter Highbrowism | Bathybius! Primordial ooze in Radium Age sf | War and Peace Games (H.G. Wells's training manuals for supermen) | Radium Age: Context series | J.D. Beresford | Algernon Blackwood | Edgar Rice Burroughs | Karel Čapek | Buster Crabbe | August Derleth | Arthur Conan Doyle | Hugo Gernsback | Charlotte Perkins Gilman | Cicely Hamilton | Hermann Hesse | William Hope Hodgson | Aldous Huxley | Inez Haynes Irwin | Alfred Jarry | Jack Kirby (Radium Age sf's influence on) | Murray Leinster | Gustave Le Rouge | Gaston Leroux | David Lindsay | Jack London | H.P. Lovecraft | A. Merritt | Maureen O'Sullivan | Sax Rohmer | Paul Scheerbart | Upton Sinclair | Clark Ashton Smith | E.E. "Doc" Smith | Olaf Stapledon | John Taine | H.G. Wells | Jack Williamson | Stanisław Ignacy Witkiewicz | S. Fowler Wright | Philip Gordon Wylie | Yevgeny Zamyatin