Radium Age 100 (17)
By: Joshua Glenn
July 9, 2015
One in a series of 100 posts about the best science fiction novels published from 1904–33. HILOBROW's Josh Glenn has named that era science fiction's Radium Age; more info here. The complete Radium Age 100 list can be found here.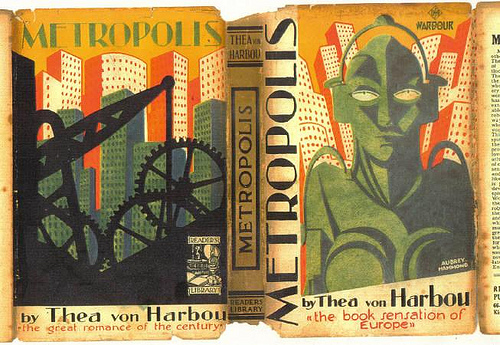 Thea von Harbou's Metropolis (1926).
Set in a dystopian city-state, this Expressionist novel asks us to imagine a perverse synthesis of Henry Adams's dynamo-vs.-virgin dichotomy. Metropolis's Pharaonic master, Joh Fredersen, deplores those weaknesses that make his dehumanized laborers (who wear standard uniforms, and answer to numbers instead of names) inferior to machines. When he orders the mad inventor-magician, Rotwang, to build him "machine men," Rotwang instead constructs an alluring female-shaped machine whom he names Parody, or Futura: "The being was, indubitably, a woman… But, although it was a woman, it was not human. The body seemed as though made of crystal, through which the bones shone silver."
After rendering Futura's face in the exact likeness of Maria, a flesh-and-blood woman who is both the conscience of the rebellious workers and the object of Fredersen's son's affection, the villainous technocrats program their synthetic Virgin/Dynamo to act as an agent provocateuse. The workers revolt, and Futura/Maria is destroyed. In the end, the Virgin (sentimental religiosity) triumphs over the Dynamo (technology-driven development). Hooray?
Fun fact: Von Harbou and her husband, film director Fritz Lang, developed the scenario for Metropolis, then she wrote the novelization while he directed the 1927 movie.
***
MORE RADIUM AGE SCI FI ON HILOBROW: HiLoBooks homepage! | What is Radium Age science fiction? |Radium Age 100: 100 Best Science Fiction Novels from 1904–33 | Radium Age Supermen | Radium Age Robots | Radium Age Apocalypses | Radium Age Telepaths | Radium Age Eco-Catastrophes | Radium Age Cover Art (1) | SF's Best Year Ever: 1912 | Radium Age Science Fiction Poetry | Enter Highbrowism | Bathybius! Primordial ooze in Radium Age sf | War and Peace Games (H.G. Wells's training manuals for supermen) | Radium Age: Context series | J.D. Beresford | Algernon Blackwood | Edgar Rice Burroughs | Karel Čapek | Buster Crabbe | August Derleth | Arthur Conan Doyle | Hugo Gernsback | Charlotte Perkins Gilman | Cicely Hamilton | Hermann Hesse | William Hope Hodgson | Aldous Huxley | Inez Haynes Irwin | Alfred Jarry | Jack Kirby (Radium Age sf's influence on) | Murray Leinster | Gustave Le Rouge | Gaston Leroux | David Lindsay | Jack London | H.P. Lovecraft | A. Merritt | Maureen O'Sullivan | Sax Rohmer | Paul Scheerbart | Upton Sinclair | Clark Ashton Smith | E.E. "Doc" Smith | Olaf Stapledon | John Taine | H.G. Wells | Jack Williamson | Stanisław Ignacy Witkiewicz | S. Fowler Wright | Philip Gordon Wylie | Yevgeny Zamyatin