Radium Age 100 (11)
By: Joshua Glenn
June 17, 2015
One in a series of 100 posts about the best science fiction novels published from 1904–33. HILOBROW's Josh Glenn has named that era science fiction's Radium Age; more info here. The complete Radium Age 100 list can be found here.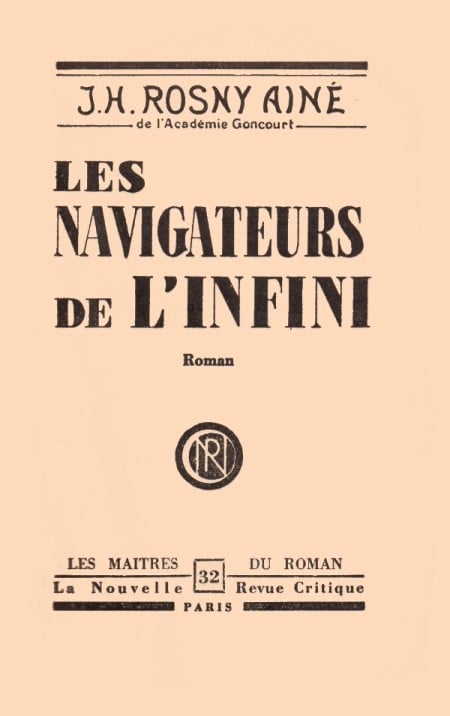 J.-H. Rosny aîné's The Navigators of Infinity (1925).
Astronauts travel to Mars in the Stellarium, a spaceship made of "argine" (an indestructible, transparent material), and powered by artificial gravity. On Mars, the explorers come in contact with two races: the peaceful, six-eyed, three-legged "Tripèdes," who have ceased to reproduce and are dying out; and the invading "Zoomorphs." Having fallen in love (!) with one of the human astronauts, a young Martian female — merely by wishing it — gives birth to a child. This joyous event heralds the rebirth — City of Men-style — of the Martian race.
Fun fact: Sci-fi scholars claim that Rosny aîné [Joseph Henri Honoré Boex, whose nom de plume contains the word "elder" (aîné) because he and his younger brother used to write together under the joint moniker J.-H. Rosny], author of the seminal 1909 prehistoric-fiction novel Quest for Fire, coined the word "astronautique" in this novel. Rosny aîné, who began writing in the 1880s, is considered the second-most important pioneer in French science fiction, after Jules Verne.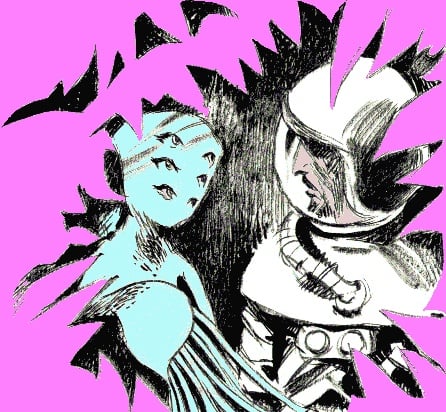 ***
MORE RADIUM AGE SCI FI ON HILOBROW: HiLoBooks homepage! | What is Radium Age science fiction? |Radium Age 100: 100 Best Science Fiction Novels from 1904–33 | Radium Age Supermen | Radium Age Robots | Radium Age Apocalypses | Radium Age Telepaths | Radium Age Eco-Catastrophes | Radium Age Cover Art (1) | SF's Best Year Ever: 1912 | Radium Age Science Fiction Poetry | Enter Highbrowism | Bathybius! Primordial ooze in Radium Age sf | War and Peace Games (H.G. Wells's training manuals for supermen) | Radium Age: Context series | J.D. Beresford | Algernon Blackwood | Edgar Rice Burroughs | Karel Čapek | Buster Crabbe | August Derleth | Arthur Conan Doyle | Hugo Gernsback | Charlotte Perkins Gilman | Cicely Hamilton | Hermann Hesse | William Hope Hodgson | Aldous Huxley | Inez Haynes Irwin | Alfred Jarry | Jack Kirby (Radium Age sf's influence on) | Murray Leinster | Gustave Le Rouge | Gaston Leroux | David Lindsay | Jack London | H.P. Lovecraft | A. Merritt | Maureen O'Sullivan | Sax Rohmer | Paul Scheerbart | Upton Sinclair | Clark Ashton Smith | E.E. "Doc" Smith | Olaf Stapledon | John Taine | H.G. Wells | Jack Williamson | Stanisław Ignacy Witkiewicz | S. Fowler Wright | Philip Gordon Wylie | Yevgeny Zamyatin