The School on the Fens (17)
By: Robert Waldron
June 1, 2013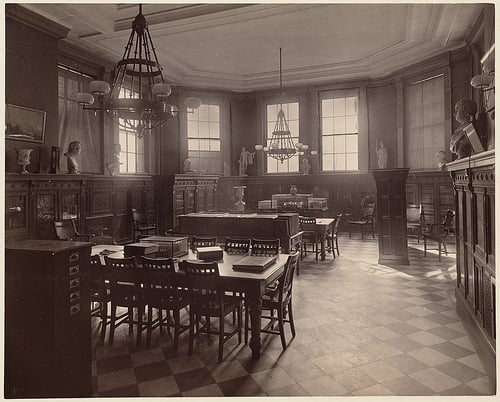 HILOBROW is proud to present the seventeenth installment of Robert Waldron's novel The School on the Fens. New installments will appear each Saturday for thirty-eight weeks. CLICK HERE to read all installments published thus far.
***
17
Classical stands at the edge of an unsafe, crime-ridden Boston neighborhood, infamous for murders and drugs; consequently, parents from other parts of the city are reluctant to attend evening P.T.A. meetings. The school committee addressed the problem by hiring more security guards and by installing brighter lighting around the school grounds. The parental turnout remained low, however, and tonight's heavy rains probably kept away parents who might have ventured out. Regardless of safety, weather, or the number of parents, teachers were obliged by union contract to remain in school until 9:00 p.m.
During the first half hour only four parents dropped in on me. So I corrected papers until around 8:30 when I glanced up to find Mrs. O'Donnell standing in my classroom door. She had no car, traveling from Southie by bus and trolley; it must've taken her at least an hour. I waved her in for a visit. A small, pretty woman, she nestled herself into the desk, laughing at some private image.
"It's been a long time since I've sat at a desk."
She sighed and then spoke about Tim and her dreams for him.
"Tim and me have temporarily moved in with my sister," she said. "My husband's drinking again, and we can't take it anymore."
"I'm sorry, Mrs. O'Donnell," I said, surprised by such an intimacy. "It must be hard for you both."
She began to weep.
"Please forgive me," she said, taking a handkerchief from her pocketbook. "I can't wait for Tim to be off to college. He'll win a scholarship and begin a new life. Never had to scold him to do his work. In grammar school he was always at the top of his class, and his principal had Tim take the Classical exam — I knew nothing about this place. When he was accepted, my husband and me couldn't have been more proud. We took Tim out to Howard Johnson's to celebrate."
"But no matter what school Tim attended," I said, "he'd excel, and that's a credit to you."
To my dismay she wept again.
"Bless you, Mr. Duncan. All I can give Tim is love… but he deserves a better life."
She stared at her peeling hands. "In our neighborhood they make fun of boys who carry books. Tim's had his fair share of black eyes and bloody lips." She stood and straightened out her raincoat, again the stoical mother, her dignity fully intact.
"Something's bothering Tim," she said. "Maybe it's got something to do with those phone calls from the headmaster."
"From the headmaster?"
"Yes," she said, squinting her eyes.
"Did you ask Tim about it?"
"He says it's about college scholarships," she said, knotting a blue scarf around her neck. "But my mother's intuition says he's not telling me everything."
"Are you aware that Tim received a failure in English?"
"Yes, but he said it's a mistake and would be fixed."
I explained how the grade dilemma could affect his early decision.
"Keep him out of college?" she asked, panic stricken.
"He'll get into college, but it may not be an Ivy."
"My son never failed English; it's definitely a mistake."
"We still need to prove Tim passed."
"I don't understand," she said. "The headmaster knows what kind of student my son is."
She looked frantic, and I regretted burdening her with more worry.
"Everything will turn out all right," I said, to calm her. "Mr. Horgan is on top of everything."
She smiled weakly and put on her gloves. "I've taken up too much of your time, Mr. Duncan. Bless you for all you've done for my Tim."
At the nine o'clock bell, I was still thinking about Tim and his mother when I looked up to find Ed staring at me.
"You look like you're in a daze," Ed said, taking the seat.
"Just had a visit from Mrs. O'Donnell."
"She didn't visit me," Ed said, disappointed.
"She was probably on her way to see you when she saw me. Tim's convinced her the failure's a mistake and will be taken care of."
Ed's hand raked through his hair, his other hand held stapled papers. "Tim wrote a short story," he said, dropping it on my desk, "about a gay teenager's committing suicide."
"An unusual theme, isn't it?" I said, not ready yet to tell him about Farrell and Tim.
"It may be autobiographical. I've been advising Tim to write about things he knows. His last story concerned a soldier fighting in Vietnam, but it was so unconvincing I encouraged him to write about what he knows."
"Has Tim been acting differently?"
"No. He participates in class discussions, and our after school writing sessions are great. You heard about a gay kid murdered by a gang in the housing project where Tim lives?"
I nodded.
"John, will you read it and give me your opinion?"
I agreed, and he went off to get his coat and school bag.
Betrayal
Timothy O'Donnell

He was a good-looking guy, small boned, blue-eyed and slightly effeminate, but not enough to be a danger to himself. If careful he could blend-in in most places. Yeah, no one would've taken notice, except maybe of his looks. In our housing project he stood out because he carried a violin case, as rare as seeing a father going off to work. I used to watch him on the bus. He got off at the same stop I did. I once followed him home to find he lived only a few buildings away from me. The route to his door was an obstacle course. He'd be called "fag" by groups hanging in doorways, on corners or spilling out of rusted cars. He kept his head down and continued walking at the same pace, his green book bag swung over his left shoulder, his right hand clinging to a violin case rhythmically bumping his right thigh.

Project kids were friendly toward me because I was on a winning hockey team. "You know him, Jim?" someone shouted, pointing to the violin kid. I said, "Are you fucking serious?" They all laughed.

Yeah, they liked me.

In Southie the worst derision is to be called a "fag" or its variant, "queer." The name-calling was his baptism into the project's power structure, soon to be followed by a beating so that he understood he was the scum of the earth. If he carried books and a violin, in their eyes, he was definitely a fag, and there'd be no fags in their kingdom.

Like I said, we were often on the same bus. The day arrived when we sat across from each other. When he thought I wasn't looking, he lifted his eyes to quickly check me out. My head turned slightly and our eyes met. In a look swifter than a blink, we knew both of us were gay.

Then my better sense said, "You're seeing what you want to see."

Weeks went by. I waited, nervously puzzled that he hadn't yet been attacked. They're biding their time, I decided, waiting for the perfect day and place.

Another time on the bus, I looked at him and said, "Hi, I'm Jim." He looked surprised and stared at me. Again I said, "Hi." He said, "Hello, I'm William." Three spoken words revealed a universe of a difference between him and me a project kid: William's voice was cultured. But I didn't need to hear him speak, for I knew from his face and the way he carried himself, and by his face that he was — refined.

On the bus we'd talk a lot. William attended a Catholic high school. His father had been a violinist who died of cancer a year ago. He was an only child, like me. He asked what kind of music I liked. I said country music. He rattled off the names of country singers I'd never heard of. We also shared books. He lent me Herman Hesse, I loaned him Tolkien. He enjoyed Tolkien so much that I said he could keep the books.

And finally we shared our secret, the one we had guessed in a blink of an eye.

But I was careful not to be seen with him. When we got off the bus, I took the long way home to avoid walking with him. He finally caught on, although he never revealed it, but I could tell from the sad, hurt look in his eyes.

When he returned home on Friday, he usually didn't emerge from his apartment until Monday morning. Except for Sunday when I'd see his mother and him at Mass. She was a tall, stately woman and nicely dressed and she too looked refined, not like our project mothers weary and worn down with too many kids to take much care about their appearance.

People stopped to look at her pale and beautiful face, with its sad and kind eyes. William crooked his arm through hers. I'd never seen a guy walk with his mother like that, holding her in a protective way, not because she was old, but because, as I later learned, she was ill.

Then it happened. One night William had to go to the pharmacy to refill his mother's prescription. It was a foggy and rainy night. They attacked him in one of the unlighted tunnels connecting the project courtyards. They beat him, kicked him in the head and jumped on his hands until his fingers were smashed. They left him lying in a puddle of piss, their piss.

I was on my way home from hockey practice when I found him. He was unconscious and I called an ambulance. I remained by his side in the hospital until he finally opened his eyes. When he saw me, first a faint glimmer of a smile appeared. Then his eyes moved toward his bandaged hands and he wept. I held him tight in my arms until he quieted down. I held him with my strong hockey arms, hoping to infuse him with my strength.

He remained in the hospital for six days. My uncle drove his mother and him home. The whole time his mother kept silent, her eyes unwaveringly fixed on her son.

My heart broke for them. I remember thinking the worst thing for a violinist was to lose the use of his hands. But it wasn't the worst. That happened two weeks later when his mother found her son hanging from a door.

William was the best friend I ever had, but I realized it too late.
I finished the story just as Ed returned. "Ed, it's a beautifully written story, likely based on the kid beaten in Southie at Thanksgiving — and it does sound like Tim speaking."
"That's it, tomorrow I'm showing it to his guidance counselor."
"You should."
"Is it's possible Tim's gay?"
"Anything's possible."
"But what do you think?"
I wanted to tell him about Tim and Farrell, but I couldn't.
"What I think is immaterial. Ask him."
"If he is, it won't make any difference to me."
***
ORIGINAL FICTION from HILOBROW: James Parker's swearing-animal fable The Ballad of Cocky The Fox, later published in limited-edition paperback by HiLoBooks; plus: a newsletter, The Sniffer, by Patrick Cates, and further stories: "The Cockarillion") | Karinne Keithley Syers's hollow-earth adventure Linda, later published in limited-edition paperback; plus: ukulele music, and a "Floating Appendix") | Matthew Battles's stories "Gita Nova", "Makes the Man," "Imago," "Camera Lucida," "A Simple Message", "Children of the Volcano", "The Gnomon", "Billable Memories", "For Provisional Description of Superficial Features", "The Dogs in the Trees", "The Sovereignties of Invention", and "Survivor: The Island of Dr. Moreau"; several of these later appeared in the collection The Sovereignties of Invention, published by Red Lemonade | Robert Waldron's high-school campus roman à clef The School on the Fens | Peggy Nelson's "Mood Indigo", "Top Kill Fail", and "Mercerism" | Annalee Newitz's "The Great Oxygen Race" | Flourish Klink's Star Trek fanfic "Conference Comms" | Charlie Mitchell's "A Fantasy Land" | Charlie Mitchell's "Sentinels" | Joshua Glenn's "The Lawless One", and the mashup story "Zarathustra vs. Swamp Thing" | Adam McGovern and Paolo Leandri's Idoru Jones comics | John Holbo's "Sugarplum Squeampunk" | "Another Corporate Death" (1) and "Another Corporate Death" (2) by Mike Fleisch | Kathryn Kuitenbrouwer and Frank Fiorentino's graphic novel "The Song of Otto" (excerpt) | John Holbo's graphic novel On Beyond Zarathustra (excerpt) | "Manoj" and "Josh" by Vijay Balakrishnan | "Verge" by Chris Rossi, and his audio novel Low Priority Hero | EPIC WINS: THE ILIAD (1.408-415) by Flourish Klink | EPIC WINS: THE KALEVALA (3.1-278) by James Parker | EPIC WINS: THE ARGONAUTICA (2.815-834) by Joshua Glenn | EPIC WINS: THE ILIAD by Stephen Burt | EPIC WINS: THE MYTH OF THE ELK by Matthew Battles | EPIC WINS: GOTHAMIAD by Chad Parmenter | TROUBLED SUPERHUMAN CONTEST: Charles Pappas, "The Law" | CATASTROPHE CONTEST: Timothy Raymond, "Hem and the Flood" | TELEPATHY CONTEST: Rachel Ellis Adams, "Fatima, Can You Hear Me?" | OIL SPILL CONTEST: A.E. Smith, "Sound Thinking | LITTLE NEMO CAPTION CONTEST: Joe Lyons, "Necronomicon" | SPOOKY-KOOKY CONTEST: Tucker Cummings, "Well Marbled" | INVENT-A-HERO CONTEST: TG Gibbon, "The Firefly" | FANFICTION CONTEST: Lyette Mercier's "Sex and the Single Superhero"