The School on the Fens (30)
By: Robert Waldron
August 31, 2013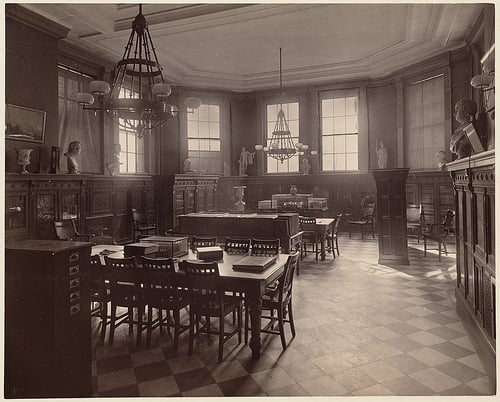 HILOBROW is proud to present the thirtieth installment of Robert Waldron's novel The School on the Fens. New installments will appear each Saturday for thirty-eight weeks. CLICK HERE to read all installments published thus far.
***
30
Ed looked calm and confident as he and I silently walked into the main office.
"Good morning," Mary said, holding the office door for us. "The headmaster said to go right in." Ed looked surprised. Mary's politeness was a good sign.
Farrell came from behind his desk to greet us, inviting us to sit at the conference table. He exhibited no annoyance about my attendance and handed a manila folder to Ed.
"Mr. Horgan, we've taken care of everything. If you'll look inside, you'll find Timothy's transcript with the correct grade registered along with a letter of recommendation from me."
Ed perused them.
"Everything looks fine." Ed's face looked as inscrutable as an ancient sculpture.
"Feel free to leave early for Dartmouth," Rell said, smiling. "Your classes will be covered."
Farrell's smile reminded me of a crack in a wall.
"I know Dartmouth's admission's officer. I've called him to explain the mishap and put in a few more good words for Timothy. His record, however, speaks for itself, doesn't it? He's indeed fortunate to have someone like you to be so concerned about his welfare. It's beyond the call of duty."
He led us to the door of his suite, still complimenting Ed. Out in the corridor I turned to Ed who looked dumbfounded.
"This isn't mere neurosis, is it?" Ed said.
"We're dealing with a severely ill person. And he has no idea I witnessed yesterday's lunacy."
"No way to remove him, is there?"
I cast my eyes down.
Walking to the second floor lounge, Ed was strangely quiet.
"Ed, what's wrong?"
"My cabinet was broken into last night," Ed said. "All my papers are gone; tests, essays, journals, and book reports are missing."
"Tell the kids the truth, they'll understand."
"And some sensitive short stories Tim wrote," Ed added. "If they get out, they could hurt him."
"The suicide story?"
"Yes. It was careless to keep such sensitive material there in school."
"But they were locked in a cabinet."
"I should've been more careful." He nervously ran his hand through his hair. "Tim spilled his guts in those stories. Farrell's behind this."
"At least you've won this round."
He smiled, "I did, didn't I? But what's next?"
I shrugged my shoulders and tried to convince him to mail the transcript rather than drive to New Hampshire, but he insisted, "I'm not taking any chances."
***
ORIGINAL FICTION from HILOBROW: James Parker's swearing-animal fable The Ballad of Cocky The Fox, later published in limited-edition paperback by HiLoBooks; plus: a newsletter, The Sniffer, by Patrick Cates, and further stories: "The Cockarillion") | Karinne Keithley Syers's hollow-earth adventure Linda, later published in limited-edition paperback; plus: ukulele music, and a "Floating Appendix") | Matthew Battles's stories "Gita Nova", "Makes the Man," "Imago," "Camera Lucida," "A Simple Message", "Children of the Volcano", "The Gnomon", "Billable Memories", "For Provisional Description of Superficial Features", "The Dogs in the Trees", "The Sovereignties of Invention", and "Survivor: The Island of Dr. Moreau"; several of these later appeared in the collection The Sovereignties of Invention, published by Red Lemonade | Robert Waldron's high-school campus roman à clef The School on the Fens | Peggy Nelson's "Mood Indigo", "Top Kill Fail", and "Mercerism" | Annalee Newitz's "The Great Oxygen Race" | Flourish Klink's Star Trek fanfic "Conference Comms" | Charlie Mitchell's "A Fantasy Land" | Charlie Mitchell's "Sentinels" | Joshua Glenn's "The Lawless One", and the mashup story "Zarathustra vs. Swamp Thing" | Adam McGovern and Paolo Leandri's Idoru Jones comics | John Holbo's "Sugarplum Squeampunk" | "Another Corporate Death" (1) and "Another Corporate Death" (2) by Mike Fleisch | Kathryn Kuitenbrouwer and Frank Fiorentino's graphic novel "The Song of Otto" (excerpt) | John Holbo's graphic novel On Beyond Zarathustra (excerpt) | "Manoj" and "Josh" by Vijay Balakrishnan | "Verge" by Chris Rossi, and his audio novel Low Priority Hero | EPIC WINS: THE ILIAD (1.408-415) by Flourish Klink | EPIC WINS: THE KALEVALA (3.1-278) by James Parker | EPIC WINS: THE ARGONAUTICA (2.815-834) by Joshua Glenn | EPIC WINS: THE ILIAD by Stephen Burt | EPIC WINS: THE MYTH OF THE ELK by Matthew Battles | EPIC WINS: GOTHAMIAD by Chad Parmenter | TROUBLED SUPERHUMAN CONTEST: Charles Pappas, "The Law" | CATASTROPHE CONTEST: Timothy Raymond, "Hem and the Flood" | TELEPATHY CONTEST: Rachel Ellis Adams, "Fatima, Can You Hear Me?" | OIL SPILL CONTEST: A.E. Smith, "Sound Thinking | LITTLE NEMO CAPTION CONTEST: Joe Lyons, "Necronomicon" | SPOOKY-KOOKY CONTEST: Tucker Cummings, "Well Marbled" | INVENT-A-HERO CONTEST: TG Gibbon, "The Firefly" | FANFICTION CONTEST: Lyette Mercier's "Sex and the Single Superhero"