The School on the Fens (31)
By: Robert Waldron
September 7, 2013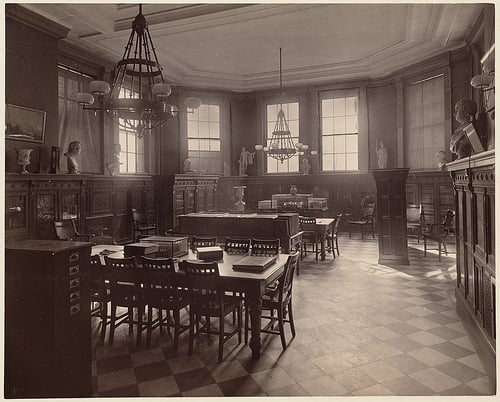 HILOBROW is proud to present the thirty-first installment of Robert Waldron's novel The School on the Fens. New installments will appear each Saturday for thirty-eight weeks. CLICK HERE to read all installments published thus far.
***
31
The faculty senate meets on the second Monday of the month to set up its agenda of issues. A week later we meet with the headmaster to air and to discuss our concerns and possible remedies.
We informed the faculty that it was an important meeting about Nexus. Having already defeated it twice, teachers were weary of it, and the senate feared Farrell could capitalize on their current apathy by his third bid.
Senate meetings were conducted in Maria's homeroom on the first floor near the main office. We were surprised that so many minority teachers attended.
Calling the meeting to order, Maria described the party at the Gardner and the revival of the Pilot School agenda supported by an alumnus' gift of a million dollars.
"But I caution you that nothing has changed," Maria said. "If you choose to teach in the program, you give up your union rights, and there is no guarantee of a position at Classical if you don't work out in Nexus. Seniority in the building won't protect you as it normally would. At his own discretion, the headmaster can change the Nexus staff and its curriculum, and if he wants, he can remove a teacher by transferring him to another school."
Spokesperson for the minority faculty Karla Willard raised her hand. A tall, beautiful woman, she had a dazzling smile that could make your day and a scowl that could ruin it. "Joining Nexus is our choice, and if there's risk involved, we'll have to live with it."
"Yes, I agree," Maria said. "We just want teachers to be aware of the risks and understand that they can't turn to the union for support if they later decide they no longer want to be a part of Nexus."
"I believe we're being selfish in dismissing this program," Karla said, "being too concerned about ourselves and not enough about our students who are really the ones at risk." Several other minority teachers nodded.
"We must also be concerned about our rights as teachers," Maria said. "The headmaster constantly violates our contract and has a reputation for harassing teachers who don't kowtow to him."
"Let's keep school politics out of it," Karla said, flicking her hand as if the matter was too distasteful for discussion.
"Easy for you to say, Karla, you've never been a victim of Farrell's anger."
"The headmaster doesn't bother me because I do my job."
"Oh, Mr. Thompson didn't do his job?" Maria retorted.
"I didn't say that, did I?"
"I've represented this faculty for over ten years," Maria said, unabashed, "and Farrell's abused people for no apparent reason except that he didn't like them."
Karla shook her head but remained silent.
"No minority teacher in this school," Maria continued, "has ever been harassed by Farrell because he's terrified of being labeled a racist."
Karla's eyes narrowed. "I'm concerned about the students, and this program is structured to help them."
"In the long run it won't help them," Maria said quietly. "It means the elimination of Latin and the grading system. It's an everyone-passes program. Do you pass all your students?"
"No. But I —"
"Then why support this program?"
"Because it gives African-American students a chance to graduate from Classical." Karla glared at Maria who remained firm.
"But it isn't fair to students who have to pass tests," Maria countered. "They'll be enrolled in larger classes and have less money spent on them. No matter how you look at it, Nexus is programmed to succeed."
Karla said, "It's designed to reduce the high attrition rate among minorities, and I'm all for it."
"Minorities have a right to a top-notch education," Maria said, "not a watered-down one."
"I refuse," Karla retorted, "to watch my people flunk out of this school."
"Look, this discussion is getting us nowhere," Maria said, "the headmaster wants the million dollars, and he'll say anything to get it. Don't trust him. The educational value of Nexus is dubious, and that's that. Farrell has for years been chipping away at Classical's standards. Our math scores and SAT scores are beginning to slip."
"That's happening all over the country," Karla said.
"Not in Boston's suburbs. Needham, Newton, Concord and Lexington outscored us in both the math and verbal SAT. That's never happened before."
Karla couldn't refute Maria's statistics. "I say we go with the headmaster," she insisted, "he has our students' interests at heart."
"Karla, are you from another planet?" Jim said. "Farrell doesn't give a shit about working-class kids white or black. And he opposed affirmative action tooth and nail before it was court ordered. If you see him as a champion for minorities, then you're delusional."
Karla steadfastly held her ground, "He sees its value now, and that's all I care about."
"He sees what's politically correct," Jim said.
"And I see high attrition among my people," Karla shot back.
If Farrell had been present, he couldn't have been more pleased than to see us at such odds. Maria set the date for another Pilot School ballot to be held after Christmas; she then proceeded to a more agreeable subject, the annual Christmas dance.
"Mr. Kerrigan has agreed to let us use the gym for our dance," Maria informed us. "The stage crew will set up everything for us. We just have to bring in the food. Any volunteers?" Hands flew up, and more discussion followed.
After the meeting Jim, Ed and I were walking down the corridor. "Can you believe Karla?" Jim said.
"Sounds like Farrell got to her," I said. "She was opposed to the Pilot School on the last two ballots."
"She's been bought," Jim said.
"With the minority vote on his side," I said, "Farrell may win."
We were now standing in front of the main office and noticed Karla entering Farrell's office. We looked at each other. Maria said, "I bet it's not a social call."
I said, "She's a mole for Rell."
When we met with Farrell the following Monday, he couldn't have been more cordial. He somehow refrained from launching into a diatribe about Nexus, which surprised me. He simply thanked the senate for a re-consideration and then offered to pay for our Christmas party. I looked at Maria, and we knew what he was up to.
"That's not necessary, headmaster," Maria said.
"I know it's not necessary," Farrell said, cordially, "but I want to do it as a gesture of good faith. It's Christmas, the season of giving."
"I think it's generous of you, headmaster," said Karla. "Thank you."
"I'll arrange for the party to be catered," Farrell said.
"We already have a number of people bringing in food," Maria said.
"Then I'll pay for the bar," Farrell insisted. "An open bar on me." He stood and left.
On our way to the parking lot, Maria said, "We've been had." She laughed. "It happened so quickly I didn't have time to think."
"He'll broadcast his magnanimity," Jim said, "and win himself a few more votes."
"Karla's in his camp," Maria said. "She'll now convince the other minority teachers to support the Pilot School. She's been salivating for an Advanced Placement class, and I bet she'll have one next year. And when George Kent retires as math chairman, Karla will slide right into his chair."
It's what usually happened at Classical: Do Farrell's bidding and reap the rewards.
***
ORIGINAL FICTION from HILOBROW: James Parker's swearing-animal fable The Ballad of Cocky The Fox, later published in limited-edition paperback by HiLoBooks; plus: a newsletter, The Sniffer, by Patrick Cates, and further stories: "The Cockarillion") | Karinne Keithley Syers's hollow-earth adventure Linda, later published in limited-edition paperback; plus: ukulele music, and a "Floating Appendix") | Matthew Battles's stories "Gita Nova", "Makes the Man," "Imago," "Camera Lucida," "A Simple Message", "Children of the Volcano", "The Gnomon", "Billable Memories", "For Provisional Description of Superficial Features", "The Dogs in the Trees", "The Sovereignties of Invention", and "Survivor: The Island of Dr. Moreau"; several of these later appeared in the collection The Sovereignties of Invention, published by Red Lemonade | Robert Waldron's high-school campus roman à clef The School on the Fens | Peggy Nelson's "Mood Indigo", "Top Kill Fail", and "Mercerism" | Annalee Newitz's "The Great Oxygen Race" | Flourish Klink's Star Trek fanfic "Conference Comms" | Charlie Mitchell's "A Fantasy Land" | Charlie Mitchell's "Sentinels" | Joshua Glenn's "The Lawless One", and the mashup story "Zarathustra vs. Swamp Thing" | Adam McGovern and Paolo Leandri's Idoru Jones comics | John Holbo's "Sugarplum Squeampunk" | "Another Corporate Death" (1) and "Another Corporate Death" (2) by Mike Fleisch | Kathryn Kuitenbrouwer and Frank Fiorentino's graphic novel "The Song of Otto" (excerpt) | John Holbo's graphic novel On Beyond Zarathustra (excerpt) | "Manoj" and "Josh" by Vijay Balakrishnan | "Verge" by Chris Rossi, and his audio novel Low Priority Hero | EPIC WINS: THE ILIAD (1.408-415) by Flourish Klink | EPIC WINS: THE KALEVALA (3.1-278) by James Parker | EPIC WINS: THE ARGONAUTICA (2.815-834) by Joshua Glenn | EPIC WINS: THE ILIAD by Stephen Burt | EPIC WINS: THE MYTH OF THE ELK by Matthew Battles | EPIC WINS: GOTHAMIAD by Chad Parmenter | TROUBLED SUPERHUMAN CONTEST: Charles Pappas, "The Law" | CATASTROPHE CONTEST: Timothy Raymond, "Hem and the Flood" | TELEPATHY CONTEST: Rachel Ellis Adams, "Fatima, Can You Hear Me?" | OIL SPILL CONTEST: A.E. Smith, "Sound Thinking | LITTLE NEMO CAPTION CONTEST: Joe Lyons, "Necronomicon" | SPOOKY-KOOKY CONTEST: Tucker Cummings, "Well Marbled" | INVENT-A-HERO CONTEST: TG Gibbon, "The Firefly" | FANFICTION CONTEST: Lyette Mercier's "Sex and the Single Superhero"