The School on the Fens (27)
By: Robert Waldron
August 10, 2013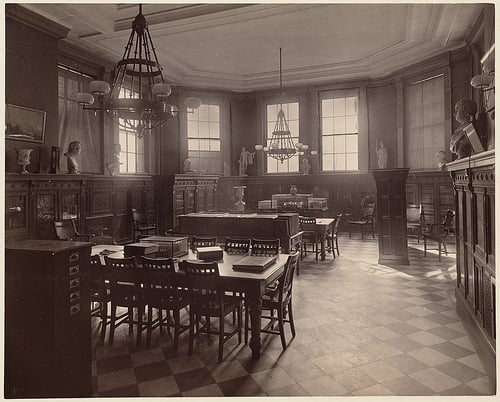 HILOBROW is proud to present the twenty-seventh installment of Robert Waldron's novel The School on the Fens. New installments will appear each Saturday for thirty-eight weeks. CLICK HERE to read all installments published thus far.
***
27
Since Jim's party, Iris had been nagging me to invite Ed and Ronny to dinner. After his face-to-face encounter with Farrell, Ed seemed depressed, fearing the likelihood of not being rehired next year. Poor teaching was the usual grounds for not rehiring, but no one could fault Ed's teaching, and as his mentor, I would fight for him. If Farrell decided to lay him off, it would be for trumped-up reasons.
Iris always put out her best china and crystal for her guests. But when she took out the silver, I knew she had taken a fancy to Ed and Ronny, for only special people dined with her mother's silverware.
At exactly six the doorbell chimed. Ed and Ronny were dressed formally, Ed attired in a blazer and tie, Ronny in an off-white silk blouse and pearl-gray skirt.
"Oh, Ed, I should've told you dinner was informal," I apologized, hanging their coats in the closet. Ronny gave Ed an "I told you so" look. Ed passed me a bottle of wine, Ronny handed me a box of chocolates. They sat together on the sofa, enfolded in a charming aura of intimacy.
"I know why you're having us over," Ed said, smiling.
Ronny nodded, "Yes, thank you for cheering us up."
"So there's method to our madness?" I said.
Ed laughed. "You're not the one who's mad, it's Farrell."
Ronny reassuringly touched Ed's arm.
"Farrell's a bully," I said, uncorking the wine.
"He now visits my class every day," Ed said. I poured and handed them glasses of wine while Iris placed a tray of cheese and crackers on the coffee table.
"Who visits you?" Iris asked.
"The headmaster," Ed said. "I was teaching for five minutes before I noticed him. He sneaked into my room through the swinging door adjoining the classrooms."
The stove bell rang. "Keep talking, I can hear you in the kitchen," Iris said. The smell of lasagna filled the room.
"What did he do?" I asked.
"Stood there staring at me the whole time," Ed said. "My throat went dry, and I was stammering."
"Nobody likes being observed while teaching," I said.
"With you, John, I feel comfortable, but Farrell's unnerving."
"You stood up to him, and you've gone to bat for Tim O'Donnell."
"And I can probably kiss my job goodbye although I'd do it again."
"You can never predict what Farrell will do," I said, trying to sound optimistic. "Your publicly standing up to him may prove to be a blessing. It would be too obvious to anyone that Farrell was punishing you by not renewing your contract. He won't be able to criticize your teaching — I'll make sure of that."
Ronny squeezed Ed's hand.
"What were you teaching when he came in?" I asked.
"We were analyzing a Hopkins poem. He questioned me about it, saying it was too religious for a public school."
"Well, the mention of God in a classroom today," I said, spreading Brie on a cracker, "is risky business, but we don't use any book not approved by the school committee. He can't criticize you for that."
"He'll get me on something, won't he?"
"He'll try to get anyone who doesn't agree with him. Including me."
Iris summoned us into the dining room.
"I've asked Ed not to involve himself in school politics," Ronny said, looking up from her salad. "We can't marry until one of us has a steady job."
"But I'm not involved in school politics," Ed said, buttering bread.
"I've already told John about the phone calls," Ronny said.
"Phone calls?" Iris asked.
Ed dropped his knife.
"Honey, I wish you hadn't."
"It's scary, Ed, and we can't keep it a secret forever."
Iris persisted, and Ronny described the calls in the middle of the night.
"We're getting two or three calls a week," Ronny blurted. "Someone is trying to frighten Ed."
"Please," Ed said, "this isn't the proper place to discuss it."
"Phone calls even now after Tim's grade's been changed?" I asked.
Ronny nodded.
"Why not have your phone number changed?" Iris said.
Ronny's eyes pleaded with Ed. He nodded.
"Classical's like a Byzantine court," I said, "and it's hard to remain neutral. Ed followed his conscience by defending a student, and it was the right thing to do."
We lifted our glasses to toast him. He smiled, "Let's pray I'll have a job next year."
"I admire your standing up to Farrell," Iris said, "but don't take on any more causes until you have tenure."
Ed looked hesitant, as if he wanted to get something off his chest.
"What is it, Ed," I asked.
"When Farrell was in my room," he said, softly, "I was really scared. You know what particularly unnerved me? Farrell had this strange smile on his face, like he knew I was afraid and was enjoying it."
Iris stood to refill our glasses.
"Ed I'd like to know more about you and Ronny," she said, moving onto lighter subject. "What did you do before you taught?"
"I was a novice in a monastery," Ed quietly said, as if it were as ordinary as selling shirts in Filenes's basement.
"A monk!" Iris said.
He had been a monk at New Rievaulx Abbey in Vermont where his uncle served as abbot. "On a visit I fell in love with the place and believed I had a vocation."
"How long were you there?" Iris asked.
"Two years, and I loved it."
"Then why did you leave?"
Delicately vague, Ed said, "I discovered what I needed to know and left."
"What was it?" Iris asked, unusually insistent. Iris usually respected people's privacy, but wine had loosened her tongue.
"Two things, actually," Ed said, kindly relenting. "I didn't have to live in a monastery to love God, and I couldn't be a celibate."
Ed's candor briefly silenced Iris.
"From a monk to a teacher," Iris said, "that's a big leap, isn't it?"
"Not really," Ed said. "Teaching is a vocation… one which allows love."
I smiled. Only a Catholic would describe teaching as a vocation.
"You're not proselytizing in the classroom, are you?" Iris asked, ignoring her usual boundaries.
"Oh, no, I'm not trying to convert anyone," Ed said laughing, "except to love language… that's everything to me."
"Everything?" Iris said.
"If students understand words and use them precisely, then it'll help them to think."
"Do you teach moral values in your class?" Iris asked.
"Only indirectly through literature," Ed said after brief reflection. "My seniors recently finished King Lear. Without much prompting from me, they understood the value of suffering."
"Suffering valuable?" Iris said, intrigued. I was amazed by Iris' sudden interest in the teaching. She had for years focused on physical things like sports and maintaining her beautiful body. She also had a gift for business; her calculations in real estate had been astonishingly accurate over the years. But she had long ago renounced introspection, as well as her love of poetry. How often I had heard her say she could not raise kids, maintain a home, work a part-time job and also read poetry, the passion of her youth.
"Suffering certainly opened Lear's eyes," Ed said, warming to the subject. "It helped him to feel compassion for others who suffer, and my students caught this change in him."
Was I drunk or were Iris' eyes tearing?
"Let's have coffee," I suggested.
We adjourned to the living room where we enjoyed several cups of coffee and discussed the upcoming faculty Christmas party. When Ronny looked at her watch, Ed took her hint. On leaving, they showered Iris with compliments for her cooking and hospitality.
Afterwards Iris and I had a fierce argument.
"You should've gone into criminal justice instead of real estate," I said.
"What's that supposed to mean?" she said, stacking dishes at the dining room table.
"You grilled Ed like a detective."
"I did not!"
"You asked personal questions about his religious beliefs and why he teaches."
"If he didn't want to answer me, he would've said so."
"He's too polite. Can't say that about you."
I followed her into the kitchen.
"Well, it sure in hell explains what I suspected about Ed."
"What's that?"
"He's better than all your goddamn faculty, unafraid to stand up to Farrell, and he doesn't write anonymous letters with a frigging animal for a signature." She filled the dishwasher, turned it on and stormed off to bed.
Lying alone in the guestroom, I thought that perhaps Iris was right. Perhaps I had played it too safe during my career at Classical. I had tried to lead my life according to the moral principles my parents had instilled in me, but perhaps I should have done more to remove Farrell as headmaster.
I thought about Ed's being a monk. He was clearly motivated by matters far beyond the ego, school politics and personal advancement. He was, quite simply, a spiritual man. And Farrell was his opposite.
***
ORIGINAL FICTION from HILOBROW: James Parker's swearing-animal fable The Ballad of Cocky The Fox, later published in limited-edition paperback by HiLoBooks; plus: a newsletter, The Sniffer, by Patrick Cates, and further stories: "The Cockarillion") | Karinne Keithley Syers's hollow-earth adventure Linda, later published in limited-edition paperback; plus: ukulele music, and a "Floating Appendix") | Matthew Battles's stories "Gita Nova", "Makes the Man," "Imago," "Camera Lucida," "A Simple Message", "Children of the Volcano", "The Gnomon", "Billable Memories", "For Provisional Description of Superficial Features", "The Dogs in the Trees", "The Sovereignties of Invention", and "Survivor: The Island of Dr. Moreau"; several of these later appeared in the collection The Sovereignties of Invention, published by Red Lemonade | Robert Waldron's high-school campus roman à clef The School on the Fens | Peggy Nelson's "Mood Indigo", "Top Kill Fail", and "Mercerism" | Annalee Newitz's "The Great Oxygen Race" | Flourish Klink's Star Trek fanfic "Conference Comms" | Charlie Mitchell's "A Fantasy Land" | Charlie Mitchell's "Sentinels" | Joshua Glenn's "The Lawless One", and the mashup story "Zarathustra vs. Swamp Thing" | Adam McGovern and Paolo Leandri's Idoru Jones comics | John Holbo's "Sugarplum Squeampunk" | "Another Corporate Death" (1) and "Another Corporate Death" (2) by Mike Fleisch | Kathryn Kuitenbrouwer and Frank Fiorentino's graphic novel "The Song of Otto" (excerpt) | John Holbo's graphic novel On Beyond Zarathustra (excerpt) | "Manoj" and "Josh" by Vijay Balakrishnan | "Verge" by Chris Rossi, and his audio novel Low Priority Hero | EPIC WINS: THE ILIAD (1.408-415) by Flourish Klink | EPIC WINS: THE KALEVALA (3.1-278) by James Parker | EPIC WINS: THE ARGONAUTICA (2.815-834) by Joshua Glenn | EPIC WINS: THE ILIAD by Stephen Burt | EPIC WINS: THE MYTH OF THE ELK by Matthew Battles | EPIC WINS: GOTHAMIAD by Chad Parmenter | TROUBLED SUPERHUMAN CONTEST: Charles Pappas, "The Law" | CATASTROPHE CONTEST: Timothy Raymond, "Hem and the Flood" | TELEPATHY CONTEST: Rachel Ellis Adams, "Fatima, Can You Hear Me?" | OIL SPILL CONTEST: A.E. Smith, "Sound Thinking | LITTLE NEMO CAPTION CONTEST: Joe Lyons, "Necronomicon" | SPOOKY-KOOKY CONTEST: Tucker Cummings, "Well Marbled" | INVENT-A-HERO CONTEST: TG Gibbon, "The Firefly" | FANFICTION CONTEST: Lyette Mercier's "Sex and the Single Superhero"