The School on the Fens (25)
By: Robert Waldron
July 27, 2013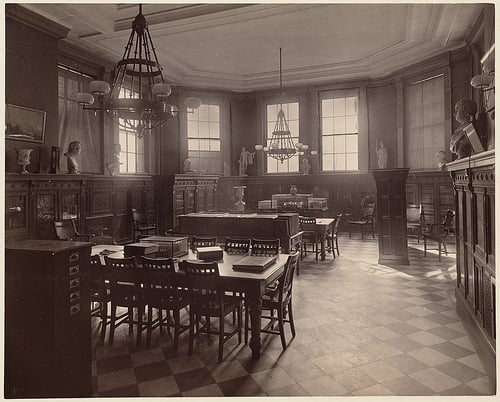 HILOBROW is proud to present the twenty-fifth installment of Robert Waldron's novel The School on the Fens. New installments will appear each Saturday for thirty-eight weeks. CLICK HERE to read all installments published thus far.
***
25
Around eleven o'clock on Sunday morning I received a phone call from an ebullient Eileen Thompson. She had sold her car to her youngest daughter Beth. While cleaning out the trunk, Beth found her father's mark book along with piles of corrected papers. Eileen looked up Tim O'Donnell's grade: He had an A.
"Farrell will have to change Tim's grade now, won't he?" Eileen said almost gleefully.
"Let's hope so," I said.
"Funny, I now recall Bill's comment about how gifted Timothy was, how much he liked him. It must've been such a shock to find them —"
I thanked her and immediately called Ed. He was elated, and we decided not to inform Farrell until he repeated his willingness to change Tim's grade.
Early Monday morning Ed and I met in the school office. Mary said the headmaster would be busy for most of the day, but if it was important, she would schedule us for a meeting after school, an accommodation we gladly accepted. Tim's early decision transcript should already have been posted.
I dismissed my homeroom four minutes early to their howling delight and met Ed in his room. He was at his desk, speaking with Tim O'Donnell.
"Hello, Mr. Duncan," Tim said, breaking into a smile.
"You look happy, Timothy," I said.
"I'm walking on air."
"I couldn't resist telling him," Ed said.
"No harm, but let's not count our chickens before they're hatched."
"Something wrong?" Tim asked, frowning.
"Looks pretty straight forward," Ed said, nonchalantly. "Mr. Thompson made an error on his grade sheets."
An almost indiscernible smile appeared on Tim's face. He knew Farrell was behind it and obviously hadn't yet told Ed about his sexual fling with Farrell. I wondered why — shame or fear of losing Ed's approval, or both?
"Yeah, easy to make a mistake," Tim said, shifting his gaze from me to the clock. "I have to go or I'll be late for work." He reached out his hand to Ed, "Thanks for all your help, Mr. Horgan." He also shook my hand. He could now get on with his senior year, and maybe even enjoy it.
"He's really happy," Ed said, "but I wonder if he'll be happy at an Ivy."
"Why not?"
"Being poor as well as gay, it won't be easy for him."
"Tim has everything going for him — intelligence, looks, personality."
During his junior year Tim had written an essay on The Great Gatsby, a brilliant defense of Gatsby's reinvention of himself. When I commented that Gatsby had betrayed his roots, Tim intelligently argued that society had forced Gatsby to live as he did in order to survive.
His essay was a window into his soul. He would also survive by reinventing himself, and I wondered if in ten years I would recognize him.
***
ORIGINAL FICTION from HILOBROW: James Parker's swearing-animal fable The Ballad of Cocky The Fox, later published in limited-edition paperback by HiLoBooks; plus: a newsletter, The Sniffer, by Patrick Cates, and further stories: "The Cockarillion") | Karinne Keithley Syers's hollow-earth adventure Linda, later published in limited-edition paperback; plus: ukulele music, and a "Floating Appendix") | Matthew Battles's stories "Gita Nova", "Makes the Man," "Imago," "Camera Lucida," "A Simple Message", "Children of the Volcano", "The Gnomon", "Billable Memories", "For Provisional Description of Superficial Features", "The Dogs in the Trees", "The Sovereignties of Invention", and "Survivor: The Island of Dr. Moreau"; several of these later appeared in the collection The Sovereignties of Invention, published by Red Lemonade | Robert Waldron's high-school campus roman à clef The School on the Fens | Peggy Nelson's "Mood Indigo", "Top Kill Fail", and "Mercerism" | Annalee Newitz's "The Great Oxygen Race" | Flourish Klink's Star Trek fanfic "Conference Comms" | Charlie Mitchell's "A Fantasy Land" | Charlie Mitchell's "Sentinels" | Joshua Glenn's "The Lawless One", and the mashup story "Zarathustra vs. Swamp Thing" | Adam McGovern and Paolo Leandri's Idoru Jones comics | John Holbo's "Sugarplum Squeampunk" | "Another Corporate Death" (1) and "Another Corporate Death" (2) by Mike Fleisch | Kathryn Kuitenbrouwer and Frank Fiorentino's graphic novel "The Song of Otto" (excerpt) | John Holbo's graphic novel On Beyond Zarathustra (excerpt) | "Manoj" and "Josh" by Vijay Balakrishnan | "Verge" by Chris Rossi, and his audio novel Low Priority Hero | EPIC WINS: THE ILIAD (1.408-415) by Flourish Klink | EPIC WINS: THE KALEVALA (3.1-278) by James Parker | EPIC WINS: THE ARGONAUTICA (2.815-834) by Joshua Glenn | EPIC WINS: THE ILIAD by Stephen Burt | EPIC WINS: THE MYTH OF THE ELK by Matthew Battles | EPIC WINS: GOTHAMIAD by Chad Parmenter | TROUBLED SUPERHUMAN CONTEST: Charles Pappas, "The Law" | CATASTROPHE CONTEST: Timothy Raymond, "Hem and the Flood" | TELEPATHY CONTEST: Rachel Ellis Adams, "Fatima, Can You Hear Me?" | OIL SPILL CONTEST: A.E. Smith, "Sound Thinking | LITTLE NEMO CAPTION CONTEST: Joe Lyons, "Necronomicon" | SPOOKY-KOOKY CONTEST: Tucker Cummings, "Well Marbled" | INVENT-A-HERO CONTEST: TG Gibbon, "The Firefly" | FANFICTION CONTEST: Lyette Mercier's "Sex and the Single Superhero"