The School on the Fens (15)
By: Robert Waldron
May 18, 2013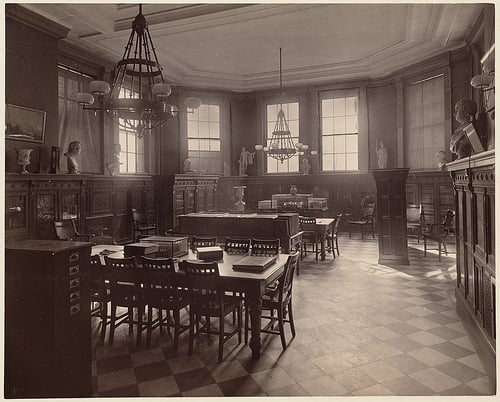 HILOBROW is proud to present the fifteenth installment of Robert Waldron's novel The School on the Fens. New installments will appear each Saturday for thirty-eight weeks. CLICK HERE to read all installments published thus far.
***
15
Late-night phone calls are common in a teacher's life. Disgruntled students who have failed a subject or simply dislike a teacher play this eerie game. I have received such calls, chilled by the silence on the other end of the line. I have also been a victim of other pranks: my car splattered with eggs on Halloween or my tires flattened around report card time. When carried out by youngsters, we can chalk it up to immaturity, but when Rell and his minions did such things, it was another matter.
Our new Latin teacher Maureen Riley has received several such calls. Tall, pretty, and gifted with a razor-sharp wit, Maureen was a breath of fresh air when she arrived at Classical. She swiftly perceived the lay of the land. "This is a place of fear," she announced in a teachers' lounge, "and the headmaster is nuts."
Needless to say we were delighted by her honest appraisal, but Jim warned her about ubiquitous spies — and that she would be well advised to keep her opinions to herself.
She drove an old jalopy to school; it frequently broke down, often causing her to be late for school. As we predicted, she received a "Kindly Note" in her mailbox, summoning her to the headmaster's office. Still an innocent about Classical's ways, she told none of us and went to the meeting alone.
She explained her car dilemma to Farrell and Murkin. "Get a new car," Murkin said.
"You want to pay for it?" Maureen shot back.
"Then take the public transportation," Murkin said. "We don't tolerate tardiness from our professional staff."
"No problem," Maureen said, reining in her pique.
"There's another matter that's come to my attention," Farrell said. "You've been mouthing off about this school — and about me. If you don't like it here, you're free to go elsewhere."
She now understood the real reason why she'd been summoned.
"I didn't leave my constitutional rights at the door when I came here," Maureen said. "And I don't like threats. If you or this skinny bitch here gives me any more shit, I'll pick up the phone and call Senator Keating; he's my uncle, and he loves me, and he won't let anyone hurt me."
Farrell's and Murkin's jaws dropped.
"Oh, I get it. You didn't know about my uncle because I didn't get my position through connections," she continued. "I got my job fairly because I have the credentials. But if I need help, say regarding you two, he'd be very happy to help me. Nice talking to you guys, and have a great day."
When she left, their mouths were still open.
Maureen loved telling her story, word for word, and before long the whole faculty knew it.
Shortly after, the late-night phone calls started. Maureen had great rapport with the kids, and she was convinced it wasn't one of them. It had to be either Murkin or Farrell or one of his lackeys. She admitted that such calls in the middle of the night were unnerving, especially if you're a single woman living alone.
***
ORIGINAL FICTION from HILOBROW: James Parker's swearing-animal fable The Ballad of Cocky The Fox, later published in limited-edition paperback by HiLoBooks; plus: a newsletter, The Sniffer, by Patrick Cates, and further stories: "The Cockarillion") | Karinne Keithley Syers's hollow-earth adventure Linda, later published in limited-edition paperback; plus: ukulele music, and a "Floating Appendix") | Matthew Battles's stories "Gita Nova", "Makes the Man," "Imago," "Camera Lucida," "A Simple Message", "Children of the Volcano", "The Gnomon", "Billable Memories", "For Provisional Description of Superficial Features", "The Dogs in the Trees", "The Sovereignties of Invention", and "Survivor: The Island of Dr. Moreau"; several of these later appeared in the collection The Sovereignties of Invention, published by Red Lemonade | Robert Waldron's high-school campus roman à clef The School on the Fens | Peggy Nelson's "Mood Indigo", "Top Kill Fail", and "Mercerism" | Annalee Newitz's "The Great Oxygen Race" | Flourish Klink's Star Trek fanfic "Conference Comms" | Charlie Mitchell's "A Fantasy Land" | Charlie Mitchell's "Sentinels" | Joshua Glenn's "The Lawless One", and the mashup story "Zarathustra vs. Swamp Thing" | Adam McGovern and Paolo Leandri's Idoru Jones comics | John Holbo's "Sugarplum Squeampunk" | "Another Corporate Death" (1) and "Another Corporate Death" (2) by Mike Fleisch | Kathryn Kuitenbrouwer and Frank Fiorentino's graphic novel "The Song of Otto" (excerpt) | John Holbo's graphic novel On Beyond Zarathustra (excerpt) | "Manoj" and "Josh" by Vijay Balakrishnan | "Verge" by Chris Rossi, and his audio novel Low Priority Hero | EPIC WINS: THE ILIAD (1.408-415) by Flourish Klink | EPIC WINS: THE KALEVALA (3.1-278) by James Parker | EPIC WINS: THE ARGONAUTICA (2.815-834) by Joshua Glenn | EPIC WINS: THE ILIAD by Stephen Burt | EPIC WINS: THE MYTH OF THE ELK by Matthew Battles | EPIC WINS: GOTHAMIAD by Chad Parmenter | TROUBLED SUPERHUMAN CONTEST: Charles Pappas, "The Law" | CATASTROPHE CONTEST: Timothy Raymond, "Hem and the Flood" | TELEPATHY CONTEST: Rachel Ellis Adams, "Fatima, Can You Hear Me?" | OIL SPILL CONTEST: A.E. Smith, "Sound Thinking | LITTLE NEMO CAPTION CONTEST: Joe Lyons, "Necronomicon" | SPOOKY-KOOKY CONTEST: Tucker Cummings, "Well Marbled" | INVENT-A-HERO CONTEST: TG Gibbon, "The Firefly" | FANFICTION CONTEST: Lyette Mercier's "Sex and the Single Superhero"