KOJAK YOUR ENTHUSIASM (11)
By: Mark Kingwell
May 5, 2022
One in a series of 25 enthusiastic posts, contributed by 25 HILOBROW friends and regulars, on the topic of our favorite TV shows of the Seventies (1974–1983).
*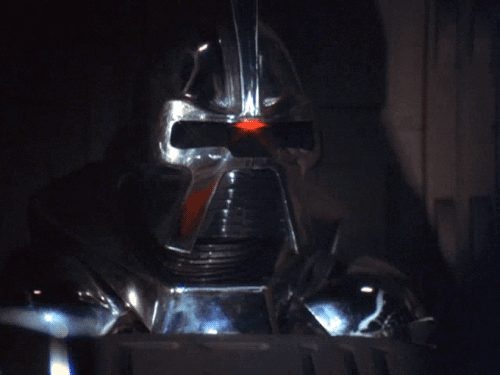 BATTLESTAR GALACTICA | 1978–1979 and GALACTICA | 1980
If you didn't live through it when this weekly series debuted in September 1978, the first thing you need to know is that OG Battlestar Galactica resembles the later uncanny political, space-drama iteration (started in 2004) about as much as Christian Bale's Dark Knight is the same character as the campy Adam West Batman.
The 1970s version sported unexplained Egyptian styling, courtesy the popular boobs-and-muscles kitsch SF/F painter Frank Frazetta (the only time the artist's work appeared in TV Guide), little shrug capes for the blow-dried fighter pilots, and hulking, humming, shiny evil enemies, the Cylons. No uncanny-valley issues there.
In fact, there ought to be a label for cultural production that is not quite campy, because unselfconscious and played straight, but goofy, even ridiculous, when consumed. George Romero's Dawn of the Dead, released in 1978, is a good example of the un-campy, on the model of zombies as the undead. It has your basic brain-craving revenant apocalypse, some funny lines about its shopping-mall setting, but it doesn't celebrate its endgame oddness like, say, Army of Darkness (1993) or Shaun of the Dead (2004). John Carpenter's unsettling They Live, released in 1988, walks the same fine line between dramatic and dumb.
The essential element of the un-campy is a suspension of disbelief on the part of the actors, not the audience. They must play it straight. And nobody alive in 1978 had a straighter face than wise-man specialist Lorne Greene, the Canadian actor who plays Commander Adama. Handsome Richard Hatch is Captain Apollo, while the original Lieutenant Starbuck role went to Dirk Benedict, an actor whose altered name (born Dirk Niewoehner) is itself un-campy.
The original series was popular, thought to rival Star Wars (1977-forever). I bought and assembled plastic models of both the Galactica Viper fighters and the Cylons' fat-frisbee-style dogfight jets. But the show's cancellation during the 1980 regroup proved a blessing in disguise for the original premise, namely that the space-born vestige of the human population would battle conscious, organized and deadly AIs. By the time the haunting post-millennial reboot premiered, the scriptwriters were boldly offering a female Starbuck, gripping political drama, and the possibility of Cylons who looked and behaved exactly like humans.
In fact, they might be Cylons without even knowing it, as with likeable Boomer aboard the Galactica, a sleeper agent with false memories. This move was surely enabled by the Nexus 6 replicant Rachel in Blade Runner (1982). "How can it not know what it is?" demands Rick Deckard (Harrison Ford). But how does anyone know who they are? How does anyone know how long they'll live?
Fun un-campy, uncanny fact: Edward James Olmos plays a creepy blade runner, Gaff, in Ridley Scott's 1982 masterpiece. Later Olmos would radiate ruthless gravitas as the 2.0 William Adama, master of the Galactica.
***
KOJAK YOUR ENTHUSIASM: INTRODUCTION by Josh Glenn | Lynn Peril on ONE DAY AT A TIME | Dan Reines on THE WHITE SHADOW | Carlo Rotella on BARNEY MILLER | Lucy Sante on POLICE WOMAN | Douglas Wolk on WHEW! | Susan Roe on THE LOVE BOAT | Peggy Nelson on THE BIONIC WOMAN | Michael Grasso on WKRP IN CINCINNATI | Josh Glenn on SHAZAM! | Vanessa Berry on IN SEARCH OF… | Mark Kingwell on BATTLESTAR GALACTICA | Tom Nealon on BUCK ROGERS | Heather Quinlan on LITTLE HOUSE ON THE PRAIRIE | Adam McGovern on FAWLTY TOWERS | Gordon Dahlquist on THE STREETS OF SAN FRANCISCO | David Smay on LAVERNE & SHIRLEY | Miranda Mellis on WELCOME BACK, KOTTER | Rick Pinchera on THE MUPPET SHOW | Kio Stark on WONDER WOMAN | Marc Weidenbaum on ARK II | Carl Wilson on LOU GRANT | Greg Rowland on STAR TREK: THE ANIMATED SERIES | Dave Boerger on DOCTOR WHO | William Nericcio on CHICO AND THE MAN | Erin M. Routson on HAPPY DAYS. Plus: David Cantwell on THE WALTONS.
MORE ENTHUSIASM at HILOBROW
CURVE YOUR ENTHUSIASM (3Q2023): PIZZA PURISM | BOY BANDS | THE '86 METS | LOVE ISLAND UK | LIVERWURST | & 20 other reconsidered enthusiasms. TEEN YOUR ENTHUSIASM (2Q2023): ANDY GIBB | VALERIE BERTINELLI | KIM WILDE | ARLO GUTHRIE | MIKE PATTON | & 20 other heartthrobs from our adolescences. DOLLY YOUR ENTHUSIASM (1Q2023): WE FOUND IT | TOGETHER AGAIN | SUNDAY MORNIN' COMIN' DOWN | BAD CASE OF THE BLUES | FANCY | & 20 other Sixties (1964–1973) Country records. KILL YOUR ENTHUSIASM (4Q2022): LT. TASHA YAR | JOYCE SUMMERS | COL. HENRY BLAKE | MRS. LANDINGHAM | ALEX KAMAL | & 20 other TV deaths. BLURB YOUR ENTHUSIASM (3Q2022): LEFT-CORNER BRICK | JOY IS RESISTANCE | THE FUTURE IS PASSÉ | EVERY MINUTE AN OCEAN | SHUT UP, HE EXPLAINED | & 20 other apothegms to live by. KOJAK YOUR ENTHUSIASM (2Q2022): ARK II | WKRP IN CINCINNATI | BUCK ROGERS | THE WHITE SHADOW | POLICE WOMAN | & 20 other Seventies (1974–1983) TV shows. KICK YOUR ENTHUSIASM (1Q2022): KUILL | CATO | COSMO | TRIXIE | VOLSTAGG | & 20 other sidekicks. NERD YOUR ENTHUSIASM (4Q2021): TIME | THE POST OFFICE | ARDUIN | DOUBT | SUMMATIONS | & 20 other nerdy passions. SWERVE YOUR ENTHUSIASM (3Q2021): WARHOL'S WALT WHITMAN | 70, GIRLS, 70 | TYRAEL'S MIGHT | SHIRATO SANPEI | THE LEON SUITES | & 20 other never-realized cultural productions. FIVE-O YOUR ENTHUSIASM (2Q2021): DARK SHADOWS | MANNIX | GET SMART | THE ADDAMS FAMILY | I DREAM OF JEANNIE | & 20 other Sixties (1964–1973) TV shows. FERB YOUR ENTHUSIASM (1Q2021): STEVEN UNIVERSE | TOP CAT | REN & STIMPY | SHE-RA AND THE PRINCESSES OF POWER | DRAGON BALL Z | & 20 other animated series. CARBONA YOUR ENTHUSIASM (2020): "Sex Bomb" | "Going Underground" | "Soft South Africans" | "Typical Girls" | "Human Fly" | & 20 other Seventies (1974–1983) punk singles. KLAATU YOU (2020 weekly): ZARDOZ | METROPOLIS | DARK STAR | SINS OF THE FLESHAPOIDS | SOLARIS | & dozens of other pre-STAR WARS sci-fi movies. CONVOY YOUR ENTHUSIASM (2019): THE TAKING OF PELHAM ONE TWO THREE | ROLLERBALL | BLACK SUNDAY | SORCERER | STRAIGHT TIME | & 20 other Seventies (1974–1983) action movies. SERIOCOMIC (2019 weekly): LITTLE LULU | VIZ | MARSUPILAMI | ERNIE POOK'S COMEEK | HELLBOY | & dozens of other comics. TUBE YOUR ENTHUSIASM (2018): LOONEY TUNES | THREE STOOGES | THE AVENGERS | ROCKY & BULLWINKLE | THE TWILIGHT ZONE | & 20 other Fifties (1954–1963) TV shows. WOWEE ZOWEE (2018 weekly): UNISEX | UNDER THE PINK | DUMMY | AMOR PROHIBIDO | HIPS AND MAKERS | & dozens of other Nineties (1994–2003) albums. KLUTE YOUR ENTHUSIASM (2017): THE KILLERS | BANDE À PART (BAND OF OUTSIDERS) | ALPHAVILLE | HARPER | BLOW-UP | & 20 other Sixties (1964–1973) neo-noir movies. #SQUADGOALS (2017 weekly): THE WILD BUNCH | BOWIE'S BAND | THE BLOOMSBURY GROUP | THE HONG KONG CAVALIERS | VI ÄR BÄST! & dozens of other squads. GROK MY ENTHUSIASM (2016 weekly): THE THEORY AND PRACTICE OF LUNCH | WEEKEND | MILLION YEAR PICNIC | LA BARONNE EMILE D'ERLANGER | THE SURVIVAL SAMPLER | & dozens more one-off enthusiasms. QUIRK YOUR ENTHUSIASM (2016): "Tainted Love" | "Metal" | "Frankie Teardrop" | "Savoir Faire" | "Broken English" | & 20 other Seventies (1974–1983) new wave singles. CROM YOUR ENTHUSIASM (2015): DARKER THAN YOU THINK | THE SWORD IN THE STONE | OUT OF THE SILENT PLANET | THIEVES' HOUSE | QUEEN OF THE BLACK COAST | & 20 other Thirties (1934–1943) fantasy novels. KERN YOUR ENTHUSIASM (2014): ALDINE ITALIC | DATA 70 | TORONTO SUBWAY | JOHNSTON'S "HAMLET" | TODD KLONE | & 20 other typefaces. HERC YOUR ENTHUSIASM (2013): "Spoonin' Rap" | "Rapper's Delight" | "Rappin' Blow" | "The Incredible Fulk" | "The Adventures of Super Rhyme" | & 20 other Seventies (1974–1983) hip-hop songs. KIRK YOUR ENTHUSIASM (2012): Justice or vengeance? | Kirk teaches his drill thrall to kiss | "KHAAAAAN!" | "No kill I" | Kirk browbeats NOMAD | & 20 other Captain Kirk scenes. KIRB YOUR ENTHUSIASM (2011): THE ETERNALS | BLACK MAGIC | DEMON | OMAC | CAPTAIN AMERICA | & 20 other Jack Kirby panels.