49th PARALLEL (7)
By: Joshua Glenn
January 24, 2023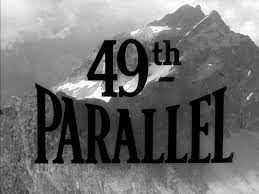 University of Toronto philosopher Mark Kingwell and HILOBROW's Josh Glenn are coauthors of The Idler's Glossary (2008), The Wage Slave's Glossary (2011), and The Adventurer's Glossary (2021). While researching and writing their respective sections of the latter book, they engaged in an epistolary exchange about real-world and fictional adventures. (As intended, passages from this exchange appear verbatim in the book.) Via the series 49th PARALLEL, the title of which references not only Mark and Josh's cross-border collaboration but one of their favorite WWII movies, HILOBROW is pleased to share a lightly edited version of their adventure-oriented exchange with our readers.
49th PARALLEL: FULL OF BEANS | DERRING-DO | ON THE BEAM | A WIZARD DODGE | RURITANIA | ROBINSONADE | CAMARADERIE | WISH I WERE HERE | PICARESQUE | TILTING AT WINDMILLS | PLUCK | SKOOKUM | SAGAMAN | HOT-SHOT | CUT AND RUN | THE WORST ANGELS OF OUR NATURE | ACUMEN | APOPHENIA | ESCAPADE | I AM NOT A NUMBER | HEAD-SHOT CIRCUS | 86 | GAMBIT | PLAY THE GAME | HAYWIRE | REPETITION.
---
CAMARADERIE
---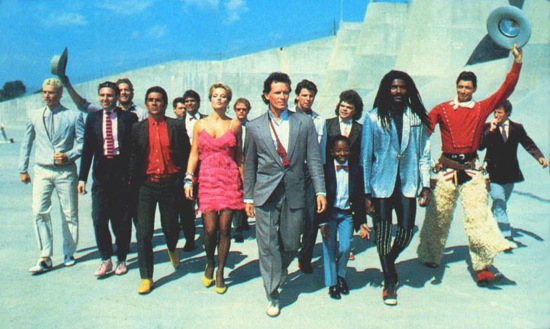 1st August, 2019
BOSTON
I'm glad you dig the ad-hoc adventure typology, so far — I have several other types still up my sleeve, which I will reveal as we go along, so as not to overwhelm. For example, you mention mistaken-identity vs. amnesia tropes. In my schema, these are both expressions of the AVENGER DRAMA adventure type — a counter-Enlightenment phenomenon, one which first appeared in the form of 18th-century gothic melodramas. Modern society's constitutional law is corrupt and slow, according to such adventures; as a result, evil (usually in the form of injustice and oppression) goes unpunished. The avenger is a fiercer, purer authority that arises to punish evil on behalf of evil's victims. There are three sub-types, I think. The protagonist of a SECRET IDENTITY adventure seeks to escape the prison of persona — a prescribed social role and m.o., internalized and taken for granted; the secret-identity avenger instead becomes fluid, moving anonymously and deftly through various strata of the social order. The protagonist of a SELF-LIBERATION adventure, meanwhile, whether it's Nietzsche's imaginary superman, the Count of Monte Cristo, Heathcliff, Captain Nemo, Batman, Adrian Veidt of Watchmen, or even Jay Gatsby, escapes the prison of self-limiting expectations and assumptions; this sort of thing is, of course, very appealing to capitalist romantics like Ayn Rand. The protagonist of a RELUCTANT BAD-ASS adventure, finally, seeks to escape their nature/training as a living weapon — from The Hulk to Billy Jack to Kwai Chang Caine in Kung Fu — and become peaceful, gentle. There are all sorts of fun twists on these themes: Jason Bourne doesn't know why he's so good at fighting and killing; RoboCop is troubled by memories of his happy life; Leeloo, Wonder Woman, and the Iron Giant don't understand that they were actually constructed to be weapons…
You said that ARGONAUTICA adventures are among your favorites — and I love them, too. Why is it so pleasurable to watch these groups come together, and function as a unit? Again, I think the answer is: It's utopian. We yearn to belong to a non-totalizing totality — to borrow language from Sartre and Western Marxists — which enables us to accomplish and experience more than we could ever do on our own, and which satisfies our need for belonging and community, but without requiring us to abandon our eccentric individuality — quite the contrary, in fact. It's been a treat, in researching this glossary, to learn more about terms like camaraderie, which is derived from the Spanish for "bedroom," and which suggests a fellowship so close that one shares sleeping quarters with one's comrades; the idiom in cahoots, similarly, seems to derive from the French for "cabin," suggesting close quarters. The term squad, much-discussed recently — thanks to the progressive women lawmakers, here in the US, who borrowed the term (like Taylor Swift did, a few years ago) from hip hop culture — originally describes a subdivision of a military company, detailed for a special purpose. There's something inherently kick-ass about a squad.
You ask whether utopia is life-threatening, which makes me realize that I haven't been articulating myself well on the topic of utopia. I'm trying to follow the lead of Ernst Bloch — and of Adorno, who admired Bloch's analysis — in trying to articulate a "utopian function" in escapist literature. Bloch and Adorno were interested in folk and fairy tales, though they also paid attention to popular culture. Going against the grain of progressive thought at the time, they regarded such "texts" as occluded sources of encouragement and inspiration, indirect and sometimes even perverse expressions of the human desire for liberation and fulfillment. This is why I'm trying to get beyond the level of "I like how thrilling the action is, in The Dirty Dozen or Ivanhoe [etc.]" to an analysis that asks, "What aspects of the human desire for liberation and fulfillment are illuminated by adventure novels and movies in which a band of outsiders comes together for a mission, or in which a masked man shows up at a joust," and so forth. I mean, I want to do both: revel in the thrills, but dive deeper into how certain ideas, values, and higher-order benefits are communicated via this stuff.
I'm still struggling with the question of why it's so hard to achieve a state of adventure. What is it about the quotidian that casts such a bewitching spell? If you help me understand how tedium is different from boredom, I feel sure that some kind of lightbulb will turn on, directly over my head…
Josh
***
ALSO SEE: Josh's BEST 250 ADVENTURES of the 20th CENTURY list, and the A IS FOR ADVENTURE series | Mark on PATRICK McGOOHAN, BATTLESTAR GALACTICA, THE MAN FROM U.N.C.L.E., THE EIGER SANCTION, and THE HONG KONG CAVALIERS.