STUFFED (35)
By: Tom Nealon
June 22, 2019
One in a popular series of posts by Tom Nealon, author of Food Fights and Culture Wars: A Secret History of Taste. STUFFED is inspired by Nealon's collection of rare cookbooks, which he sells — among other things — via Pazzo Books.
ELECTRIFIED BREADCRUMBS
It's alive, alive! Now I know it is really possible… — Dr. Henry Frankenstein, Frankenstein (1931)
Breadcrumbs. In the Middle Ages they were the main thickener of sauces. They've been used: to make trails, both actual (watch out for birds) and metaphorical; to coat almost anything for frying; for making fake au gratin on mac & cheese; and for inducing arguments about how terrible it is to put breadcrumbs on mac & cheese.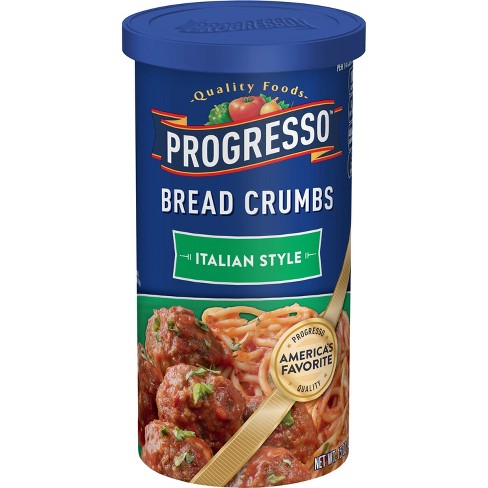 For these, and myriad other purposes, some of them too explicit to detail here, we have used bread crumbs. But until about halfway through the 20th century, we made them all the same way, by grating ordinary bread. Sometimes stale, leftover bread (especially if the crmubs were being toasted and used as a coating), sometimes closer to fresh bread (if being used as a binder in meatloaf or something similar). Gradually though, and then all at once, most people started buying pre-crumbed bread and breadcrumbs became not a thing that we do with bread, but a thing unto themselves.
This is how it was for decades: Stale bread was thrown away, we bought breadcrumbs, plain, weird oregano flavor, or… no. that was about it, for some reason. And they were OK — I don't want to run them down, like some people. They are convenient, the weird oregano isn't that weird, and you don't have to spray your kitchen with bread bits or get out the cuisinart.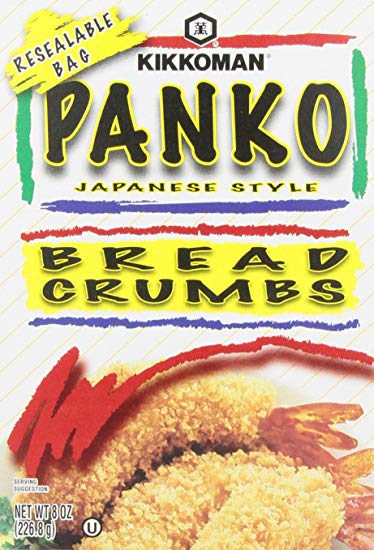 But then someone introduced panko breadcrumbs from Japan (pan from the Portuguese for bread, ko from the Japanese for powder) and everyone suddenly had a breadcrumb preference again. Panko are lighter, feathery almost, and leave fried foods lighter but crispier than ordinary breadcrumbs. They are a specialty breadcrumb, ill-equipped for life as a binder or filler in meatloafs, balls, or burgers, and a little weird on top of mac & cheese. But they excel as a coating.
What is their deal, really? Before Panko breadcrumbs stole our hearts, what were they up to? The story with panko breadcrumbs is that they are made with electricity — which is what makes them so light and airy. When I first heard this, I assumed they were more or less normal breadcrumbs that had been electrocuted, maybe put on giant wire racks with a current running through them. The actual story — if it is to be believed — is weirder.
Panko breadcrumbs are slow-cooked by electrocution, the dough dropped into metal buckets after an extended rising process — which creates a crustless, slightly jiggly, finished loaf. The loaf is slow-dried, then crumbed. The current is mild enough that the dough, apparently, never even warms up. It's a crazy process, but certainly not any crazier than the slow drying of bonito. What is crazy is that the only origin story for this process is as follows.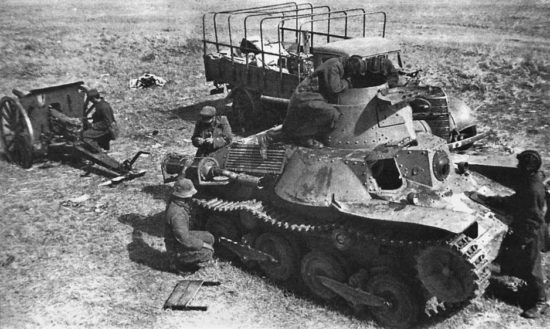 Late in World War II, after the Yalta conference in 1945, the Japanese were involved in a land battle with Russia. A tank crew hankering for fresh baked bread, but worried that a fire would give away their location, attached their tank's battery to a hunk of dough and electrocuted it. They found that this made the leftover crumbs light and fluffy — and, over an unspecified period of time, the process was honed to created panko breadcrumbs.
Now, this yarn has many of the hallmarks of food origin tales: very specific story; owes a great deal to accident and/or circumstance; accepted as truth despite being completely implausible on the face of it (e.g. mayo whipped up by the Admiral's chef after the battle of Mahon because he ran out of whipping cream, mole poblano discovered when a pot of chocolate blew into a nearby sauce cauldron being prepared for the Archbishop's arrival, Reese's peanut butter cups invented during a sidewalk collision, etc.).
Still I decided to take the story at its word and went about trying to recreate it. Luckily, I have a friend who is both electrically competent and relatively easily sucked into ridiculous projects. So we built what is basically a miniature version of the tubs shown in the Panko manufacturing videos that we found, while also keeping in mind that this would be done in the field while hiding your tank from Russians.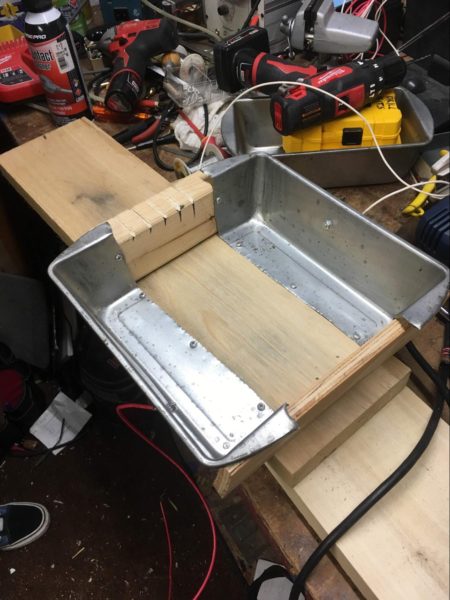 We built a box (shown above) by splitting a loaf pan and separating it with wood, then electrifying the sides with a voltage inverter that was putting out around 12 volts. We didn't know if that would be quite enough — a WWII Japanese tank battery likely would have been more like 24 — but we figured it was a good start.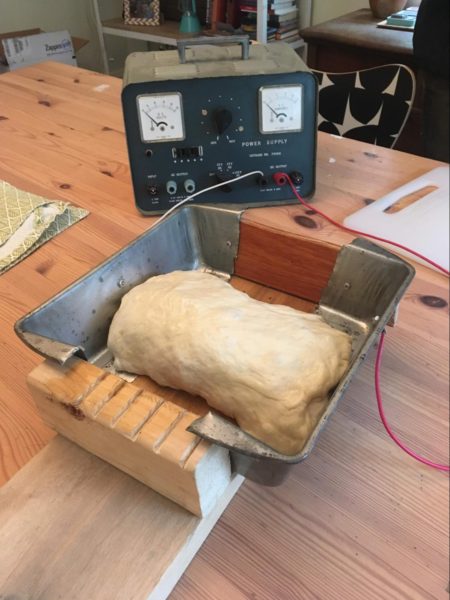 It worked a little? Or maybe the dough just rose a lot: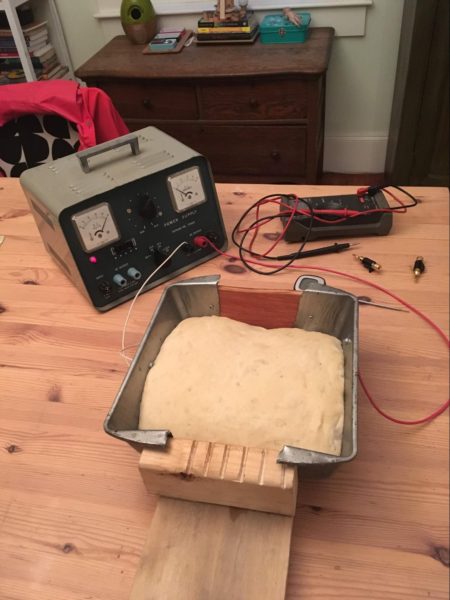 It's hard to say which. After almost 24 hours the dough looked like this: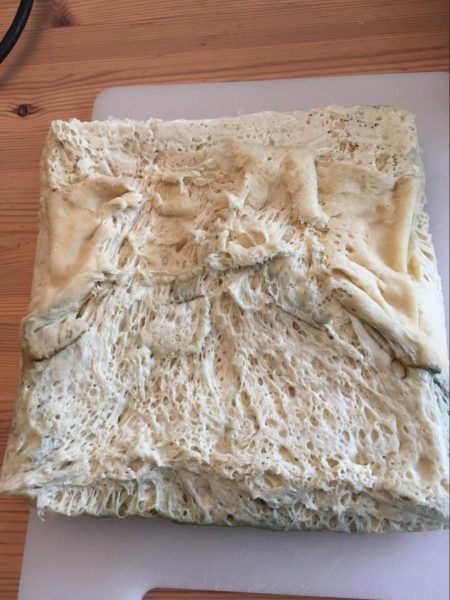 The green is a reactive from running the current through the lousy loaf pan — thanks a lot, Savers.
Not that great. We tried again, this time hooking the current directly into the dough and amplifying it somewhat with a thingy (shown). But the results were even less inspiring: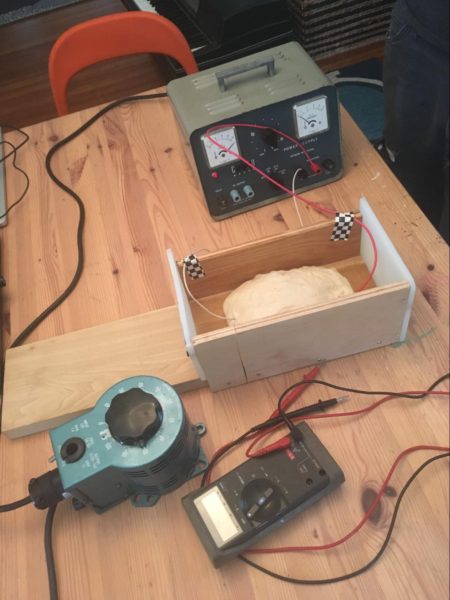 We will return to the kitchen, and either use a modified version of the first system, or jumper cables and an actual battery, or just plug the dough directly into the wall with a snipped off lamp cord.
Watch this space!
***
STUFFED SERIES: THE MAGAZINE OF TASTE | AUGURIES AND PIGNOSTICATIONS | THE CATSUP WAR | CAVEAT CONDIMENTOR | CURRIE CONDIMENTO | POTATO CHIPS AND DEMOCRACY | PIE SHAPES | WHEY AND WHEY NOT | PINK LEMONADE | EUREKA! MICROWAVES | CULINARY ILLUSIONS | AD SALSA PER ASPERA | THE WAR ON MOLE | ALMONDS: NO JOY | GARNISHED | REVUE DES MENUS | REVUE DES MENUS (DEUX) | WORCESTERSHIRE SAUCE | THE THICKENING | TRUMPED | CHILES EN MOVIMIENTO | THE GREAT EATER OF KENT | GETTING MEDIEVAL WITH CHEF WATSON | KETCHUP & DIJON | TRY THE SCROD | MOCK VENISON | THE ROMANCE OF BUTCHERY | I CAN HAZ YOUR TACOS | STUFFED TURKEY | BREAKING GINGERBREAD | WHO ATE WHO? | LAYING IT ON THICK | MAYO MIXTURES | MUSICAL TASTE | ELECTRIFIED BREADCRUMBS | DANCE DANCE REVOLUTION | THE ISLAND OF LOST CONDIMENTS | FLASH THE HASH | BRUNSWICK STEW: B.S. | FLASH THE HASH, pt. 2 | THE ARK OF THE CONDIMENT | SQUEEZED OUT | SOUP v. SANDWICH | UNNATURAL SELECTION | HI YO, COLLOIDAL SILVER | PROTEIN IN MOTION | GOOD RIDDANCE TO RESTAURANTS.
MORE POSTS BY TOM NEALON: Salsa Mahonesa and the Seven Years War, Golden Apples, Crimson Stew, Diagram of Condiments vs. Sauces, etc., and his De Condimentis series (Fish Sauce | Hot Sauce | Vinegar | Drunken Vinegar | Balsamic Vinegar | Food History | Barbecue Sauce | Butter | Mustard | Sour Cream | Maple Syrup | Salad Dressing | Gravy) — are among the most popular we've ever published here at HILOBROW.