STUFFED (36)
By: Tom Nealon
July 23, 2019
One in a popular series of posts by Tom Nealon, author of Food Fights and Culture Wars: A Secret History of Taste. STUFFED is inspired by Nealon's collection of rare cookbooks, which he sells — among other things — via Pazzo Books.
DANCE DANCE REVOLUTION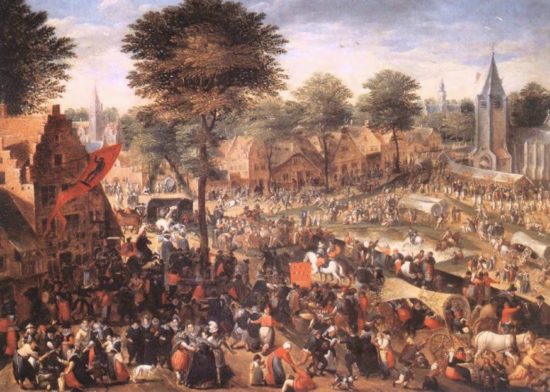 In the middle ages there were outbreaks of "dancing sickness" all over Europe. Sometimes smallish groups, sometimes thousands of people at a time, would dance erratically until they all collapsed from exhaustion.
No comprehensive explanation has ever been arrived at for the dancing mania — even though it occurred with some frequency for around a thousand years, from the 7th until the 17th century. Sometimes musicians would search out the dancers, thinking that it might help or at least be funny if they provided some accompaniment, so some of the madness was festive, at least in appearance. But mostly it was weirdness punctuated by tragedy: In the 13th century, a few hundred dancers collapsed a bridge in Germany; a famous case in the early 16th century resulted in numerous deaths of exhaustion and heart failure as hundreds of people were inspired by a single dancer, Frau Troffea, to dance and dance and dance. Reports have a dozen people dropping dead every day by the end of a month of uninterrupted dancing. And this was before social media.
Over the centuries many theories have been advanced to try to explain what, I think you will agree, is some pretty weird shit.
One explanation that has hung around is that all of this can be explained by ergot poisoning. Ergot is a fungal disease of rye and other cereals; ergot poisoning (or St. Anthony's Fire, as it was known) can cause confusion, spasms, convulsions. When ground with the grain and eaten in profusion, ergot can, in theory, cause mass hysteria. The People's Crusade of 1096 — where something approaching 100,000 poor Europeans followed Peter the Hermit, an itinerant crackpot, to the Middle East to fight the infidels, while murdering thousands of Jews along the way — has been blamed by some on ergot poisoning. Today ergot is still around, growing here and there in the wet and unpredictable spring weather brought on by climate change.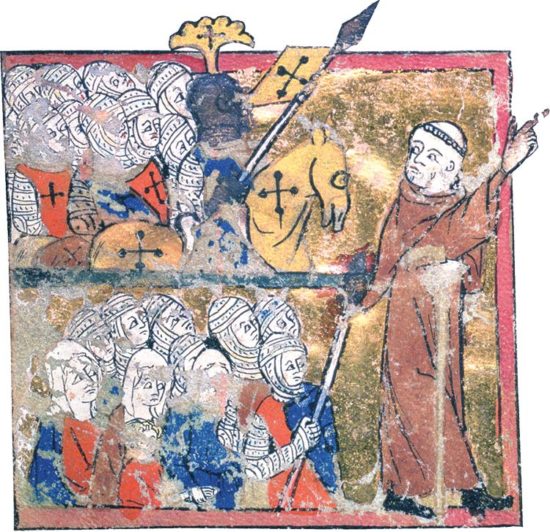 Over the centuries many cases of witchcraft, bewitchment, and general ensorcellment have been laid at ergot's door. You can see the appealing simplicity of the ergot story — everyone eating the same infected bread and hallucinating together — but the scale and geographical spread of the dancing mania seem to argue against it. Italy even had its own version: tarantism, so named because it was thought to be the result of a tarantula bite. But it turns out most of the dancers were found to have been "infected" by someone they believed had been bitten, which isn't really how spider bites work. Likewise, St. Vitus's dance, or Sydenham's chorea, a neurological disease that does have many of the movements associated with the dancing, was long associated with the phenomenon — but Sydenham's chorea is far too uncommon to be a reasonable culprit.
We'll likely never know the precise culprit for these strange events, but the situation in Europe was often extremely volatile. Fragile mental states created by a dangerous and prolonged mixture of extreme poverty, rampant superstition, and centuries of Church dogma that had encouraged a suggestible and ingenuous populace, created a situation in which dancing until you quite literally expired apparently seemed like a reasonable thing to do, or maybe the only thing. Though gruesome and sad, the dancing manias are picturesque, at least in the imagination — especially when you compare them to millenarian cults that grab onto an apocalyptic ideology instead of a twitchy dance in their embrace of thanatos.
I guess what I'm trying to say, in my round about way, is: I can't wait for all these bewitched white nationalists to just drop dead.
***
STUFFED SERIES: THE MAGAZINE OF TASTE | AUGURIES AND PIGNOSTICATIONS | THE CATSUP WAR | CAVEAT CONDIMENTOR | CURRIE CONDIMENTO | POTATO CHIPS AND DEMOCRACY | PIE SHAPES | WHEY AND WHEY NOT | PINK LEMONADE | EUREKA! MICROWAVES | CULINARY ILLUSIONS | AD SALSA PER ASPERA | THE WAR ON MOLE | ALMONDS: NO JOY | GARNISHED | REVUE DES MENUS | REVUE DES MENUS (DEUX) | WORCESTERSHIRE SAUCE | THE THICKENING | TRUMPED | CHILES EN MOVIMIENTO | THE GREAT EATER OF KENT | GETTING MEDIEVAL WITH CHEF WATSON | KETCHUP & DIJON | TRY THE SCROD | MOCK VENISON | THE ROMANCE OF BUTCHERY | I CAN HAZ YOUR TACOS | STUFFED TURKEY | BREAKING GINGERBREAD | WHO ATE WHO? | LAYING IT ON THICK | MAYO MIXTURES | MUSICAL TASTE | ELECTRIFIED BREADCRUMBS | DANCE DANCE REVOLUTION | THE ISLAND OF LOST CONDIMENTS | FLASH THE HASH | BRUNSWICK STEW: B.S. | FLASH THE HASH, pt. 2 | THE ARK OF THE CONDIMENT | SQUEEZED OUT | SOUP v. SANDWICH | UNNATURAL SELECTION | HI YO, COLLOIDAL SILVER | PROTEIN IN MOTION | GOOD RIDDANCE TO RESTAURANTS.
MORE POSTS BY TOM NEALON: Salsa Mahonesa and the Seven Years War, Golden Apples, Crimson Stew, Diagram of Condiments vs. Sauces, etc., and his De Condimentis series (Fish Sauce | Hot Sauce | Vinegar | Drunken Vinegar | Balsamic Vinegar | Food History | Barbecue Sauce | Butter | Mustard | Sour Cream | Maple Syrup | Salad Dressing | Gravy) — are among the most popular we've ever published here at HILOBROW.