STUFFED (41)
By: Tom Nealon
December 19, 2019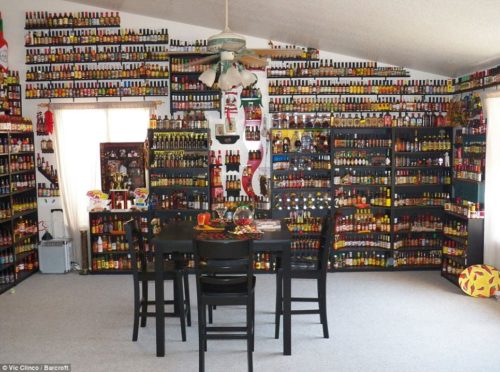 One in a popular series of posts by Tom Nealon, author of Food Fights and Culture Wars: A Secret History of Taste. STUFFED is inspired by Nealon's collection of rare cookbooks, which he sells — among other things — via Pazzo Books.
THE ARK OF THE CONDIMENT
We all have our plans for the end of the world — our underground bunkers, islands we'd hide on, maps of neighbors we'd eat first, etc., etc. — but have we thought enough about rebuilding civilization? If god appeared to you as a burning bush or a talking frog, and told you to build an ark of so many cubits by so many cubits and told you that you could take only a certain number of condiments with you, would you be ready with a list?
I worry about this stuff.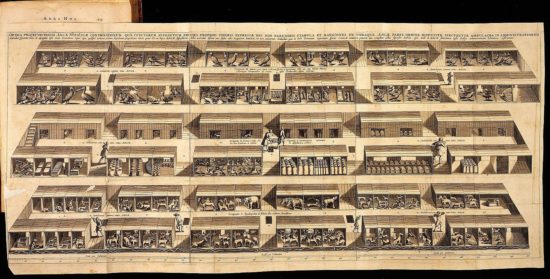 Athanasius Kircher wrote a book about Noah's Ark (because of course he did) where he talks about some of the logistics of putting every single animal in the world onto a large, but definitely finite, boat. There's a huge folding plate in the book that shows the different compartments with clever innovations like space for ferrets and snakes and whatnot to live between decks. Still, it was pretty obvious to Kircher that it was going to be difficult to fit all of the known animals on this one ark — even when you drop off some of the ones that didn't make it on (like the unicorn whose absence from the ark puzzled Kircher). His innovation was to realize that most animals were hybrids — giraffes are a mixture of leopards and camels, leopards are lions and panthers, armadillos are turtles and hedgehogs, etc etc. Once you start thinking this way it can be pretty compelling — I spent a couple weeks seeing animals and shouting out combinations: snakes are sharks mixed with iguanas, cows are horses and goats, (wild) pigs are dogs mixed with porcupines… it wore off eventually.
So, clearly this is how we'd fit the condiments on the ark — oil, vinegar, garlic, chile peppers, mustard, honey, salt, butter. Some of the choices are going to be easy and obvious — all of those things are condiments themselves, as well as being ingredients. Soy sauce we will bring — there won't be room for doing advanced fermentation (but maybe we'll make sour cream and yogurt). Eggs? Well, this is the ark, presumably we can borrow one from someone. Eventually we get into trouble. What of the fish sauces? Central figures in many cuisines, beloved of ancient Romans, Vietnamese, Worcestershire is a fish sauce… but anchovies, can we bring them on the ark? And to get to ketchup — if we are going to rebuild human civilization, we will need, no matter what you may think of it, ketchup — will we bring tomato sauce or call ketchup its own, unique thing? Kirchner had a couple ringers, so it's not completely out of bounds. He was sure — SURE — that sirens existed because he had a dried-up one in his collection, but he couldn't figure out what creatures they were a mixture of, so he allowed them on as themselves in specially built compartments. Which, now that I think about it, is weird because I always thought the sea creatures were basically left to fend for themselves in the water. Why not sirens? Makes me wonder about the anchovies again, but perhaps we expend a waiver on ketchup, fully formed, too distinct and obnoxiously itself to be a hybrid; it's a siren.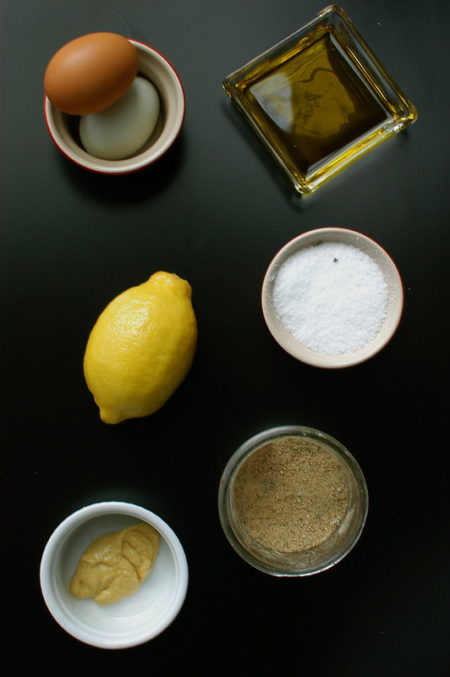 Then we can make mayo with the oil, vinegar, eggs, make some fake Russian with some ketchup, if the rain ever stops we will be OK on sandwiches. But can we bring tomato sauce, even if not to make ketchup? Mayo used to be a sauce — a mother sauce, more or less, with hollandaise. I'd argue hollandaise is probably a condiment now too, and tomato sauce, vinaigrette, also mother sauces. Hmmmm.
In the past, it was assumed that a sauce becoming a condiment was a fall — a failure, a demotion. The general view privileged sauces over condiments as the domain of the chef, the professional. Over time, though, a generally unspoken change has reversed this thinking. Now, maybe, a sauce that fails to become a condiment, to spawn further uses, a fan base, has swapped onto the other side of the dichotomy — or, worse, been forgotten. Who thinks of sauce Espagnole anymore? Or veloute? We barely make hollandaise, béarnaise, beurre blanc.
I stand in the supermarket condiment aisle and do I feel inspired? Maybe at H-Mart, once in a while, but even that is just because of all the chile products and the reassuring lack of things described as creamy. But no, I am not inspired, I am oppressed, worn down by the requirements of shelf stability and focus grouped viscosity, hemmed in by partially hydrogenated soybean oil (just hydrogenate it for fuck sake, why all the half measures) and high fructose corn syrup. Is this a foundation for rebuilding the world? Maybe we should leave it all behind.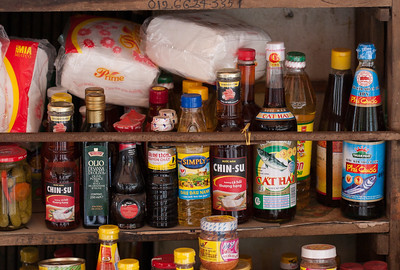 Am I talking myself into reversing course once again? I dunno — many things are natural condiments: mustard, soy, fish sauce, the emulsion of garlic and oil called allioli that gave birth to mayo and aioli. But these other condiments that have been plucked from the sauce world, often as half-made, broken things, the store mayos, flaccid vinaigrettes full of xanthan gum and despair, the McDonald's dipping sauces of the world. The unspeakable things that have taken refuge as "salad dressings" often blamed on foreigners: French, Russian, Italian, Catalina, Greek, and, of course, ranch. What of relish? The sad corpse of a pickle, replaced by chutneys and, really, pickles themselves back for revenge.
I always associated condiments with democratic principles; a bottom up view of society. Sauces were imposed on us by chefs beholden to the wealthy; condiments, at least, we choose. Eat the rich and do it with the condiments of the people, I figured. But what if we've let our condiments become debased? Is it really an act of freedom to put terrible condiments on your food? Or is it futile — or worse than futile because we delude ourselves while all the while hiding behind a refrigerator door full of atrocities? Qui condietis condimenta?
Maybe there is a reason that I'm thinking about this flood. When I began, I thought I was constructing a joke too elaborate for the payoff, a light piece for the holidays. But no, I've fooled myself, trapped myself in a corner as surely as Larry who only talks about annuities will trap us all in a corner at someone's office Christmas party. Years ago, I joked that an over-reliance on debauched versions of fish sauce led to the fall of the Roman empire and that I thought sriracha might be our undoing. But maybe it wasn't sriracha — or not just. Maybe the flood is coming because we took our condiment freedom and ruined it, cheapened it, took it for granted, bottled and tamed and domesticated it until it was a pale, insipid simulacrum of itself.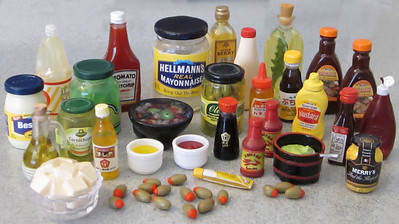 If we brought it all on the ark would we just go right back to eating shitty, soggy, sandwiches, pasta salad, and befowled bowls of iceberg lettuce? And why is everything so thick? Even our once reliably thin hot sauces have congealed thanks to sriracha. I know it was the fashion at some point in the distant past, possibly a mass psychosis brought on by ketchup, that condiments be thick, but I wonder whether it isn't the whole shelf stability thing again. It sounds benign, shelf stability, but it's a weird thing. The requirements of capitalism dictated that these things not require refrigeration, but also won't go bad. They are frozen in time at the factory with some sort of preservative — natural or unnatural (insofar as those have any meaning when, for example, sodium benzoate originally came from trees and refined sugar is about as unnatural an idea as one could construct) — so that no "spoilage" occurs after it departs. Spoilage, they say, but they really mean fermentation — our condiments used to be alive — and sure, like with all living things, they could turn on us. But it's something to think about.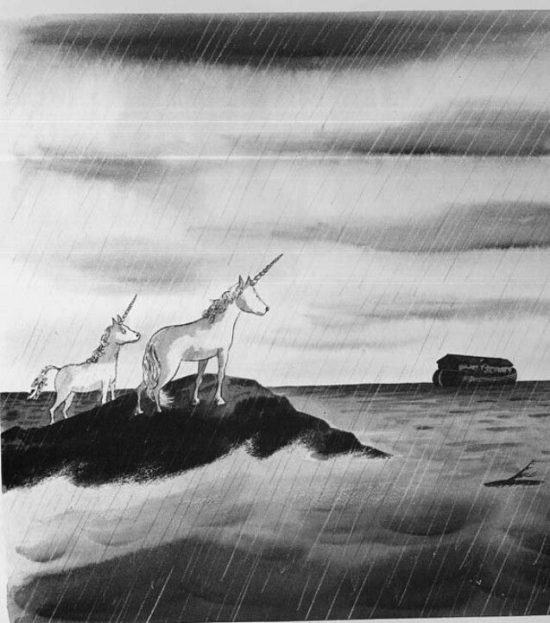 I think Kircher had it right: simplify. We want the building blocks of our condiments — oil, vinegar, honey, chiles, garlic, soy, etc. Would it kill someone to bring some citron seeds? No. In Kircher's ark book he lamented that the unicorn was left to drown and he wondered why — had they stopped believing in it? Surely they are real and one of God's creatures, why let it drown? I'm sure they had their reasons. Noah, after all, was a practical sort, especially as nutters go. It was probably unicorns and their mythic ilk who ruined everything and brought on the Flood in the first place.
So we will leave ketchup and his whole sordid family to the thick flood, to drown the same whether it is a unicorn or siren, because, after all, Kircher's siren was a desiccated hoax — and unicorns are dicks.
***
STUFFED SERIES: THE MAGAZINE OF TASTE | AUGURIES AND PIGNOSTICATIONS | THE CATSUP WAR | CAVEAT CONDIMENTOR | CURRIE CONDIMENTO | POTATO CHIPS AND DEMOCRACY | PIE SHAPES | WHEY AND WHEY NOT | PINK LEMONADE | EUREKA! MICROWAVES | CULINARY ILLUSIONS | AD SALSA PER ASPERA | THE WAR ON MOLE | ALMONDS: NO JOY | GARNISHED | REVUE DES MENUS | REVUE DES MENUS (DEUX) | WORCESTERSHIRE SAUCE | THE THICKENING | TRUMPED | CHILES EN MOVIMIENTO | THE GREAT EATER OF KENT | GETTING MEDIEVAL WITH CHEF WATSON | KETCHUP & DIJON | TRY THE SCROD | MOCK VENISON | THE ROMANCE OF BUTCHERY | I CAN HAZ YOUR TACOS | STUFFED TURKEY | BREAKING GINGERBREAD | WHO ATE WHO? | LAYING IT ON THICK | MAYO MIXTURES | MUSICAL TASTE | ELECTRIFIED BREADCRUMBS | DANCE DANCE REVOLUTION | THE ISLAND OF LOST CONDIMENTS | FLASH THE HASH | BRUNSWICK STEW: B.S. | FLASH THE HASH, pt. 2 | THE ARK OF THE CONDIMENT | SQUEEZED OUT | SOUP v. SANDWICH | UNNATURAL SELECTION | HI YO, COLLOIDAL SILVER | PROTEIN IN MOTION | GOOD RIDDANCE TO RESTAURANTS.
MORE POSTS BY TOM NEALON: Salsa Mahonesa and the Seven Years War, Golden Apples, Crimson Stew, Diagram of Condiments vs. Sauces, etc., and his De Condimentis series (Fish Sauce | Hot Sauce | Vinegar | Drunken Vinegar | Balsamic Vinegar | Food History | Barbecue Sauce | Butter | Mustard | Sour Cream | Maple Syrup | Salad Dressing | Gravy) — are among the most popular we've ever published here at HILOBROW.