De Condimentis (10): Butter
By: Tom Nealon
March 6, 2011
Tenth post in Tom Nealon's DE CONDIMENTIS series.
In 1766, Asa Dunbar, who would eventually be Henry David Thoreau's grandfather, stood up in the Harvard dining hall and exclaimed "Behold, our butter stinketh… Give us therefore butter that stinketh not!" This began The Great Butter Rebellion, the first student protest and a stark reminder that dining-hall food was actually designed to be terrible. The "Sons of Harvard," their name a play on the "Sons of Liberty" who were beginning to stir the pot in Boston, staged a walkout and massive protest over the state of the butter. Words were spoken in anger; the rich sons of Boston tested the mettle of the powers that were; threats were made, expulsions, humiliation, ruination. It was immortalized in a grandiose and slightly insane account by a sympathetic Joseph Cummings as The Book of Harvard:
Chapter First 1. And it came to pass in the ninth month, on the 23d Day of the Month, the Sons of Harvard murmured and said:

Behold! bad and unwholesome Butter is served 'at unto as daily; now let us therefore depute Asa, the Scribe, to go unto our Ruler, and seek Redress. There arose Asa, the Scribe, and went unto Belcher, the Ruler, and said, behold our Butter stinketh, and we cannot eat thereof; now give us we pray thee Butter that stinketh not. And Belcher the Ruler, said, trouble me not but begone unto thine own palace; but Asa obeyed him not.
As a historical event the Great Butter Rebellion had the misfortune of being somewhat upstaged by the subsequent American Revolution, and even as a food-related colonial happening, it has played understudy to the Revolution's understudy: the Boston Tea Party. It's trivia, a funny story — after all, it was just butter…
Or was it?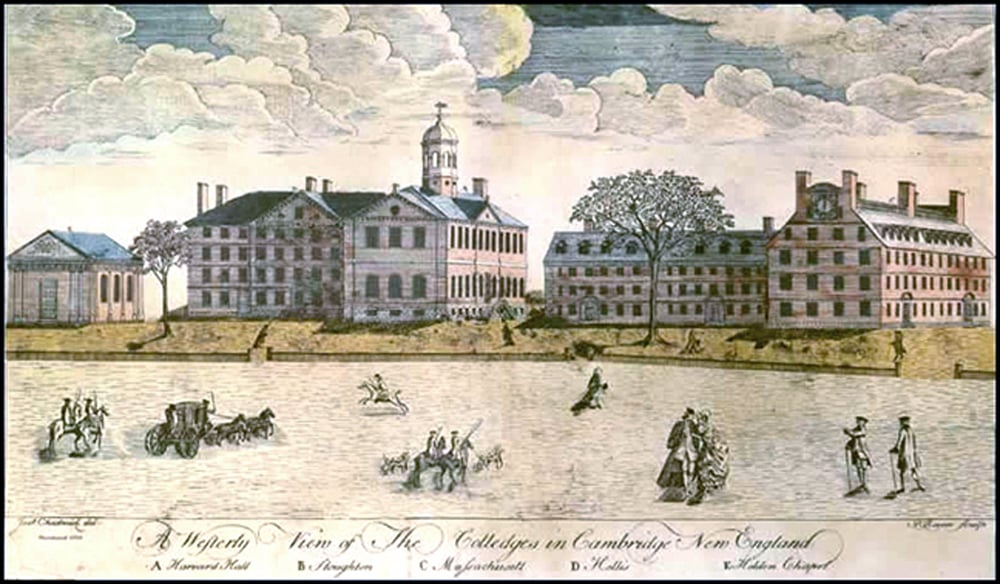 Microscopic globules of butterfat float invisibly through cream, prevented by phospholipid membranes from sticking together into a lovely mass of butter. Churn the cream — or shake it enough, tie it up in the wind in a wine skin, ride around with it in your saddlebags, or put it in a pig's bladder and beat it violently with a stick — and these membranes will break down, allowing the butterfat globules to stick to one another. Agitate your cream enough and you'll end up with grains of butterfat that slowly coalesce into a yellowish mass swimming in a sea of buttermilk. In a perfect world, this would result in the creation of a ball of pure, sublime, butterfat, but instead it forms an emulsion with water and "milk solids" — mostly proteins and lactose, and if you're not careful, a bit of quick-to-spoil buttermilk.
Not too long ago, the cream, buoyant with butterfat, would float to the top of milk, but when milk is homogenized (which began around 1900), the fat globules are smashed until they're so small they lose their identity and float dumbly amidst the milk. But in any case, the cream is extracted, one way or another, and churned until the butter appears. Now it seems that your choices are whether you'd like your butter cultured ("European style") or uncultured ("sweet cream butter" or "American style"). Cultured butter used to be made with cream that had been left to age a bit, allowing the natural bacteria to start to break down those phospholipids; now it's pasteurized and the cultures added back in. Uncultured butter is made directly from pasteurized cream without the reintroduction of cultures that have been killed in the pasteurization process.
But it's a false dichotomy! Cultured and uncultured are just two sides of the same coin.
There's another butter: real butter.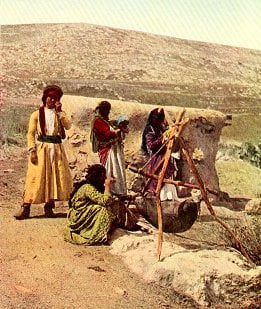 In the ancient world, most of humanity lived in places where butter as it's currently understood was an unwise method of storing excess dairy — it simply spoils too quickly. So they learned some eight thousand years ago to isolate the butterfat and remove the protein/lactose detritus along with the excess water. All it takes is a little heat and a little time — everything that isn't butter browns and sinks, leaving hot, translucent butterfat. This purified butter was used in religious ceremonies in ancient India and the Middle East, as an offering and to light ceremonial lamps, as well as extensively in their cuisine. In India and much of the Middle East it remains a mainstay of their cookery. And this perfected form of butter has a great deal to recommend it in the kitchen: it can be kept for months at room temperature without spoiling, heated to temperatures greater than olive, corn or even peanut oil without burning, and it has a terrifically slick, sybaritic mouth-feel.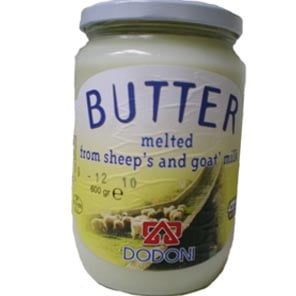 There is no evidence that the Romans used butter in their cuisine, (no form of butter appears in the ancient Roman cookery book Apicius) preferring olive oil, but used pure butter "medicinally", including for making the skin "pliable" and in other situations that are too easy to imagine to be described here. Pliny suggests using it with honey for teething infants (which at least has deliciousness to recommend it) and Galen suggests using it as lamp fuel and then putting it on the eyes to cure inflammation and (presumably) sightedness. In Tablet VIII of The Epic of Gilgamesh, written some four thousand years ago, Gilgamesh makes an offering of purified butter to Shamash, the Babylonian sun god. (the gods, it was known, have no interest in milk solids). These days we usually call this sort of butter "ghee" or sometimes "clarified butter" (clarified butter, which the French quietly use a great deal in baking, has been cooked to boil off excess water, but not long enough for the milk solids to brown) to differentiate it from what we now think of as "butter," but for millennia it was just butter.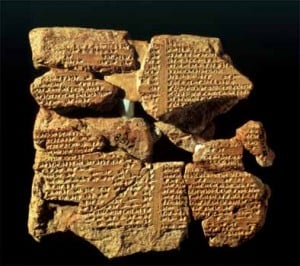 Impure butter was viewed by the Greeks and Romans as a sure sign of barbarism and an invitation to be "civilized." The Northern peoples were presumed to coat themselves in butter for reasons that ranged from the medicinal to the deeply troubling. The expression "as revolting as a butter-headed Burgundian" (Aussi révoltante que bourguignon avec du beurre dans ses cheveux) dates from this period, and some scholars have suggested that the French reputation for rankness is also butter-related. It was only after the fall of Rome that it slowly became acceptable to eat butter in polite company. By the Middle Ages, German and French butter fanatics would actually bribe their priests to allow them to eat butter during Lent, until, under pressure from the pro-butter Protestants, the Catholic Church allowed the consumption of butter during Lent during the 16th century.
Butter, rather than searching after its lost purity, has, thanks to its spreadable doppelgangers, become increasingly less pure over the years. What's singular about this is that while other foods have picked up "stabilizers" and preservatives, fake butter is always searching after a sort of Platonic butteriness, adding qualities as much as ingredients. There's an ideal that all of the spin offs are shooting for, be they margarine, yoghurt butter, soy butter, carob butter, movie theater "butter", aerosolized "butter", I Can't Believe I'm Eating This™, et al.; an ideal of a butter that even butter isn't — at least not the mixed up with milk solids and water butter that we all eat. Every simulated butter product is trying to masquerade as butter even as it tries to surpass it in yellowness, butteriness and spreadability. The scientists and marketers who wag-dog-tail these depraved products together have all internalized the notion that butter needs perfecting, they just can't figure out how.
But back to Harvard. It becomes obvious as you think about what butter means, that these students — privileged, Anglo, smart-asses that they were — were intuiting something about butter here on the eve of the American Revolution. It wasn't just a joke that they called themselves the "Sons of Harvard" and it certainly wasn't a joke ten years later, when they were falling before British muskets in search of their freedom. No, these students were on to something when they stood up and said "The butter is foul" — for what they meant was "Butter is foul!" Here we were, a decade away from making a break with the monarchies of Europe, disputing a spreadable condiment that was the unholy result of fifteen centuries of European monarchy. These young men sensed that this new nation, this fresh-faced republic needed the butter of Plato, not the butter of George III, the breakfast spread of Athens, not London, so they rose up…
Regrettably, at the first real risk of expulsion, his co-conspirators threw Asa under the dairy wagon to secure amnesty, and settled for fresh faux-butter. A few years later, George Washington and his cronies ruined our only chance at a clean break with decadent European half-assery by accepting help from the butter-loving French monarchy. Under their slippery thumbs, we never even had a chance. So make some real butter — spread it on your toast, cook your popping corn in it, fry some potatoes — and know that just a little bit of that sweet flavor is the taste of freedom.
***
MORE CONDIMENTS: Series Introduction | Fish Sauce | Diagram of Condiments vs. Sauces, etc. | Hot Sauce | Vinegar | Drunken Vinegar | Balsamic Vinegar | Food History | Barbecue Sauce | Butter | Mustard | Sour Cream | Maple Syrup | Salad Dressing | Gravy
STUFFED SERIES: THE MAGAZINE OF TASTE | AUGURIES AND PIGNOSTICATIONS | THE CATSUP WAR | CAVEAT CONDIMENTOR | CURRIE CONDIMENTO | POTATO CHIPS AND DEMOCRACY | PIE SHAPES | WHEY AND WHEY NOT | PINK LEMONADE | EUREKA! MICROWAVES | CULINARY ILLUSIONS | AD SALSA PER ASPERA | THE WAR ON MOLE | ALMONDS: NO JOY | GARNISHED | REVUE DES MENUS | REVUE DES MENUS (DEUX) | WORCESTERSHIRE SAUCE | THE THICKENING | TRUMPED | CHILES EN MOVIMIENTO | THE GREAT EATER OF KENT | GETTING MEDIEVAL WITH CHEF WATSON | KETCHUP & DIJON | TRY THE SCROD | MOCK VENISON | THE ROMANCE OF BUTCHERY | I CAN HAZ YOUR TACOS | STUFFED TURKEY | BREAKING GINGERBREAD | WHO ATE WHO? | LAYING IT ON THICK | MAYO MIXTURES | MUSICAL TASTE | ELECTRIFIED BREADCRUMBS | DANCE DANCE REVOLUTION | THE ISLAND OF LOST CONDIMENTS | FLASH THE HASH | BRUNSWICK STEW: B.S. | FLASH THE HASH, pt. 2 | THE ARK OF THE CONDIMENT | SQUEEZED OUT | SOUP v. SANDWICH | UNNATURAL SELECTION | HI YO, COLLOIDAL SILVER | PROTEIN IN MOTION | GOOD RIDDANCE TO RESTAURANTS.