STUFFED (38)
By: Tom Nealon
September 27, 2019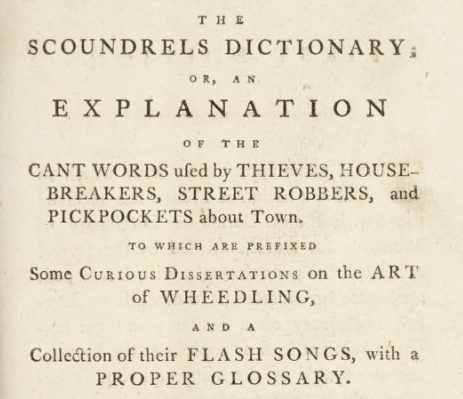 One in a popular series of posts by Tom Nealon, author of Food Fights and Culture Wars: A Secret History of Taste. STUFFED is inspired by Nealon's collection of rare cookbooks, which he sells — among other things — via Pazzo Books.
FLASH THE HASH
In 1788, William Grose published A Classical Dictionary of the Vulgar Tongue, a lowbrow collection of the colorful slang and cant terms and idioms that Samuel Johnson had left out of his highbrow 1755 dictionary. Recently, I pored over Grose's dictionary in search of food- and drink-related words. Here's what I've found, from A through H. More to come!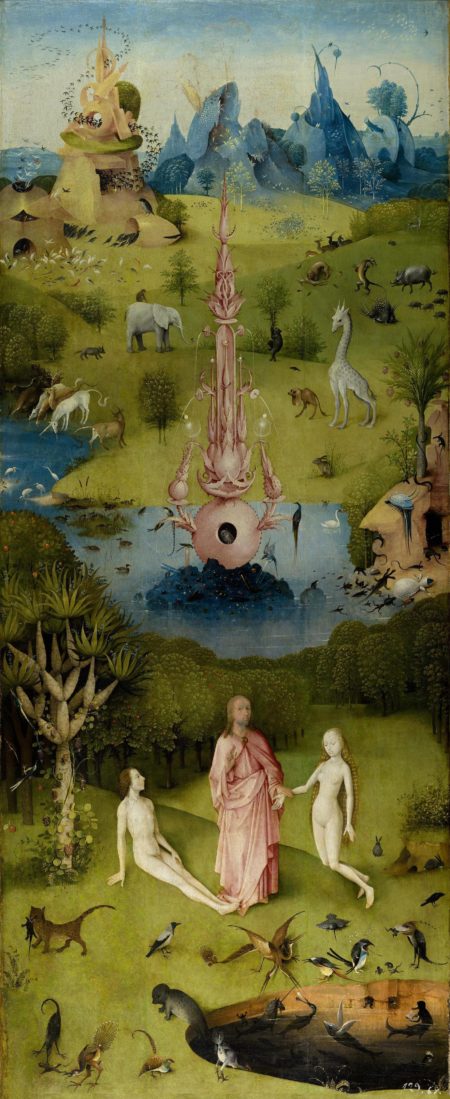 Adam's Ale: Water
Apple Dumplin Shop: A woman's bosom.
Apple-Pye Bed: A bed made apple-pye fashion, like what is called a turnover apple-pye, where the sheets are so doubled as to prevent any one from getting at his length between them.
Bacon: He has saved his bacon, he has escaped.
Baker's Dozen: Fourteen.
To Baste: To beat.
Beef: To cry beef, to give the alarm.
Beverage: Garnish money, or money for drink, demanded of any one having a new suit of clothes.
Blue tape: Gin.
Brace: The brace tavern; a room in the S.E. corner of the King's Bench, where, for the convenience of prisoners residing thereabouts, beer purchased at the tap house was retailed at a halfpenny per pot advance.
Bragget: Mead and Ale sweetened with honey.
Bread and Butter Fashion: One slice upon the other.
Brewes: Oatmeal boiled in the pot with salt and beef.
Brown George: An ammunition loaf.
Bubbly Jock: A turkey cock.
Bub: Strong beer.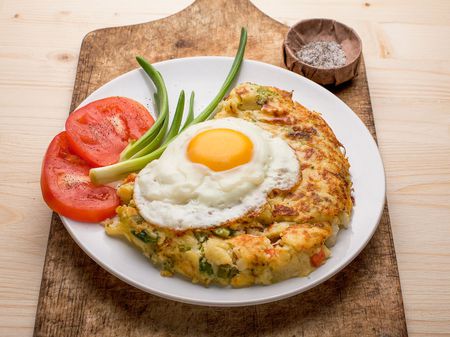 Bubble and Squeak: Beef and cabbage fried together.
Butcher: A jocular expression used at sea, or by soldiers on a march, when one of their comrades falls down; and means — Butcher! butcher ! Where are you? Here is a calf that has the staggers and wants bleeding.
Butter Box: A Dutchman.
Buzza: To buzza one is to challenge him to pour out all the wine in the bottle into his glass… it is commonly said to one who hesitates to empty a bottle that is nearly out.
Cabbage: When the scrotum is relaxed or whiffled, it is said they will not cabbage.
Cake: A foolish fellow.
Calves Head Club: A club instituted by the independents and Presbyterians to commemorate the decapitation of King Charles I. Their chief fare was calves' heads, and they drank their wine and ale out of calves' skulls.
Candy: Drunk
Cheese Toaster: A sword.
Cock Ale: A provocative drink.
Colcannon: Potatoes and cabbage pounded together in a mortal, then stewed with butter.
Coriander: Money.
Cracker: Crust, sea biscuit, or ammunition loaf; also the backside. Farting crackers; breeches.
Cucumbers: Taylors, who are jocularly said to subsist, during the summer, chiefly on cucumbers.
Damper: a luncheon, or snap before dinner: so called from its damping, or allaying, the appetite; eating and drinking being, as the proverb wisely observes, apt to take away the appetite.
The Dip: A cook's shop, under Furnivals Inn, where many attornies clerks, and other inferior limbs of the law, take out the wrinkles from their bellies.
Doctor: Milk and water with a little rum and some nutmeg: also the name of a composition by distillers to make spirits appear stronger than they really are, or, in their phrase, better proof.
Duck Fucker: A man who has the care of the poultry on board a ship of war.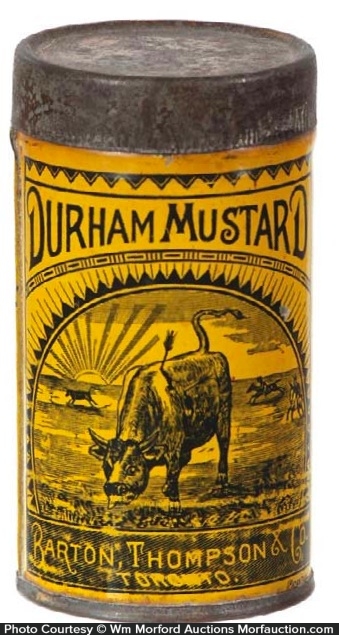 Durham Man: Knocker-kneed, he grinds mustard with his knees; Durham is famous for its mustard.
Dutch Feast: Where the entertainer gets drunk before his guests.
Eat: To eat like a beggar man, and wag his under jaw; a jocular reproach to a proud man. To eat one's words; to retract what one has said.
Field Lane Duck: A baked sheep's head.
To Flash the Hash: To vomit.
Flummery: Oatmeal and water boiled to a jelly; also compliments; neither of which are over nourishing.
Fork: A pickpocket. Let us fork him; let us pick his pocket. —The newest and most dextrous way which is to thrust the figners strait, stiff, open and very quick, into the pocket, and so closing them, hook what can be held between them. N.B. This was taken from a book written many years ago: doubtless the art of picking pockets, like all others, must have been much improved since that time.
Freeze: A thin, small, hard cider, much used by vintners and coopers in parting their wines to lower the price of them, and to advance their gain, A freezing vintner; a vintner who balderdashes his wine.
French Cream: Brandy: so called by the old tabbys and dowagers who drank in their tea.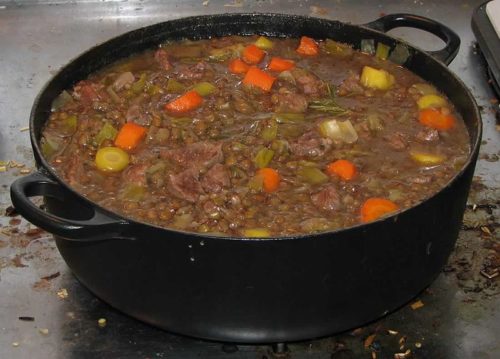 Galimaufrey: A hodge-podge made up of remnants and scraps of the larder.
German Duck: Half a sheep's head boiled with onions.
Giblets: To join giblets; said of a man and woman who cohabit as husband and wife without being married; also to copulate.
Gingerbread: A cake made of treacle, flour, and grated ginger; also money.
Grub: Victuals. To grub; to dine. To ride brub; to be sullen or out of temper.
Gutting a Quart Pot: Taking out the lining of it; i.e. drinking it off. Gutting an oyster; eating it. Gutting a house; clearing it of its furniture.
Hams or Hamcases: Breeches.
Hand and Pocket Shop: An eating house where ready money is paid for what is called for.
Hasty: Precipitate, passionate. He is none of the Hastings sort; a saying of a slow, loitering fellow: an allusion to the Hastings pea which is the first in season.
Hasty Pudding: Flour and milk boiled to a moderate thickness and eaten with sugar and butter. Figuratively, a wet, muddy road: as, The Way through Wandsworth is quite a hasty pudding. To eat hot hasty pudding for a laced hat, or some other prize, is a common feat at wakes and fairs.
High Eating: To eat skylarks in a garret.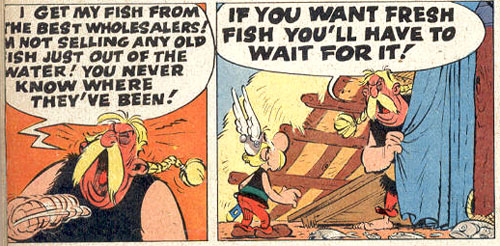 Hogo: Corruption of haut gout, high taste, or flavour; commonly said of fish somewhat tainted. It has a confounded hoho: it stinks confoundedly.
Hook and Snivey, with Nix the Buffer: This rig consists in feeding a man and a dog for nothing, and is carried on thus: Three men, one of whom pretends to be sick and unable to eat go to a public house; the two well men make a bargain with the landlord for their dinner and, when he is out of sight, feed their pretended sick companion and dog gratis.
Hot Stomach: He has so hot a stomach that he burns all the clothes off his back; said of one who pawns his clothes to purchase liquor.
Huckle my Buff: Beer, egg and brandy made hot.
***
STUFFED SERIES: THE MAGAZINE OF TASTE | AUGURIES AND PIGNOSTICATIONS | THE CATSUP WAR | CAVEAT CONDIMENTOR | CURRIE CONDIMENTO | POTATO CHIPS AND DEMOCRACY | PIE SHAPES | WHEY AND WHEY NOT | PINK LEMONADE | EUREKA! MICROWAVES | CULINARY ILLUSIONS | AD SALSA PER ASPERA | THE WAR ON MOLE | ALMONDS: NO JOY | GARNISHED | REVUE DES MENUS | REVUE DES MENUS (DEUX) | WORCESTERSHIRE SAUCE | THE THICKENING | TRUMPED | CHILES EN MOVIMIENTO | THE GREAT EATER OF KENT | GETTING MEDIEVAL WITH CHEF WATSON | KETCHUP & DIJON | TRY THE SCROD | MOCK VENISON | THE ROMANCE OF BUTCHERY | I CAN HAZ YOUR TACOS | STUFFED TURKEY | BREAKING GINGERBREAD | WHO ATE WHO? | LAYING IT ON THICK | MAYO MIXTURES | MUSICAL TASTE | ELECTRIFIED BREADCRUMBS | DANCE DANCE REVOLUTION | THE ISLAND OF LOST CONDIMENTS | FLASH THE HASH | BRUNSWICK STEW: B.S. | FLASH THE HASH, pt. 2 | THE ARK OF THE CONDIMENT | SQUEEZED OUT | SOUP v. SANDWICH | UNNATURAL SELECTION | HI YO, COLLOIDAL SILVER | PROTEIN IN MOTION | GOOD RIDDANCE TO RESTAURANTS.
MORE POSTS BY TOM NEALON: Salsa Mahonesa and the Seven Years War, Golden Apples, Crimson Stew, Diagram of Condiments vs. Sauces, etc., and his De Condimentis series (Fish Sauce | Hot Sauce | Vinegar | Drunken Vinegar | Balsamic Vinegar | Food History | Barbecue Sauce | Butter | Mustard | Sour Cream | Maple Syrup | Salad Dressing | Gravy) — are among the most popular we've ever published here at HILOBROW.